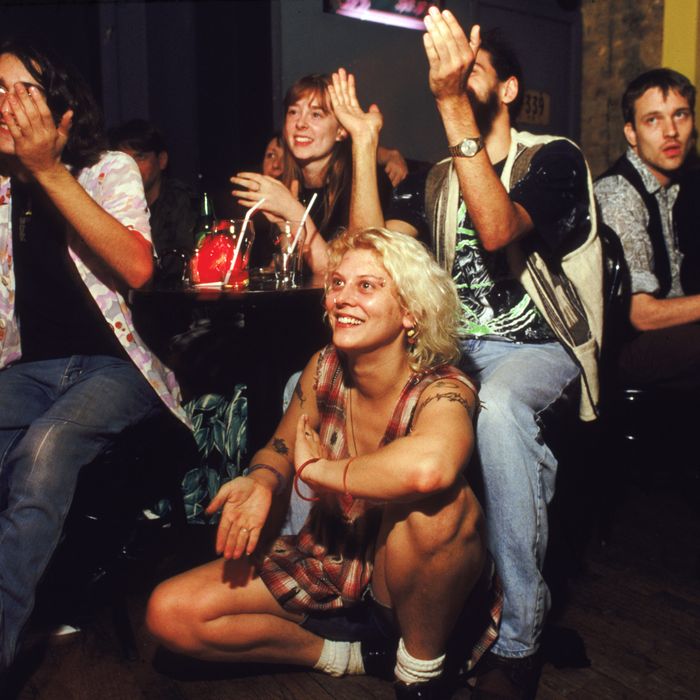 Inside Sidewalk in 1994.
Photo: Mark Peterson/Corbis via Getty Images
I hope this doesn't sound mean, but Sidewalk Cafe was not very good. That's what makes its closing such a bummer. The restaurant, bar, and live music venue on Avenue A, which shut down for good this past weekend, was grubby, unremarkable, and undeniably special to those of us who spent weekends camped out at its outside tables slurping down frozen margaritas.
To understand Sidewalk Cafe, it's important to note that it did not excel at any one thing. There was no signature cocktail, the burger was merely fine, the lighting was horrible, the sound sucked, and it wasn't very clean. But if you lived in New York City long enough, eventually you'd end up there. And then maybe again, and again, and finally, by the time you heard about its closing, you realized that the city was losing something truly valuable: a place where weirdos and dreamers could try to make a piece of this city their own.
It's easy to lump Sidewalk together with other dearly departed venues like Cake Shop and HiFi, but few spots became hubs for misfit genres and small music scenes the way Sidewalk had for slam poets, alternative comedians, and anti-folk musicians since it opened in 1985. As Deenah Vollmer wrote for Guernica in 2013, the shows at Sidewalk were often "friendly affairs where hugs are doled out on arrivals and exits and performers on stage will sometimes interrupt themselves to welcome an old friend to the show. Acts cover each other's songs and often hold tribute nights celebrating other members of the community."
Boasting "the longest-running open mic in NYC," Sidewalk was never a cool place, and never in-step with the trends of the day, though you have surely read about the performers who graced its stage: Beck, Regina Spektor, Lana del Rey, Jeffrey Lewis, the Moldy Peaches, and more. Performers usually played to a few people and maybe made a couple of dollars if the audience was feeling generous. The bad sound, two-item minimum, and general lack of polish made the place all the more endearing. Restaurants open and close in New York all the time, of course, but places that welcome performances by amateur musicians as the center of their businesses have become a rarity in Manhattan, and throughout the five boroughs. Sometimes it feels like we've entered a place in entertainment where acts arrive on the scene fully formed.
It wasn't all about the live entertainment at Sidewalk — they had a full menu. Can you imagine a venue nowadays, probably owned by a well-financed production company, that would also offer mediocre, but sorely needed, full brunch and dinner menus? The food was, at best, passable, and its most recent cocktail menu included a drink based around pumpkin-flavored vodka, but sometimes you just went to Sidewalk to sit outside on Avenue A, barely touch your omelette or anti-folk burger at brunch, and hang out with your friends.
Sidewalk was a quintessential New York City business because it was always there. That might sound like a slight, but think of all the things — and people — that come and go in New York. To live in this city for any real period of time is to feel bereaved at every corner, all of the time. We grieve for the friends that move to L.A., the places that close because the rent is too high or the guests are too few, and for the people we were when we first arrived.
No tourist ever visited New York and said, "I've got three days here — I need to check out some anti-folk at the Sidewalk Cafe." It wasn't Studio 54, or CBGB, or any of those other businesses that can be the subjects of terrible movies. Sidewalk was where New Yorkers went for first dates or last dates, to nurse hangovers, and to see their friend's boyfriend play kazoo onstage next to a woman singing like a seal. (Not Lana del Rey's early act, surprisingly.)
More than anything, Sidewalk Cafe was a place where anyone could be part of something, as long as they were willing to meet the two-item minimum.