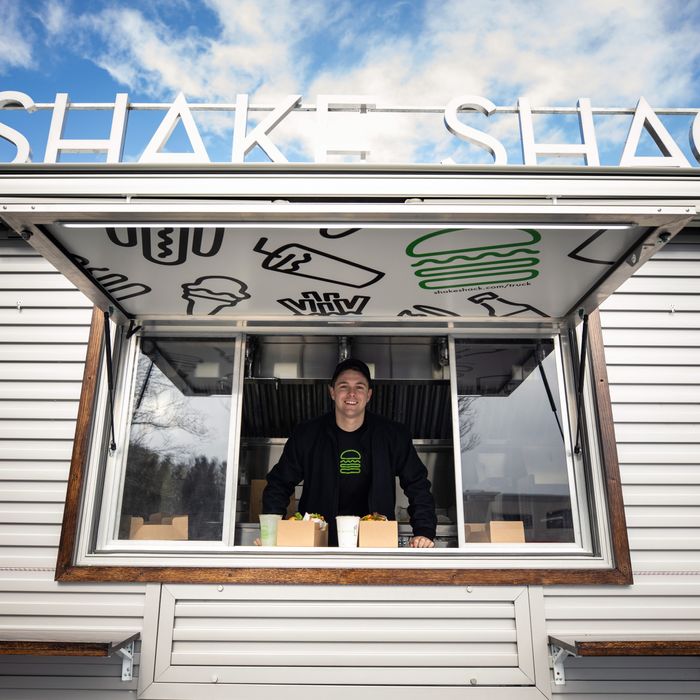 It even looks like a proper Shake Shack.
Photo: Shake Shack
There are plenty of ways to make a wedding day perfect, and now there is some huge news for people who want to eat burgers while wearing tuxes: Shake Shack announced today that it will launch two roving food trucks, available for all of your catering and event needs, meaning that, should you spend time with people who can afford such things, you should get ready to see many more ShackBurgers at many more after-parties.
The trucks look like replicas of the original Shake Shack in Madison Square Park. One is now running in metropolitan Atlanta, while the other services areas of New York, New Jersey, Connecticut, and Pennsylvania. They'll be available there for your burger-party needs, and can be booked online via a form on Shake Shack's website. Menus are also customizable according to your wants (and, let's be honest, needs), whether your a Chick'n Shack girl or a ShackBurger guy, and pricing depends on the usual variables like the number of people served, the length of the event, etc. It also sounds like this is only the beginning for the Shack fleet. In a FAQ posted to the website, the company indicates that residents of other cities should "stay tuned." Either way, brides and grooms to-be should jump on reservations since we're sure those June weekends are booking up quickly.