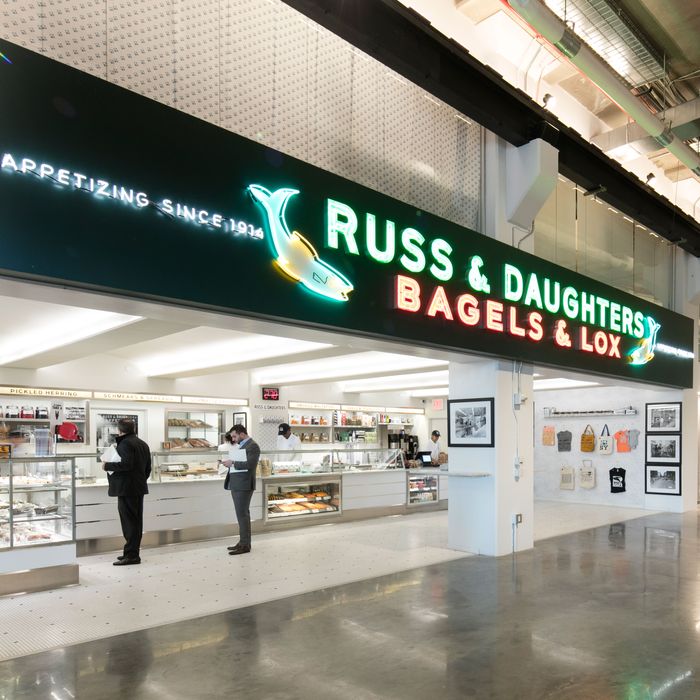 R&D at the Navy Yard officially opens today.
Photo: Melissa Hom
The babka is as good a place to start as any. Russ & Daughters, the store on East Houston Street that is one of the last remaining great sources of Lower East Side–style Jewish food, sells its babkas for $14 each. They are rolled out by hand, often by a longtime employee named Kaoutar Benabdelkader, who folds and slices and braids the dough with extremely sure fingers on a long, stainless-steel table. She and two other women make about 1,000 babkas per week. Chocolate or cinnamon, take your pick.
I know this because I recently watched her at work as I stood in front of a glass wall at the Brooklyn Navy Yard. (And, later that day, I cut myself a very large slice of one of those excellent babkas. I'm a chocolate guy, myself.) The bakery where she works is on the ground floor of the Navy Yard's Building 77, freshly renovated to accommodate light manufacturing, offices, and a ground-floor array of food and drink. The two most familiar names in the retail array are Russ & Daughters and Transmitter Brewing. In between lies a palette (and palate) of deep-rooted New York flavors: Caribbean at The Food Sermon, Korean barbecue at We Rub You. The Navy Yard folks tend to avoid the words "food hall," but it seems to me like a pretty killer food hall, and the first thing you see when you enter is the spacious, spotless, white-tile-and-stainless-steel storefront of the new Russ & Daughters. It's has been doing partial business most weekdays since December, and the full-time, seven-days-a-week official opening is today. The apricot rugelach hit the counter warm from the oven, and the chopped liver is fresh and isn't overloaded with onion. I ate some of both of those, too, while I was at the new store, and if there turns out to be another place with better versions of them, well, I'll be surprised.
It's the second full-on Russ & Daughters store in town, and you could call this expansion a very slow rollout, because Joel Russ opened the first one in 1914. Six years later, he moved into a storefront at 179 East Houston Street, where he sold smoked fish and dried mushrooms and a few other products. It's still there, of course. (It's an "appetizing shop," in the peculiar Yiddish-English usage whereby "appetizing" is both a noun and a verb.) You may know Russ & Daughters even if you don't care about food, because it's hard to miss the neon as you cross Houston Street. The sign, displaying a pair of fish, is relatively new to the business, having been installed a mere 60 or so years ago. There's one company left in Manhattan that fixes it.
As of 2014, the Houston Street building was Russ & Daughters. The business had, in its first century, gone from local and unremarkable to established to a well-loved holdout to a New York treasure. Calvin Trillin wrote paeans to it in The New Yorker, and Nora Ephron, in Heartburn, name-checked the sablefish. (Some of which, by the way, I ate on a bagel before I got into the chopped liver.) And although the original store is doing fine — it's often crowded, and the family owns the building so there's no landlord trying to drive them out — there eventually comes a question for any moderately successful family business about how to pursue growth. Since 2010, two cousins, Niki Russ Federman (great-granddaughter of Joel) and her cousin Joshua Russ Tupper (great-grandson) have run the business. They have been approached over and over — "I can say, with no exaggeration, weekly," says Tupper — with good schemes and iffy ones for franchises and spinoffs and injections of VC money and what-have-you. They say no to almost all of it, preferring to pursue very measured and controlled growth.
Which is not to say that they are standing still. In the past couple of decades, the business has begun to shift more toward prepared foods, like matzo ball soup. Around the holidays, it had gotten to the point where customers needed to place their order weeks and weeks in advance, because the back of an old grocery, used as a kitchen, is only so large. If you have orders for, say, 300 latkes, you can make them in batches in a couple of skillets. If you want to make 2,000, you really can't. Owing to 100-plus years of accumulated affection for this store, whose products are so intimately associated with the disappearing Lower East Side Jewish experience, there were always more orders around the holidays than there were burners on the stove to accommodate them. Not to mention the cold-packed shipments of herring and challah that go to Florida, to L.A., to Tel Aviv.
Some of the route to expansion came with the opening of a restaurant, Russ & Daughters Cafe, a couple of blocks below Houston Street, and a satellite at the Jewish Museum that also has a retail counter. The restaurants have been reviewed glowingly and do well. But the restaurant business, though it is reproducible, is not especially high-margin in New York, because rent and labor eat up nearly everything that comes in. Also, there is competition in the form of a couple of other places that have knocked off the R&D aesthetic, mimicking details like the distinctive stainless-steel-and-white backlit signs behind the counter. (Federman and Tupper get a little excited when talking about those businesses, saying, "It's not the copying — it's what can't be replicated.")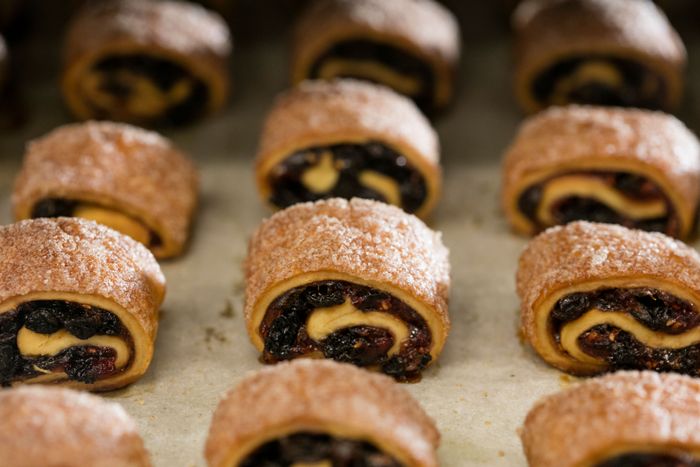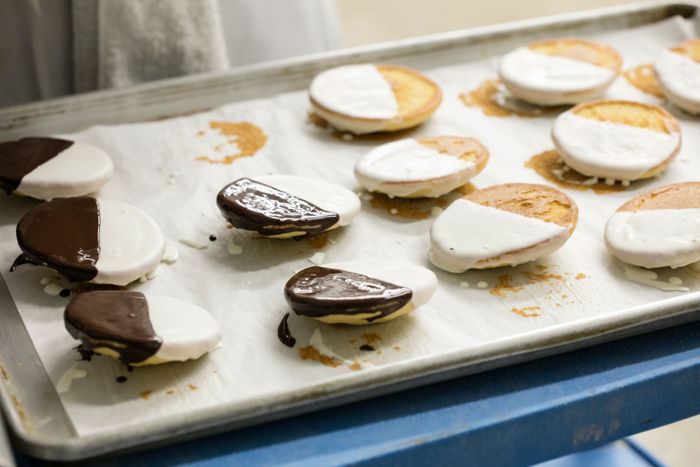 Russ & Daughters circa 2014 was principally a retailer, not a maker. (The world-class smoked fish, for example, comes from four suppliers, including Acme, in Brooklyn.) If it grew quickly, the company would have to make its supply lines extremely robust and high-capacity, and work with big national suppliers instead of its smaller, familiar ones. (A squishy and sweet Russ & Daughters bagel sold in the Safeway frozen-foods case, or perhaps a stand-alone Russ & Daughters Cafe in Vegas, with bikini'd LED fish on the sign, is the nightmare scenario here.) Adding restaurants in a hurry would add a similar risk of quality-control slippage. Instead, Federman and Tupper decided to bring most of the cooking and baking, apart from the fish-smoking, in-house. Russ & Daughters had been a little store; it would have to become a less-little factory.
And you can't really fit one of those into the back room of a 25-by-100-foot tenement storefront. A few years ago, the company took some manufacturing space in Bushwick, and that was okay as a proof-of-concept, but a bigger future lay ahead.
The Brooklyn Navy Yard has pretty nearly the opposite problem. It sprawls over about 300 acres, and for a long time it was dramatically underfilled. Seventy thousand people worked there during the second World War. After the Navy left in 1966, it was nearly a ghost town, and a series of nonprofit entities operated the yard as manufacturing and office space, at first not so effectively, then better. By 1998, its rentable space was fully occupied again — with a few thousand workers — but there were a lot of ghost-town structures as well. They included Building 77, a big structure on Flushing Avenue.
Did I say big? It's immense. Built in a hurry in 1941 to store war matériel, it has 1.1 million square feet of space across its 16 floors, about as much floor area as the Chrysler Building. The rumor was that it was full of stored explosives. Although that may not be true, you can see why people thought it was, because the place looks like a fortress. There are rails embedded in the lobby subfloor, where the Navy used to run trains through to load them up. The structure is mostly solid concrete, and when I remarked on its solidity, the Navy Yard's president and CEO, David Ehrenberg, told me that his engineers had described the load rating of those floors as "basically infinite."
Building 77 has mostly been in disuse since the Navy left in 1966, principally because because the lower three-quarters of the building was windowless and thus hard to adapt. To make it into rentable space required sawing holes into those formidable walls and adding a lot of glass. That renovation started eight years ago, and is now nearly complete, with 85 percent of the floors leased. A lot of interesting small-scale stuff gets made here, from jewelry (Catbird) to spacecraft components bound for Mars (Honeybee Robotics).
Building 77, although it is within the gates of the Yard, fronts on Flushing Avenue. Anyone can walk in. That, in turn, makes successful retail space on the ground floor a real possibility, and Russ & Daughters, with frontage nearly double the 25 feet it has on Houston Street, is front and center. While you eat, you can stop in front of the glassed-in bakery next door and watch the bagels dance around in their boiling vats. The big exception, as mentioned above, is the fish-smoking. Tupper explains that it's just too specialized and environmentally complex —"I joke that if I could take three years off and spend $5 million and figure out a smoking operation, I would, but that's what it would take, and it's not gonna happen."
Backstage, the Russ folks have rented a vast amount of space for baking and cooking and cold storage and mail-order fulfillment and the managing offices. (Their needs are slightly complicated because they also run the Jewish Museum's restaurant, and thus the bakery needs to be kept kosher, which the old Houston Street store is not. The rabbinically okayed activity has to take place far away from the chopped-liver chopping.) Because of the nature of the business, the back rooms seem slightly underpopulated right now, but they will be crammed when Passover and Hanukkah approach.
And one thing about the Navy Yard is that the space, like the floor capacity, asymptotically approaches the infinite. Ehrenberg says that "we love it when companies come to us five years in and say, 'We need more space." Conversely, though, he adds that he's been willing (and able) to take back space from new tenants who have overestimated their needs. The Navy Yard does a kind of boot-camp business program for companies that need a hand, getting them up to speed on accounting and growth-planning in exchange for a rent rebate. Federman, without going into detail, says that during construction, the company found itself "in a little bit of a bind" — it sounds like a cash-flow situation — and went back to the Yard asking for a little flexibility, which it received. R&D has decently sized offices, which allow Tupper and Federman to go somewhere when they have to argue something out in private. At the old store, they say, they would hold their most heated discussions in the walk-in fridge.
The great bet, of course, is on the don't-call-it-a-food-hall — that if you build it, rugelach buyers will come. Building 77 is a 20-minute walk from any subway stop. You have to cross under the BQE to get there, and that does feel, to a degree, like a psychic barrier. But there, too, the future seems to hint at success. Fort Greene lies just across (under) the highway, and it is a decent shot that its residents will treat the ground floor the way midtowners treat the lower level of Grand Central Terminal, or as those in the Meatpacking District treat Chelsea Market. If you live near Fort Greene Park or at Pratt Institute, it's five blocks away, a pretty modest Sunday-morning walk. And, this being Not-Manhattan, people do drive. One suspects that a trip from Long Island to the store on Houston Street would put off suburbanites jonesing for the perfect bialy, whereas they'd at least have a passing chance of finding a parking place in Fort Greene. The huge Wegman's supermarket that will soon open down the street may also help create a food-shopping hub, a little like the end-to-end twinning of Fairway and Costco on 125th Street.
The real growth of the business, though, lies in shipping out those chilled cartons of food. In the past five years, the business has roughly tripled in size, from about 20 employees to 130. By 2024, the plan, according to Tupper and Federman, is to quintuple from its current size, at a level that is sustainable by the fifth generation of Russes. Most of that growth will be in e-commerce.
Which brings a third challenge, and it's the one the Russes talk about a lot, which is keeping that growth entirely under tight, tight control. When you make more of everything, it gets tempting to take shortcuts. Bagels come out faster and sweeter if you sugar up the dough to soften it, but then they get swollen and more bready and less bagel-like. "If you take money from investors, or franchise operators, you have to go stand on the sidelines. But we have a certain obligation to three generations of the family," Federman explains. Tupper jumps in: "You lose something immediate: look, feel, haimishness." Federman: "You're scaling up recipes, maybe cutting the cost of ingredients." Tupper: "Inevitably, as you grow — and you see it with all these companies that grow, although I don't want to name names — the quality diminishes, because it's not four places where one person can run around and ask, Is it happening like this?"
Well, they've kept it to four — the old store, the downtown restaurant, the Jewish Museum outpost, and now this one — and it sounds like there won't be a fifth for a while. Step back and look at the neon sign over the storefront in the Navy Yard. It's a copy of the one that glows over Houston Street, with white fish (are they also whitefish?) on either end. It's crisp and new where the old one is a little weathered. What you realize, when you stand under it and pay attention, its that it's more than twice as big. But you can barely tell.