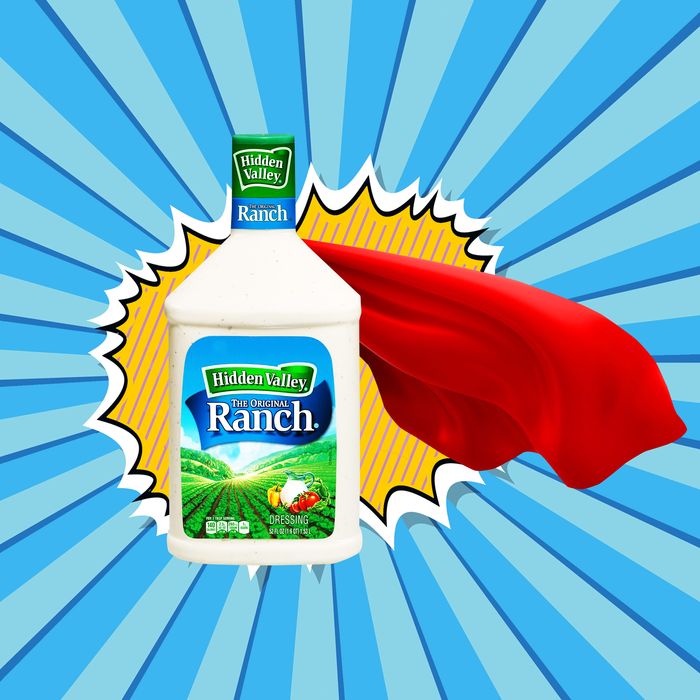 The most American superhero.
Photo-Illustration: Grub Street
Ever-worse climate change news seems to come every other week, the internet is a misinformation minefield, Salt Bae is opening another New York restaurant. But amidst all the fear and trepidation about an increasingly bleak future, Americans were recently given their first glimmer of hope in what feels like ages. Grub is referring to — who else? — Ranch Girl.
Born Hanna Kinney, the extremely midwestern Iowa native and college student accidentally and suddenly rose to fame after she was documented "just trying to get some ranch" during an event for Senator Kirsten Gillibrand at Iowa City's the Airliner. In a short clip posted by journalist DJ Judd, she accidentally upstaged Gillibrand with her steadfast, earnest commitment to condiment acquisition.
As she told Intelligencer yesterday, "I was a girl on a mission. Tunnel vision." She was also getting the ranch for the people, as she was leading a Bible study for which her "job in the group" is to retrieve the condiment when it doesn't arrive with their pizza. She reiterated her love of ranch, and particularly for the Airliner's homemade ranch, telling the Washington Post it's her job "because some people are lazy, and […] I am dedicated to this ranch." In these confusing, uncertain, and divisive times, Ranch Girl's pure and uncorrupted love of America's greatest condiment has resonated deeply with people.