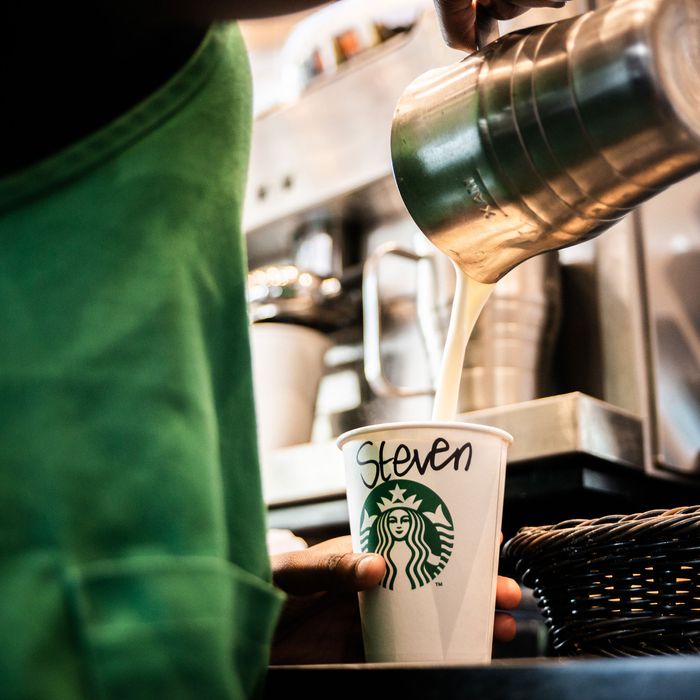 Does anyone need another Starbucks?
Photo: Waldo Swiegers/Bloomberg via Getty Images
Could the people finally be turning on their pumpkin spice overlords? After allowing Starbucks to open dozens of locations in their city, Philadelphians are outraged that the company is opening, yes, another coffee shop. The currently under-construction shop in Dilworth Park is across from a La Colombe and just 500 feet from another coffee shop serving Starbucks coffee, prompting soul-searching questions about whether it's necessary to have Frappuccinos on every corner. (The saturation of Starbuck locations in Philadelphia may be the issue here, but the city is also where two black men were wrongfully arrested last summer at a Starbucks after a store manager called 911.)
Following ground-breaking at the location, CBS Philly spoke to Philadelphians about the drama engulfing the city. One told the station she's mad it's another chain moving in — "I really think it should be a local coffee shop" — while a Frappuccino fan raised the existential quandary, "Do we need another Starbucks? I like Starbucks too much." Suggesting the new Starbucks was another indication of the bland corporatization of public spaces across America, another interviewee said that those who want to understand Philly "should not be going to a Starbucks."
While some (possible Starbucks plants) seem to be happy about the new branch, those voices seem few and far between. More were unequivocal in their anti-Starbucks stance, with one person raising civic concerns to CBS Philly and saying "it makes no sense to me," because Dilworth is a public park. In the most unequivocal rejection, another argued "this is not serving us." Right on. As the saying goes, we have nothing to lose but our Caramel brulée Frappuccinos.