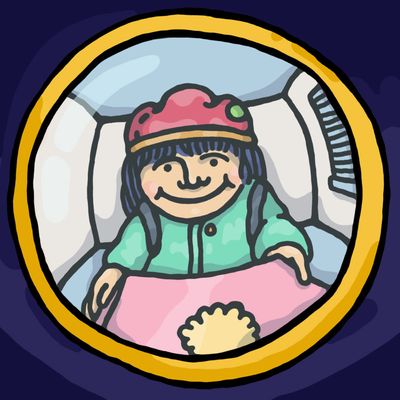 Illustration: Alexander Atkinson
For the lazy and hungry among us, on-demand delivery apps are nothing short of a miracle: With a few taps on your phone, practically anything you could want to eat will arrive at your door in a matter of minutes. It's no wonder that companies like Postmates and DoorDash are Wall Street darlings: the former just secured $100 million in new funding, giving it a valuation of $1.9 billion in advance of its IPO; DoorDash's latest valuation, meanwhile, is $7.1 billion.
Of course, for the people doing the actual delivering, the apps offer the promise of making money while setting your own schedule and, you know, getting out to enjoy some fresh air. But in reality, the payment structures are unnecessarily complicated: DoorDash, Postmates, Grubhub, and Uber Eats have all been embroiled in legal fights over wage theft, and in just the last two weeks, DoorDash, Instacart, and Amazon's on-demand delivery service Flex have come under fire for using customer tips to cover the minimum fees that these companies promise their workers. (Instacart eventually changed its policy in response to the outcry.)
Still, Grub Street wanted to know what it was really like to take part in the gig economy, so, on a recent night, we met up with Krista Gay, a student at Brooklyn Law School who delivers for Postmates. She agreed to let us follow along for her deliveries for a completely unscientific but nevertheless eye-opening look at what it's like on her side of the peephole — and to find out how much money someone can really make as a start-up delivery worker. (Spoiler: It's not much.)
7:20 p.m.
Gay logs into Fleet, Postmates' app for deliverers, and immediately receives a ping. Demand for delivery can be unpredictable, but it's a Friday, the night after Valentine's Day, promising that it will be busy. "It's for Sweetgreen," Gay tells me of the delivery request. It's just down the street. Gay texts her first customer. "Hi! My name is Krista and I'll be your Postmate today," the message says. "I'm on my way to pick up your order, please let me know if you need anything :)."
7:30 p.m.
The Sweetgreen in Brooklyn Heights is, like all Sweetgreens, designed to prosper in the app-ordering economy: There's a shelf next to the door dedicated to takeaway orders, alphabetized by name. Gay's chicken Caesar isn't ready yet, but she's practically on a first-name basis with the staff — a couple of words and nods is all it takes to get the order thrown together quickly.
Gay hits the condiment bar for utensils, napkins, and one of every sauce. "Why would anyone want mustard with a salad, right?" she says. "I don't know, but some person will," and she intends to be ready. Though she's only been delivering for two months, she already has a firm handle on the quirks of diners and restaurants alike. "Shake Shack," she groans, "never seems to put enough chicken nuggets in an order."
Walking out the door, another delivery request appears on Gay's Fleet app: another Sweetgreen request. But the order isn't ready, so Gay decides that instead of waiting she'll deliver the first salad before sweeping back. "I have my order and am on my way to you," she texts the first customer. "See you soon!"
7:40 p.m.
At the door of the first delivery, at a nice prewar building on Atlantic Avenue, a bleary-eyed woman answers the door, sniffling, and takes the food. "Her poor nose," Gay says once we get back outside.
7:45 p.m.
Back at Sweetgreen, the second salad is ready. This one will travel a bit farther. To eliminate potential bias, Postmates doesn't reveal exact delivery addresses — only general delivery areas — to couriers until they're at a restaurant. This salad will go to a luxury high-rise that's about 15 minutes away.
On the plus side, it's relatively nice out. Gay tells me about an incident a week ago, when she slogged through flurries to deliver a single slice of red-velvet cake. When she arrived with the cake, the woman who ordered it informed her that it was supposed to have candles, too, which were missing. Gay went back out in the snow, and returned with the candles. She didn't receive a tip.
During the walk, she tells me that wasn't even her worst delivery experience. She once arrived at a restaurant to discover the power was out. When she pressed "Cancel Order" on her app, she was warned that abandoning a delivery can inconvenience customers and that she could be banned from being a courier. She had no way of contacting Postmates, other than via a generic form, so she canceled the order anyway and filled out the form later. Eventually someone from Postmates did get back to her, ten hours after the delivery.
8:05 p.m.
The second salad gets delivered without incident. The woman even texted Gay back: "Thank you so much Krista! You're a lifesaver." The next order that filters in is for Shake Shack: two burgers, two fries, and a ten-piece order of chicken nuggets. It's is a short walk away, and the order appears surprisingly fast considering the long line.
But because it's Shake Shack, Gay pauses to double-check the entire order. "I'm only getting nine nuggets," she says. Now she has to decide if it's better to deliver the order sooner with a missing nugget, or slow things down and wait for new food. Luckily, a cashier saves the day and hands Gay another ten-piece nugget order on the house.
During our 0.7 mile walk to Fort Greene, Gay tells me that gestures like that make her feel guilty, since the restaurant staff won't benefit from their kindness. "It's not fair when staff at a restaurant go all out, and the customer isn't even there to know."
8:30 p.m.
We arrive to find a note instructing us not to use the building's main entrance, which is closed. We hunt for another way in, eventually finding a door on the opposite side of a massive, six-building gated complex. Once we're in the lobby we see two elevators, one labeled "Odd Floors" and another for "Even Floors." We're going to the 14th floor, so we get in the Even elevator, only to discover that, because the building doesn't have a 13th floor, we actually need to get into the Odd elevator. We shrug and switch.
By the time we get to the floor that is called the 14th floor but is actually the 13th floor, the customer is waiting with the door ajar. Holding out the bag of food, Gay greets him and explains: "Shake Shack accidentally gave you nine nuggets instead of 10." He nods. "So I told them, and they gave you ten extra nuggets for free." He sort of smiles, thanks her, and awkwardly closes the door.
"I don't think he's going to tip me," Gay says aloud as the odd-floored elevator starts moving back down, after which there's a 20-minute hike back to Brooklyn Heights. Three orders isn't that many, but the dinner rush is about to slow down, so Gay decides to call it a night.
A few days later, Gay gets in touch to tell me that Friday night's tips have posted. The sick woman who got the first salad didn't tip. The man who lives in the building with the bad elevators, who got an entire order of nuggets for free thanks to Gay's quick thinking, also tipped nothing. Only the second customer added a gratuity: $4. Postmates pays Gay a flat fee of $4 per order, plus 10 cents for every minute spent waiting to pick up food. Miles traveled from pick-up to delivery are also factored in. All in, Gay yielded $16.62 for an hour and a half of work, not even clearing New York's $15 minimum wage for food-service workers.
Gay says she isn't surprised, and that luck plays a big part. During her first week, every customer tipped her, which is rare. On average, Gay receives a tip on 27 percent of her deliveries. "It's a chance to walk around my neighborhood and clear my head, and I like interacting with strangers," Gay responds when I ask why she keeps doing it. "But if I was relying on the money? Forget it, no way."