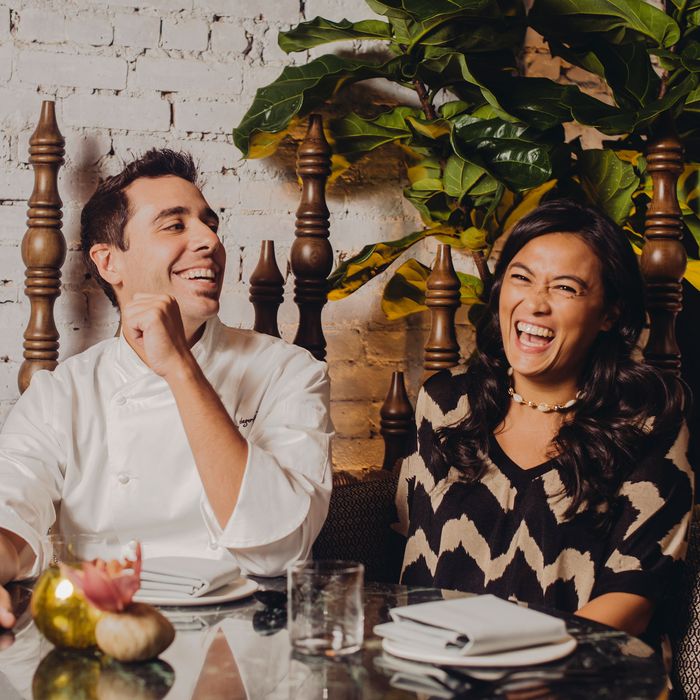 Cédric and Ochi Vongerichten at Wayan.
Photo: M. Cooper
During a recent dinner at Wayan, a new Indonesian restaurant in Nolita, one of the owners — Ochi — fluttered from table to table, pollinating conversations with tidbits and jokes that helped everyone's night blossom (she also assured diners that a Balinese suckling pig would join the menu soon, as would Indonesia's national dessert, es teler). A gin cocktail named for her, the Ochilike — made with Champagne vinegar that is fittingly sharp and playful — landed on several tables. As her husband, Cédric, ran the kitchen, Ochi, who moved to New York from Jakarta, picked up a small bottle of the restaurant's homemade hot sauce." "We call this sambal bule," she told an Indonesian guest she had just met. "The kitchen," she explained, "calls Cédric bule, too." Bule is Indonesian for "gringo."
Many people may get hung up on the idea of a white guy running an Indonesian restaurant in one of the ritziest neighborhoods in Manhattan. Nevertheless, Wayan is, in its early going, a delight. "I absolutely love the décor. It's simple, chic, and impactful," Prabal Gurung, the Nepalese-American fashion designer who held a Lunar New Year party there, says. "I loved all of it, its perfect fusion and explosions of tastes and aromas."
Tika Rakhmatika, the general manager of Upi Jaya in Elmhurst, favors Wayan's simple corn fritters ("I could eat that all the time, every day"). She adds, "It feels like a Balinese restaurant — it's almost spot-on." An Indonesian friend, meanwhile, wolfed down a helping of Javanese oxtail soup and sighed: "Oh, I've missed that taste." Cédric's nasi goreng is fried rice beautifully heightened, nearly to the umami chewiness of bready meatballs. The chef calls the trio of satays — chicken, pork, and shrimp, each perfected across 30 or so versions — "bulletproof in terms of juiciness." And they are, which is all the more remarkable considering the kitchen has no grill (they use a French plancha instead).
Wayan, in other words, is the kind of mom-and-pop restaurant that many couples dream of opening: a dining room that tells their collective story through personal food and friendly service; that feels as warm as it does instinctive. It just so happens that Cédric's father, and Ochi's father-in-law, is arguably the most famous chef in the world.
Bangkok-born and forever moving — to Boston, Geneva, Hong Kong, Lisbon, London, Osaka, and Singapore — Cédric Vongerichten spent some of his scattershot childhood in New York, living in the Drake Hotel, where his dad, Jean-Georges Vongerichten, ran one of New York's most celebrated restaurants (Cédric would sometimes ask classmates which hotel they called home). By the time he was 14, Cédric had moved to the south of France with his mother, and began his culinary career following in Jean-Georges's footsteps — while using his mother's name. Cédric Prevost, as he was known, worked under Alain Ducasse at Le Louis XV in Monaco, Christian Willer at La Palme d'Or in Cannes, and Jacques Chibois at La Bastide Saint Antoine in Grasse — all Michelin temples of culinary demigods — and contends today that those bosses never knew of his famous lineage. When he was 17, Cédric agreed to help open his father's restaurant in the Bahamas, unaware that the elder Vongerichten had only extended the invitation in the hope of steering his son away from this particular career trajectory.
"I sent him for six months of work with local fisherman — prep work," Jean-Georges says. "I thought he'd come back and say, 'Forget it.'" Instead, Cédric dutifully learned butchering in the Bahamas, then hot appetizers in London. He worked across Asia before brushing up on management skills at the Culinary Institute of America, during which he interned at elBulli. Upon graduation, he was pulled back into the Jean-Georges corporate bloodstream, eventually working his way up to sous-chef at Jean-Georges, and becoming chef de cuisine at Perry St, the smallest of the 13 family-run New York City restaurants.
There, it took Cédric six months to devise his first dish, butter-poached lobster in lemongrass broth with potato ravioli. It took him another four years to create a menu that was completely his. And while he is still involved in that restaurant, Wayan (which means "firstborn") is a project that is fully his own. He and Ochi have a business partner, Ezra William, but there is no financial involvement from Cédric's father. Instead, it's another family member — Ochi — who is in many ways the driving force behind Wayan, not just for the Indonesian inspiration, but for the brass-tacks work of, for example, applying for a liquor license from the local community board.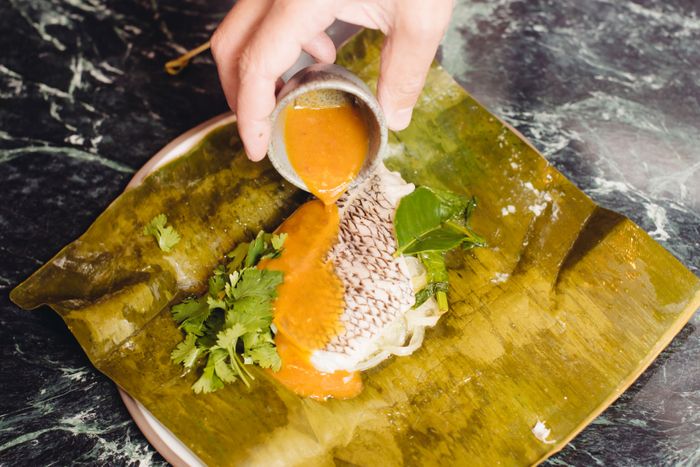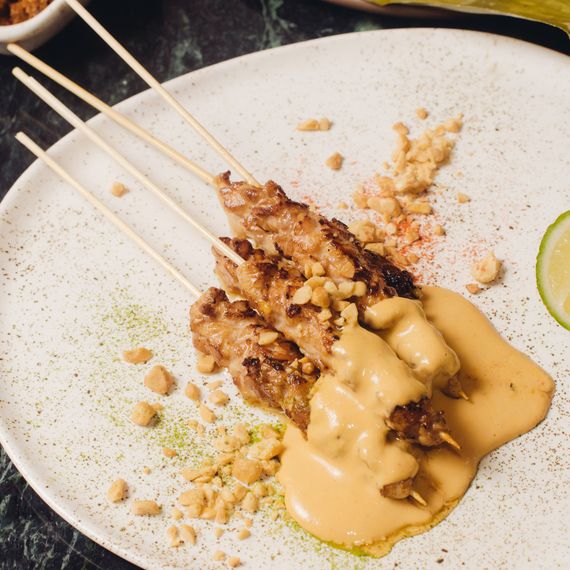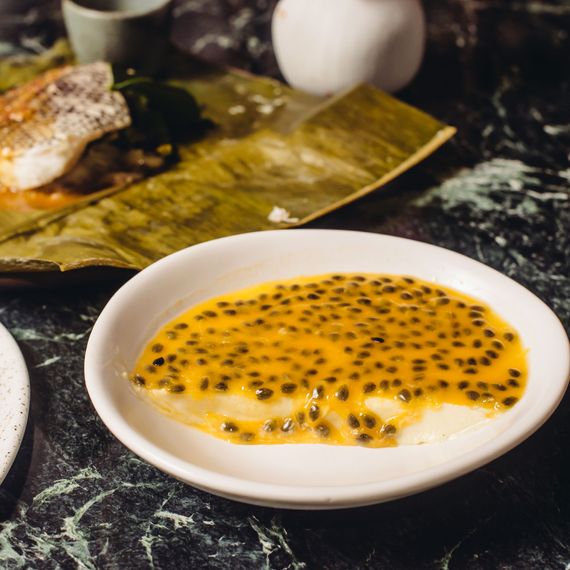 Despite a dewy glow and a breezy vibe that speaks to his hobbies (windsurfing and flyboarding), Cédric is coy and cautious when discussing anything other than his cooking (asked to reveal his guilty culinary pleasure, he confesses it is … a daily Chobani), so his story about meeting Ochi while they were CIA students is not exactly candid. "I don't want to get too personal," he says, "but let's just say that she was taking French classes and I was a French tutor. That's it." Ochi laughs increasingly throughout his answer until she blurts out the truth: "Basically he did all my homework so after that we could party outside." They both laugh.
Together, they opened two projects in Jakarta — Le Burger and Vong Kitchen — but it's Wayan that most strongly reflects the couple's personality. "I don't want to call it fusion or anything like that," Cédric says, "I mean, it's not also 100 percent authentic — it's just my version, my vision of it."
And yet, in a surprising moment, there are no knives or chopsticks at Wayan, which are not really a part of the Indonesian table. "I'd rather eat with my hands than have chopsticks in this restaurant," says Ochi, who notes that she's seen customers eat Wayan's sautéed whole shrimp — which Cédric calls "so freaking sweet" — with their hands.
Jean-Georges, it's probably worth noting, tried to employ the same cutlery strategy at Spice Market, but he had to quickly reverse course at that Meatpacking District clubstaurant. At Wayan, it works because the restaurant is rooted in ideas of authenticity that have taken hold among New York diners in the last decade, a time when overlooked cuisines like Albanian, Portuguese, Filipino, and hyperregional Indian have enjoyed moments in the sun. The Indonesian cooking at Wayan fits snugly into that trend, even if Wayan itself doesn't, necessarily.
Little markers of Cédric's fine-dining training are everywhere in the restaurant, a sign that he will forever bear his father's professional fingerprints. In fact, while sitting at his own eponymous flagship at the Trump International Hotel on Columbus Circle, Jean-Georges notes that his restaurant's lease will end in about 15 years, and he doesn't see himself running the business forever (he'll be 62 in March). He hopes Cédric will take over. More than hopes — he's planning on it. "I really want him to join us eventually," Jean-Georges says. "That's the plan."
When I relay this bit of information to Cédric, he doesn't miss a beat: "It sounds like we need a family meeting."