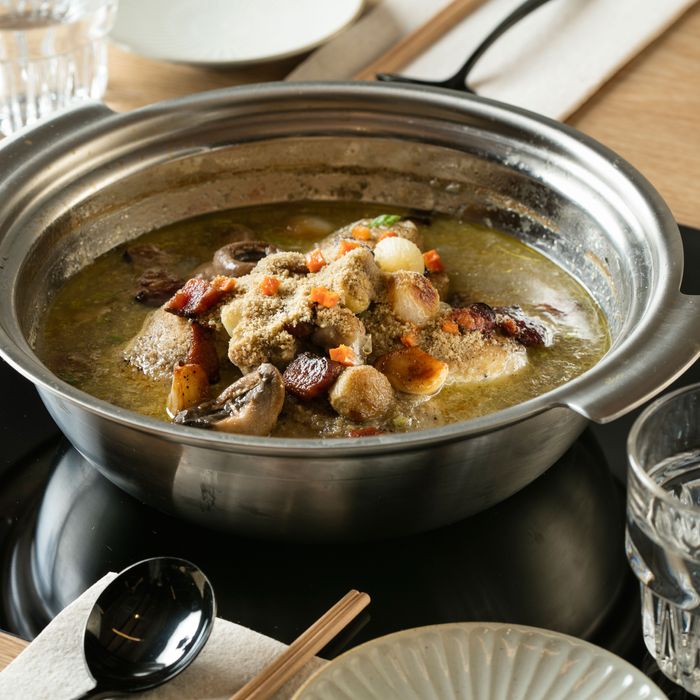 The chicken perilla-seed pot with grilled pearl onions, bacon, roasted whole garlic, and chicken broth.
Photo: Melissa Hom
For one of this decade's most successful restaurant groups, Hand Hospitality doesn't have a ton of name recognition. But over the last eight years, they've opened a series of smash-hit restaurants. Hand's first spot, Take31, opened in 2011 and set the stage for other contemporary Korean restaurants like Oiji, Soogil, and JeJu. Her Name Is Han seems to have been perpetually packed since it opened in 2015, though the restaurant group has made its biggest mark through its involvement in the highly-regarded Atoboy and its sister restaurant, Atomix (both of which New York named Best New Restaurants, in 2016 and 2018, respectively). On February 22, Hand will expand once again with o:n°, a restaurant where most everything will be cooked table-side.
O:n° was originally going to be a jeongol (Korean hot pot) restaurant. The idea was conceived by Her Name Is Han's head chef, NamHyung Woo, whose father runs a restaurant in his hometown of Gurye, South Korea, which is apparently locally known for its hot pot. "I think he always has a feeling for that food," says Ka Yee Chan, Hand's brand-marketing manager. However, o:n° has since shifted toward the broader concept of seasonally-changing dishes prepared table-side. (Perhaps reasonably, as New Yorkers are probably less inclined to eat meat cooked in boiling soup when it feels like boiling soup outside.)
Woo and his team from Han are responsible for the restaurant, which Chan describes as taking a "more modern" approach to both cooking and design. The space is mostly concrete and wood, with a neutral design meant to keep people's focus on the food. Tables are outfitted with induction burners, and, in Hand's tradition, the physical menu is elaborate, artfully designed, and informative.
The winter offerings will be centered around jeongol, which is presented as a sort of set meal. After customers have ordered, rice is cooked at their table, three amuse-bouches are served, and then a complimentary dish arrives while the jeongol finishes cooking. There are eight different versions of the latter to try, including one stuffed with mushrooms cooked in a mushroom broth; another with tomato and a kitchen sink of seafood, including blue crab, calamari, and monkfish; chicken with perilla seeds and chicken broth; and bulgogi with burdock and a beef broth. Each comes with a choice of mushroom or vegetable rice, as well as udon, ramen, or rice noodles.
Along with the jeongol, there's a whole slew of appetizers, like a grilled short-rib patty with shepherd's purse, and a trio of "plates," like a roasted pork chop with oyster sauce. Fans of Han's popular fried chicken will be happy to hear there's a fried jalapeño chicken served with Vietnamese pepper and mayo. The cooking is not, as has been mentioned, meant to be traditional, and some dishes are dappled with French influence. (Chan says this was inspired by the fact that the chef's wife is French.) Take the yakgwa mille-feuille, which gives the French pastry the flavors of the Korean ginger sweet yakgwa, plus chestnut mousse for good measure. As for adult beverages, there's a full bar, which means a modest selection of wine, sake, and soju, as well as a few original cocktails, like the Jasmine, with jasmine-infused gin, honey, lemon, and ginger.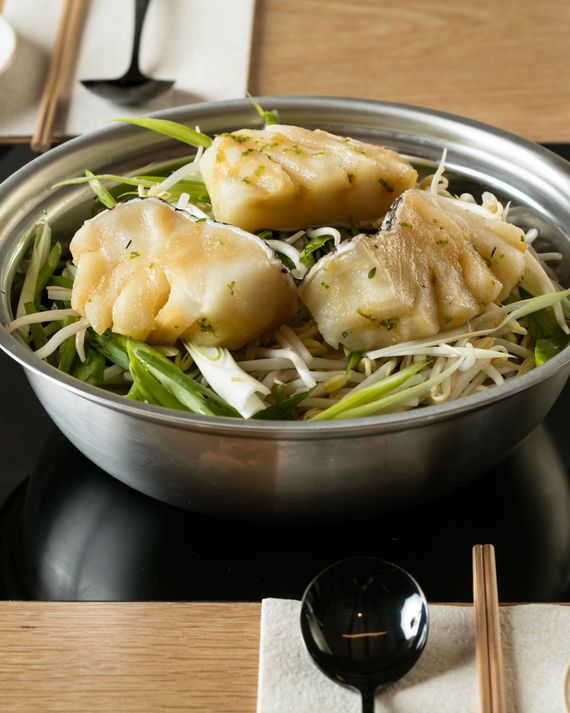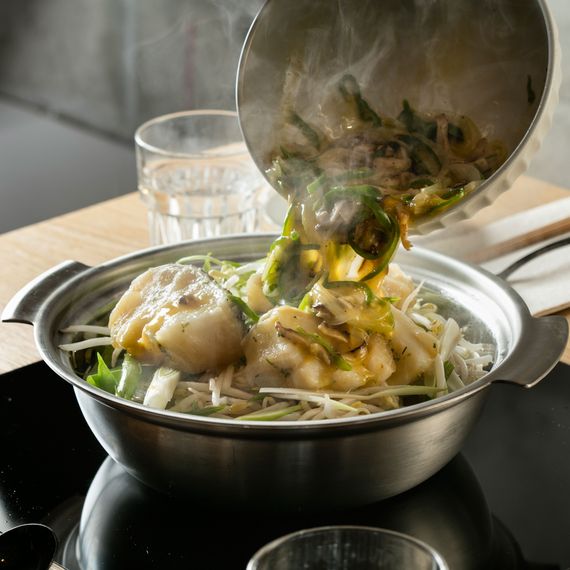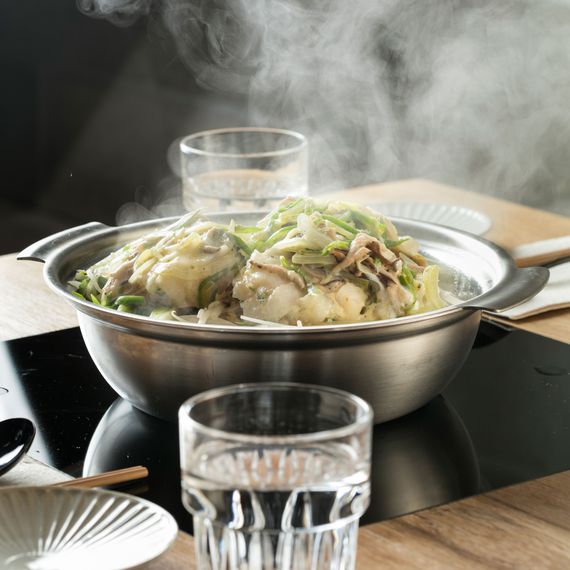 O:n°, 110 Madison Ave., nr. 32nd St.; 110 Madison Ave.; 917-261-4326
This post was updated after the restaurant's opening was delayed to February 22.