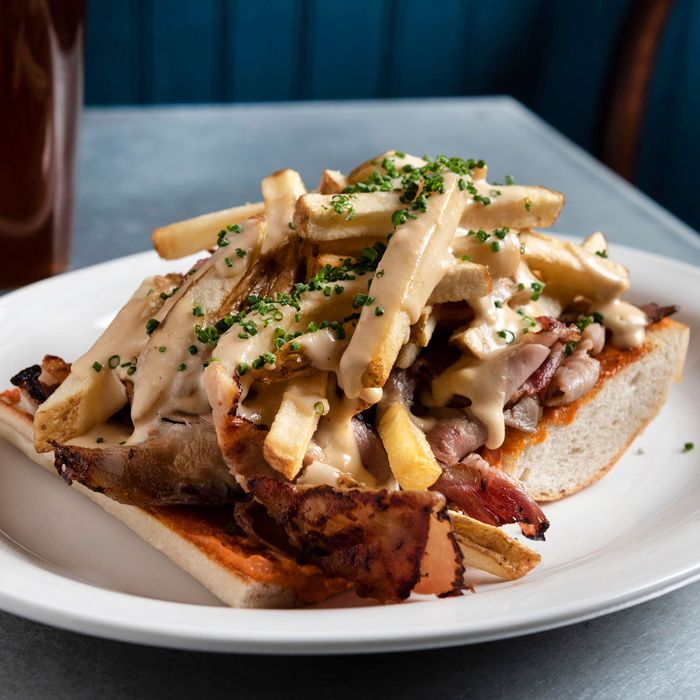 Your best post-partying bet is Benelux's French fry–topped Mitraillette sandwich.
Photo: Liz Clayman
In sandwiches, we as a species have achieved perfection. Stuff whatever you want — sweet or savory — between two hunks of bread and you're on your way to complete bliss. Zhuzhed up or pared down, you can't go wrong with a sandwich. In other words, we never tire of them and Grub is always on the lookout for the next "it" sandwich. Whether it's a rustic new take on the classic English muffin breakfast sandwich or a beast of a sandwich laden with beef tenderloin and fried oysters, here are the nine new sandwiches worth checking out right now.
The Mitraillette
Where: Benelux
How Much: $16
Imagine if poutine had a baby with a ham and cheese baguette: This open-faced sandwich is topped with roasted ham; gruyere-laden mornay sauce; and French fries sprinkled with fresh chives. If this sounds like the kind of meal that's housed by drunk college kids during a semester in Europe, you'd be right, but that's also sort of the point.
Breakfast Sandwich Pork Roll
Where: Popina
How Much: $15
Chef Chris McDade's brunch menu is brand-new, but it already does lots of things right. Take, for example, this spin on a classic Jersey breakfast sandwich, featuring a toasted English muffin spread with Duke's mayo and stacked with a slab of seared pork roll, American cheese, a fried egg, and a guindilla pepper-celery relish that's both spicy and tangy.
The Prego Sandwich
Where: Saint Julivert Fisherie
How Much: $19 (or $26 with oysters)
Yes, $20 bucks is on the higher end of the sandwich-price spectrum, but not every sandwich comes from one of the best restaurants of 2018. For their Prego sandwich, a play on the garlicky Portuguese sandwich of the same name, Alex Raij and Eder Montero top buttery brioche bread with juicy beef tenderloin and spicy mustard, which sounds satisfying enough. And this is important: pay the extra $7 it costs to add a heap of fried oysters to the whole thing.
Fried Chicken Sandwich
Where: Empellón al Pastor at Pod 39
How Much: $7
At his newest restaurant, Alex Stupak has added a fried chicken sandwich to the menu featuring a tender chicken breast with a subtle, golden crust sitting on toum, a Lebanese garlic sauce, and a bed of thinly sliced cucumbers. And the result is satisfying sandwich that won't leave you in a coma as soon as you finish it.
Veggie Burger
Where: Hall
How Much: $8
The city's newest veggie burger arrives courtesy of Japanese-American restaurant Hall, which opened last month in Flatiron. For his take, Chef Hiroki Odo creates a patty using chickpeas, quinoa, lotus root, seven-grain rice, onion, carrots, and edamame and serves it with white mushrooms, cashews, and white-curry sauce.
The Croque MekSieur
Where: Mekelburg's Domino
How Much: $15
For their not-so-subtle take on the French-born croque monsieur, this Clinton Hill beer shop-grocery-restaurant stuffs two slices of She Wolf sourdough with porchetta and gruyere, creating a more advanced take on the grilled ham and cheese of your youth. That's drizzled with béchamel sauce and topped with a crunchy pork cracklin' cracker and grated nutmeg.
Egg Sandwich
Where: Reynard
How Much: $13
With the recent departure of Christina Lecki, new executive chef Charlene Santiago has officially begun applying her own style to the Wythe Hotel's in-house restaurant. Among the changes is a new egg sandwich that sounds simple enough — sausage, cheddar, hot sauce, English muffin — until you read the fine print: the English muffin and sausage are house made, the latter with beef and pork seasoned with nutmeg and black and green peppercorns; the eggs are so softly scrambled as to be downright fluffy; and that hot sauce features a fermented red-Holland chili base that'll wake you right up.
Beef on Weck
Where: Interboro Spirits and Ale
How Much: $13
Turns out Buffalo's other claim to food-related fame besides wings is the beef on weck, which you can grab now at this East Williamsburg bar and brewery. The sandwich features thinly sliced beef on a kosher salt- and caraway seed-topped kummelweck roll. Horseradish punches the whole thing up while a small bowl of au jus will cover all your dipping needs.
High Street Leo
Where: High Street On Hudson
How Much: $18
Few restaurants take the sandwich game as seriously as this Philly import, which just so happens to make one of the finest egg sandwiches in the city. Recently, the West Village spot introduced the High Street Leo, their take on bagel and lox. Except instead of a bagel the restaurant uses a soft onion bialy with a schmear of scallion and chive cream cheese underneath a layer of lox and folded eggs.