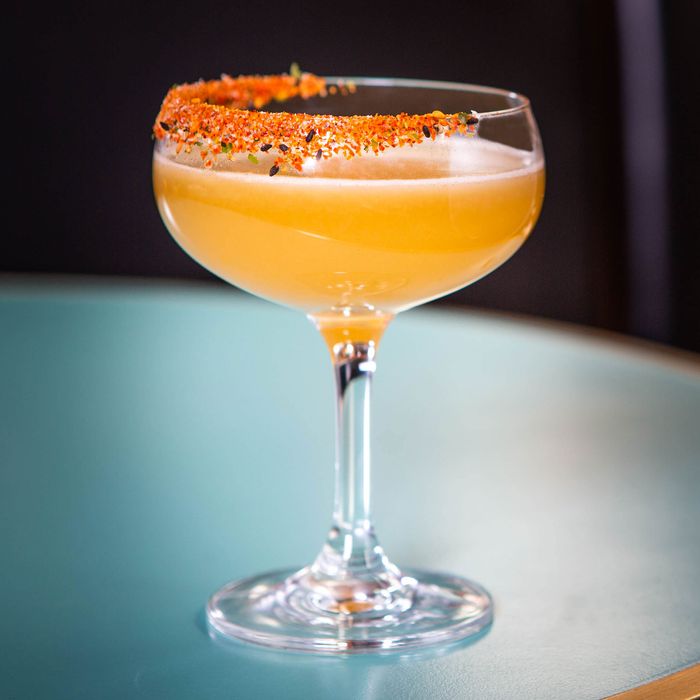 It's called the Devil's Nightcap for a reason.
Photo: Markus Marty
The year has still barely begun, but already New York City is teeming with new bars promising to introduce us to innovative cocktails. There are spinoffs from already-beloved standbys like Long Island Bar, Dear Irving, and Death & Co.; first-time bars from former employees of the NoMad and Sunday in Brooklyn; and a handful of restaurants that take their drinks as seriously as their food. Most importantly, none of them are phoning it in, whether they're making a much-needed update to the pickleback, what we're prepared to call the winter's best new drink, or the juicy Bloody Mary we've been waiting for. Here are the cocktails worth sipping at the latest entrants to the city's ever-bustling bar scene.
Devil's Nightcap
Where: NO BAR
How Much: $13
At Angela Dimayuga's new gay bar, this whiskey-and-rum cocktail is infused with a soothing jasmine rice syrup to complement the drink's fiery togarashi-spiced rim. A non-boring drink in a non-boring space? Yes, please.
Storm Front
Where: Lost Hours
How Much: $20
The menu at this Death & Co. offshoot in midtown's new Hotel 3232 highlights four elements, starting with "air" drinks and working its way to four relatively aggressive "fire" cocktails. The standout is this light combination of floral notes, with a cloud of fluffed egg whites floating on top. It's so eminently drinkable that you'll forgive this bar for being so dang small.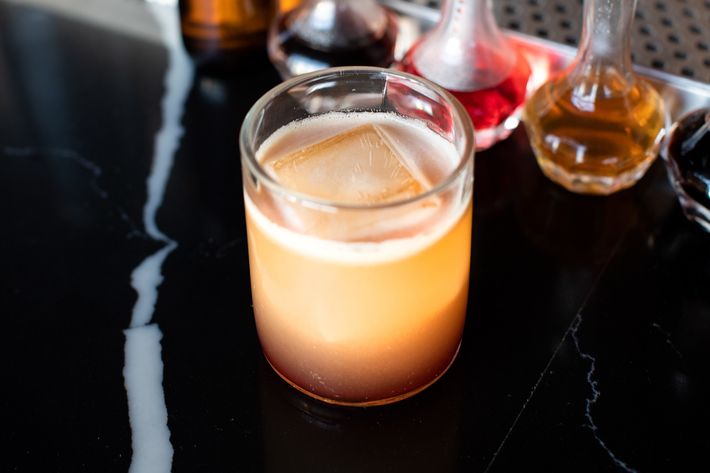 The Wildest Redhead
Where: Dear Irving on Hudson
How Much: $18
This new cocktail from the uptown outpost of Dear Irving is exactly the type of thing you want to sip in a midtown lounge on a cold night: blended Scotch with lemon, honey, soul-warming allspice dram, and cherry brandy.
Smoky Mountain Song Bird
Where: Hunky Dory
How Much: $12
The power of this cocktail from bartender turned restaurateur Claire Sprouse is that it hits on so many great trends in cocktails: Floral notes in the form of turmeric, old-world mystique in the form of Madeira wine, and earthiness in the form of mezcal. A drink from an all-day cafe shouldn't be this serious or this good, but expectations are made to be broken.
Peppi's Amaro-Palooza
Where: Peppi's Cellar
How Much: $13
The aesthetic at this spot located under the new Australian-born Italian restaurant Gran Tivoli is meant to evoke an old-school bar in Rome. Now, we don't know much about Roman bars, but we do know that when in Rome, you go for the amaro, and this cocktail featuring the bar's own amaro blend, made a little lighter with lemon, orange, and egg whites, is just the ticket — and pretty much the perfect post-dinner digestif.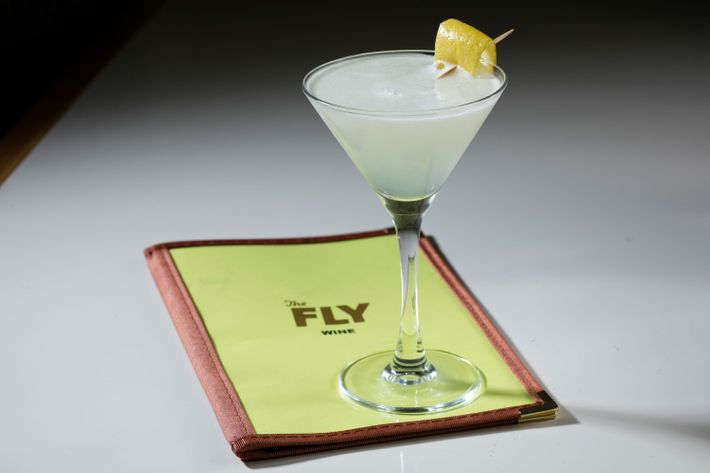 Lemon Drop
Where: The Fly
How Much: $12
Classy versions of trashy drinks are everywhere these days, but it's still impressive that drink pro Nialls Fallon has seen fit to overhaul the once-woebegone Lemon Drop. His take features American-made limoncello and amaro, and fresh lemon juice. The result: a delightfully tangy cocktail that you can drink all night with no regrets.
Maple Yuzu
Where: Bar Laika
How Much:$14
What makes this cocktail from this new Clinton Hill spot stand to is that it does such a great job of blending the expected — maple syrup and Evan Williams bourbon — with the delightful and somewhat unexpected — yuzu juice and sea salt. It's exactly the type of cocktail we look for when we want to keep it simple, but interesting.
Auntie Grizelda
Where: Citroën
How Much: $14
Hidden within a no-frills bistro is, perhaps, Greenpoint's most interesting new bar. Take, for example, this drink — named for an obscure Monkees song — which features tequila spiked with serrano peppers, celery shrub, a thinly sliced cucumber that curls its way up the glass, and freshly cracked black pepper. Like a Bloody Mary that just returned from a wellness retreat, this drink is rejuvenating without actually being healthy at all. In other words: it's perfect.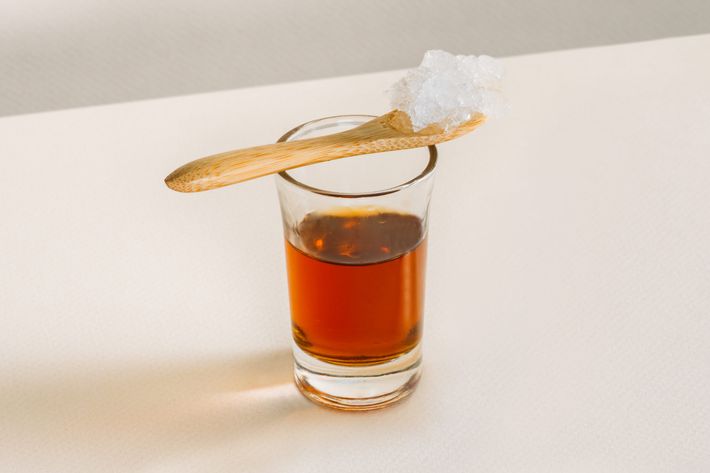 Paradise Pickleback
Where: Mister Paradise
How Much: $9
Okay, yes, the drinks here are named things like "the Party Lobster," "Café Disco," and "Dr. Angel Face" — but the underlying recipes are dead serious. NoMad alum Will Wyatt isn't afraid to experiment with ingredients like olive oil, tomato dashi, and fermented habaneros (but not all in the same drink — yet). The drink that really stands out is Wyatt's revisionist take on ye olde pickleback, which features a mix of whiskey and more mellow amaro in shot form, and subs an ice-cold mignonette granita for neon green pickle juice. It means you're not shooting back two shots like an animal, but taking a shot followed by a spoonful of fine mignonette.
Rendezvous
Where: Valerie
How Much: $15
Cocktails that are heavy on the technique can sometimes be tiresome, but this one featuring bacon-washed gin, maple pear puree, and cardamom bitters is just plain fun. Honestly none of these things should go together, but somehow Valerie makes it work: It's a little bit umami, a little bit fruity, and very boozy.