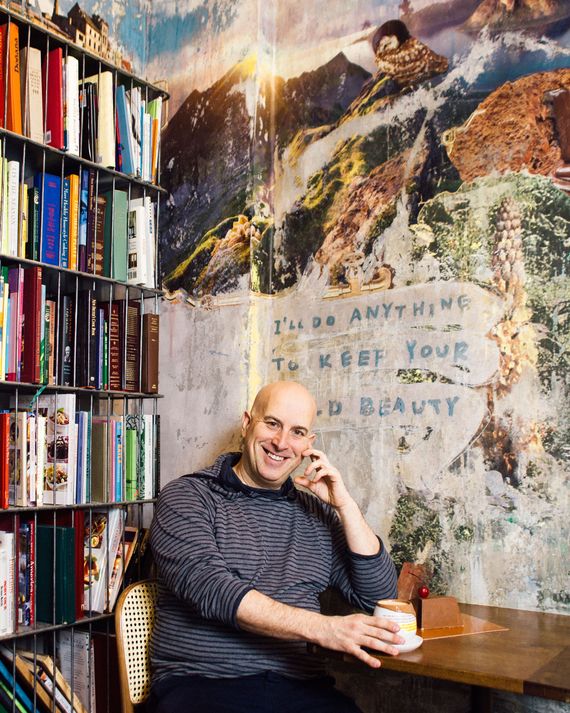 Oded Brenner, inside his cacao shop, Blue Stripes.
Photo: M. Cooper
At the southern edge of Union Square, a stylized illustration of a character ostensibly named Max Brenner keeps a watchful eye over Broadway and the movie theater across the street. Adorned on the outside with gilded paneling, the Brenner café serves dishes like "Chocolate Chunks Pizza" and "Max's Famous Chocolate Mess Party for Two" to groups of tourists and parents celebrating their kids' birthdays. The New York outpost is just one of the 55 restaurants and "chocolate bars" scattered around the globe that comprise the wildly successful Max Brenner chain.
However, the real Brenner is never inside. In fact, he's only been there once in the last five years. Instead, he's usually a block and a half downtown, running a completely different shop, which features no gold paint, no iconography of his baldness, and barely any mention of the word "chocolate."
Oded Brenner founded the original Max Brenner in Tel Aviv, Israel, in 1995. (The name is a mash-up of Brenner's and that of his former partner, Max Fichtman, although, over time, Brenner adopted the name as his own and became the brand's avatar — hence the slogan, "Chocolate by the bald man.") He sold the brand to the Israeli conglomerate the Strauss Group in 2001, remaining a strategic partner through the chain's meteoric growth. But when he opened an independent coffee shop, Strauss sued him for breach of a non-compete contract. The 2012 conclusion of the litigation resulted in a five-year exile from chocolate and a financial and emotional nadir.
"Basically they crushed me financially," Brenner says. "They took my equity. Crazy things. Even if I opened a Mexican restaurant, I couldn't say that I'm behind it, I couldn't put any chocolate on the menu … It was like I didn't own my own face."
So Brenner's newest business, Blue Stripes Cacao Shop, was conceived and designed at a time when Brenner, one of the world's most recognizable chocolatiers, was legally prohibited from doing anything chocolate-related in any public endeavor. His name, his likeness, and even the word "chocolate" were off limits. The idea for Blue Stripes — a concept based on cacao rather than chocolate — sprung up as a way to help Brenner avoid further legal trouble, yes, but also as a way to spread knowledge about the plant from which chocolate is produced.
Theobroma cacao is a tropical tree whose fruits are football-shaped pods with a glossy and rigid exterior — usually either yellowish or reddish in color — surrounding an interior of sticky white pulp dotted with hard black seeds. Chocolate is produced by fermenting the pods, then extracting, roasting, grinding, and processing the seeds. But chocolate is also just one product of the cacao plant out of the hundreds that have been enjoyed throughout history.
"I think the story of cacao is so big," Brenner says. "I mean, we consume cacao every day in so many forms — ice cream, chocolate chip cookies — but nobody knows what is the cacao fruit. Nobody knows anything about it."
Blue Stripes opened over the summer, and it still feels like a start-up. The menu is a crash course in cacao, and to the untrained eye, it can be confusing. Hot beverages feature "Asian cacao, long pepper, licorice" and "Central American cacao, honey powder, amchor." Menu sections like "chocolate clouds" and "wild chocolate" — since the non-compete period is over, Brenner has reincorporated the forbidden word — are far from self-explanatory.
Perhaps the most surprising offerings make use of the cacao fruit's pulp, which surrounds the seeds that are the basis of chocolate. With a consistency somewhere between mango and pumpkin, and a taste that is comparable to lychee or guava, it has no gustatory similarity to chocolate at all. At Blue Stripes, Brenner has devised all sorts of dishes featuring this underutilized pulp, which is often considered a byproduct in the chocolate industry: a sorbet sundae (with strawberry salad and spicy cashews), energy shakes (one of which features banana, ginger, basil, lemon curd, and hibiscus maple syrup), and cold bowls (cacao fruit, cacao nibs, Madagascar cream, lime-leaf maple syrup).
As we chat, Brenner bounces around the store, plying me with cacao-based liquids, solids, and everything in between. There are baked goods made from a flour of ground cacao pods, pure cacao fruit juices, a cacao "root beer," tiny spoons of syrup, and hard cacao rocks being processed in a modified corn grinder.
Despite the menu's more offbeat offerings, Brenner hopes that novelty won't be the driving force behind any success for Blue Stripes. "I'm not going to do what I did with Max Brenner," he says, "which is like a Willy Wonka–type thing that immediately takes you to a gimmicky one-time show." Instead, Brenner explains, he wants regulars. "It will be an everyday concept for people, similar to a coffee shop." And maybe the occasional tourist or birthday party, too.