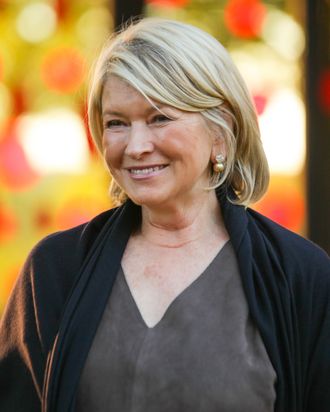 Martha Stewart.
Photo: Angela Pham.com/BFA
A lot of food personalities have come and gone, but Martha Stewart is forever. And that's probably because she's so good at just keeping up with the times, whether that's hooking up with Snoop Dogg for a TV show or getting into the booming weed business.
Today, Stewart announced that she has taken on an advisory role at Canopy Growth, a Canadian weed company. (As a convicted felon, it's unclear whether Stewart can get involved with weed companies in the United States.) To start, the lifestyle maven will help develop a line of CBD-based foods for animals.
In signing on, Stewart joins the marijuana boom in Canada, which began after weed was legalized last October. In the two months after legalization, Canopy sold some 10.1 tons of weed and weed by-products to consumers. So, yeah, we can totally see why Martha Stewart would want a piece of that.