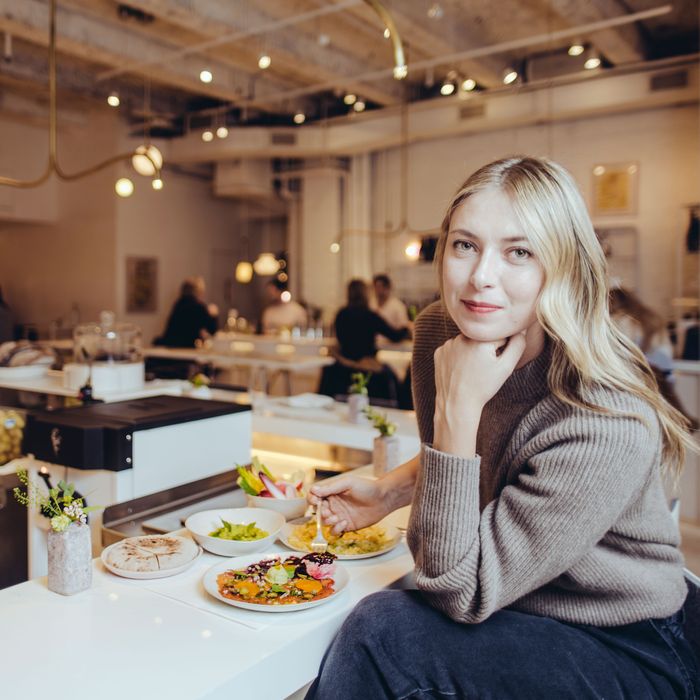 Maria Sharapova at abcV.
Photo: M. Cooper
Maria Sharapova spent the week trying not to eat what was left of the Russian confection she had gotten for her mom. "I bought three packages and only one made it home," she admits. Over the course of her career, Sharapova has been ranked number one in the world five times, and she's one of only five women to have completed a Career Grand Slam. In the past few years, she's also become a candy entrepreneur with her company Sugarpova. This week, after six weeks of tennis abroad to start the year, Sharapova spent a little time in New York before returning home to Los Angeles — and she managed to eat very well in both cities. Read all about it in this week's Grub Street Diet.
Tuesday, February 12
In general, I find it hard to eat breakfast. During training or tournaments, it's a very important meal. But I'm rehabbing my shoulder, and I find it hard to pack food in. So my breakfasts currently are fairly simple and clean.
This morning, I did a Pilates class and was only interested in a warm drink because New York was freeeeezing! My boyfriend suggested I would like this new place that opened on Lafayette called Matchaful. He was right. I ordered a matcha-vanilla zen latte, and a berry-date "superfood" ball.
My trainer would tell me that's not enough food, but I made up for it at lunch. I went to abcV. I could eat lunch there everyday. Eating healthy is hard work, because rarely do you find healthy food with great flavor unless it's homemade. I had the chickpea hummus with cucumber sticks, the cooked sauerkraut, with which I mixed the hummus (any restaurant that makes a good sauerkraut main dish will see me very often), warm farro with mushrooms and arugula, cooked carrots with nut and seed butter (cooked carrots are usually my least favorite vegetable dish, but they're a winner here), and the mushroom-walnut bolognese with carrot paccheri, celery, and mint leaf.
Had a 6 p.m. dinner at Rubirosa. I love pizza. And I love thin-crust pizza. Unfortunately, since I try to eat gluten-free, there aren't that many desirable options. But at this place I don't care if it's gluten-full or lactose-full. It's delicious and I will eat it until I can't anymore. I had the Quarter Water cocktail (it's one of two cocktails I love in New York — the other is Uncle Boons' spicy tamarind margarita) and a half-classic, half-pepperoni pizza. I love sitting at the counter, just having an extra-large pizza if it's two people — which looks embarrassing — and a cocktail.
Wednesday, February 13
Had a 9 a.m. flight, so I just made my own coffee at home. Nespresso with lactose-free milk.
Flew to L.A. I feel like airplane food is getting worse. Is that even possible? (Nothing can be good for you when you're 30,000 feet above the earth.) So I had the fruit plate. And my own rice crackers and an Ella's Kitchen kids' fruit purée. I always carry Ella's Kitchen purées with me anywhere I go. Meetings. Flights. Tournaments. I live on those things. It's baby food.
When I landed, I ordered Tocaya Organic Mexican to my house. It's my favorite delivery order when I'm home. I pretty much order it every week I'm in L.A. I ordered three butter lettuce-wrapped tacos, "barrio-style," with carne molida. They make a good cilantro rice and guacamole, which I mixed together.
Before going to sleep, I grated fresh ginger in a teapot, squeezed a whole lemon in, and let it steep with some mint. I also sneaked in a spoonful of the Georgian honey they served at the Russian bath I had at the South Kensington Club. It was the real deal, and I asked them to give me a small bottle to take home for my mom. When you go to a real Russian banya — and they do it quite well at this place — they tell you to have a spoonful of honey before you get the tea. So that's what I do. I'm a sucker for good tea and appreciate the effort that goes into proper tea-making.
I skipped dinner because I fell asleep before the sun set. I had been around the world in the past six weeks (Shenzhen, China; Melbourne; St. Petersburg, Russia; Marrakech; Milan; London; New York), and I think my body no longer knew what time it was. The tea honey was just one of the things I brought home for my mom. In Russia, we have this sweet called zefir, it's whipped and dense. I bought three packages and only one made it home — it's still not open — so I really hope she comes back soon, otherwise she may never see it.
I like to bring different types of candies from my travels. There's one in China I fell in love with, the White Rabbit. It's a very famous hard-shell candy that cannot be good for your teeth. It's so hard. I told my fans I really liked it, and I started my season off in Shenzhen and they kept bringing bags of it everyday. In the end, they were like, "Oh, she must be tired of this plain one." I got all the different flavors, like green tea, and I was like, "No, no, no, I like the plain one."
Thursday, February 14
An avocado toast at Gum Tree in Hermosa Beach. It's a huge portion, I only ate half. When in California, it's very rare you go about your day without some avocado.
Lunch was light because we had a big dinner ahead. Stopped by SunLife Organics and picked up their spicy bone broth. Made a simple salad at home with cucumbers, tomatoes, and slices of avocado. I mixed in some lemon juice, salt, and olive oil.
Dinner was at Chateau Hanare. It was Frieze in L.A., so we had a group dinner in honor of Pace Gallery. I'm typically not a fan of long, drawn-out dinners. When you see a menu on these occasions, sometimes you're like, oh my God, I'm never going to finish the last three or four dishes. I love the social aspect, but I think at some point it's like enough is enough with the food, and that's a shame. But you know what? The food was fantastic. I tried everything but one dish, I was a big fan of the Wagyu beef, the salmon, the rice balls, the tofu — I don't even eat tofu, but that was one of the starter courses and it was terrific.
Friday, February 15
Coffee at Two Guns. It's our go-to coffee spot with my girlfriends on a day off — we love the coffee and it's just a great little spot in town. I'm almost positive it's Aussie-owned, and Aussies just know how to do coffee. If there's anyone you trust for coffee, it's an Aussie.
Lunch was at Fishing With Dynamite. They have great seafood, including a crab-leg platter that we always order. Followed by a crab cake. I like it for lunch, because it probably has a maximum of eight tables and a small counter with three seats. It's very small, very intimate. I just love having a casual meal, getting a glass of white wine and the crab legs and some other appetizers and then going for a walk on the beach.
Dinner was at a Frieze event at Alex Israel's studio. They served Gjusta small bites: the gluten-free multigrain type of bread, a lot of prosciutto on top, mozzarella, smoked salmon with dill — those smaller, sandwich-type bites. It all reminded me of how I miss their grain bowl. Gjusta is my favorite spot during the warm days, on the patio. It's interesting because event food is not particularly tasty, I would say, but the L.A. art crowd wanted to be very impressive for Frieze because it was the first time it was in L.A. Gjusta was a great choice, and it was delicious.
Saturday, February 16
Breakfast started with a warm cup of water with fresh-squeezed lemon. I try to have that before my morning coffee a few times a week. It should be every day, but, just like meditation, it's a lot. Berries, lots of them. And pieces of rice cakes with almond butter.
Lunch was a homemade smoked-trout sandwich on German rye bread with spicy sauce from Trader Joe's, plus hummus with raw carrots and cucumbers. Rye is really the only bread I eat outside of restaurants that have gluten-free.
For dinner, we went to Felix. Reserving a table at this place is not a peaceful experience, so I usually arrive at 5:15 p.m. and do a walk-in for an early dinner. We were there for my father's birthday, which happened while I was away so I missed it. It was kind of a last-minute thing for my boyfriend and me.
We had the misticanza — lettuce and market vegetables; the gamberi, blue prawns with bagnetto verde; the diavolo pizza; linguine alle vongole; and the bigoli pasta di farro with duck ragu, which is a top-five pasta favorite of all time. I love the flavor of the duck and it's not a combination that I usually go for, with the pasta. I usually prefer vongole or something lighter, maybe a cacio e pepe. But I love that dish. It's phenomenal.
Sunday, February 17
Morning coffee with lactose-free milk. Toasted rye bread with smoked salmon.
Lunch was at the Source in Hermosa Beach, which is another little local go-to. It's also Aussie-owned and, because it's Aussie-owned, they make great avocado toast. I had matcha with coconut milk (not sure why I ordered it with coconut milk, because it's my least favorite milk in coffee or tea drinks) and a gluten-free tuna melt.
My afternoon tea was, as usual, Fortnum and Mason's Afternoon Blend. It's the 5 p.m. teatime. I like my black teas with jam. It's how my grandmother serves it when I'm in Russia, with a tablespoon of cherry jam. Unfortunately the jam was not homemade like my grandmother's is, but it did the trick. I always eat the jam with my spoon before I finish the tea.
This wasn't planned, but I made it back to Felix for dinner because my friend didn't give me much of a restaurant choice. She was determined to get a table there without a reservation. After a long wait by the bar, we inhaled another delicious meal. I ate a whole lettuce salad on my own with the shrimp and I couldn't hold back on getting the pasta with duck ragu again. She had dessert, but I skipped it.
Also, a completely random encounter happened at the bar. A gentleman asked me if I've ever eaten at White Rabbit in Moscow and I told him, "No, I haven't, but I saw it on Chef's Table." We then started speaking about the best restaurants in L.A. and he immediately mentioned Totoraku, the special beef restaurant that is pretty much impossible to get into unless you know the chef. Still not entirely sure how, but thanks to a stranger who dined next to me, I now have a reservation at Totoraku. I'm prepared to eat lots of beef.
I don't like to overcomplicate things. When you're living a busy life, you always do the things you can control and make things easiest for yourself. But I'm also a big believer in treating yourself, and that comes from my childhood. You spend so much energy saying no to yourself, always restricting yourself, and not just in food but in life, and so I'm always a big believer that there are times you have to give yourself a treat. It takes a lot of energy to consistently say no to things you do enjoy.