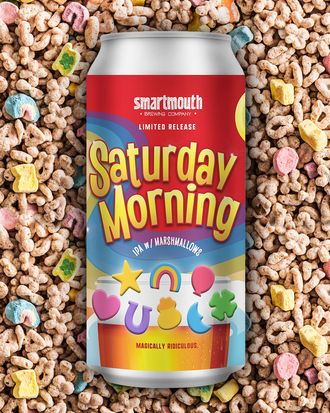 Definitely better than eating cereal
with
beer.
Photo: Smartmouth Brewing Company
This weekend, Virginia Beach's Smartmouth Beer will unleash a Lucky Charms-inspired beer. The beer itself is a 6.6-ABV IPA called Saturday Morning that's brewed with "in-house toasted marshmallows" and more dehydrated-marshmallow bits. According to spokesperson Chris Neirkirk, who spoke with USA Today, it only has "a slight cereal taste" and is more about "beer evoking nostalgia."
News outlets have scrambled to cover the advancement in beer technology, which has hit the big time on Google and been hailed, even before its release, as "the new favorite beer of Lucky Charms fans" that "takes 'magically delicious' to a whole new level." Yes, it's sort of fun and zany and probably something you'd drink when feeling nostalgic and watching old cartoons. That is, if you're in Virginia, which is the only place you'll be able to get the brew.
All this hoopla, though, is despite the fact that Smartmouth is not even the first brewery to make a Lucky Charms-themed beer. It is, in fact, just the latest addition to what is becoming a storied genre of magically delicious beer. Black Bottle has brewed its Cerealously milk stout, Kuhnhenn Brewery has brewed a Lucky Charms Lager, Strangeways Brewing has its Lücky Charms Marshmallow Berliner Weisse, and Evil Genius Beer Company has a Magically Delicious New England–style IPA. Back in 2017, IrishCentral raised the alarm when it asked, "Does this brewery's Lucky Charms lager takes things too far?" Considering the reaction to Smartmouth's new beer, it's clear the Irish have lost this fight.