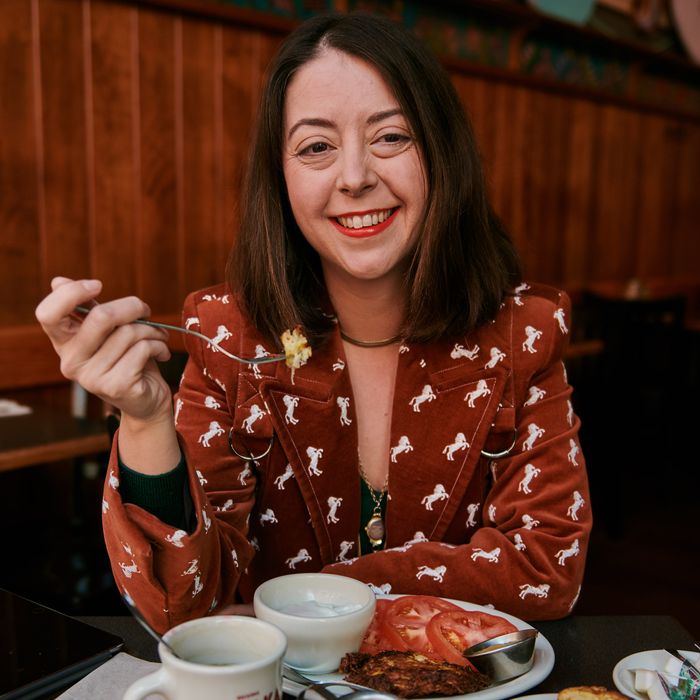 At
Veselka
, one of Karina Longworth's regular haunts from her days in New York.
Photo: Christian Rodriguez
Karina Longworth is one of Hollywood's premier historians, uncovering its hidden 20th-century stories through her "sublime" podcast You Must Remember This. Now, the native Angeleno has a confession about her own history. "Very embarrassingly, I didn't have a taco my entire life until I was 19 and living in Chicago," Longworth admits. But when she's not thinking about Hollywood — she's developing a show based on one of her podcast's seasons, and in November published Seduction: Sex, Lies, and Stardom in Howard Hughes's Hollywood — she's making up for lost eating. This week, that meant making homemade cavatelli with her husband, a cost-benefit analysis of a 4 p.m. breakfast burrito in Los Angeles, and going to a cocktail party with pastrami from Katz's in New York. Read all about it in this week's Grub Street Diet.
Friday, February 8
I had a boxing workout scheduled for a couple of hours after I woke up and would ordinarily not eat beforehand, as I find it easier to maintain my energy without solid food in my stomach. But I made the mistake of eating mostly vegetables for dinner on Thursday and I woke up staaaaarrrvvving. I drank a glass of water, took a probiotic, then while I made coffee, I broke down and had half a banana. I poured a small cup of coffee (made with Stumptown French Roast beans) and added some Califia Farms Better Half Coconut Cream & Almond Milk creamer. I also dropped an 8Greens tablet into half a glass of water. I drink these while doing morning emails.
I still felt a little low in the caffeine and blood sugar departments, so I got a small almond milk latte at Bru next-door to the gym. My trainer, Luis, is a real "food is fuel" guy, and he has encouraged me to skip dinners or replace them with smoothies, which is not a thing that is ever going to happen. Exercising regularly is great for me — the big discovery of my 30s is that it turns out cardio is a much better mood and stress regulator than cigarettes, who knew! — but I don't feel like I need to lose a ton of weight, and life without dinner just wouldn't be worth living for me. When I told Luis about this food diary, he looked extremely worried and pleaded with me to try to eat healthy. I couldn't make any promises.
I went straight home from the gym and made my usual weekday at-home breakfast: savory oatmeal. I took a pouch of Better Oats and added homemade chicken stock, which is the one thing I always have in my fridge and/or freezer. I make it every couple of weeks, all year long, so I can cook with it and sip it like tea. When the oatmeal was about two-thirds done, I stirred in an egg white — a trick I stole from Jennifer Aniston! Then I added diced ginger, a pinch of sea salt, and about a teaspoon each of flax seeds and Momofuku Max's furikake seasoning, which we were sent a tiny jar of for the holidays and which is very sadly almost gone.
Right now, I'm doing some further research for a TV show that I'm developing based on one of the seasons of my podcast. I worked at home for a few hours and drank a lot of water. My lunch plans got rescheduled at the last minute, so I pawed through the fridge and freezer and hacked together a grain bowl out of some leftover turmeric chicken, frozen black rice, and quick-sautéed kale with ginger. I topped it with some HI Spice turmeric ginger hot sauce and a couple of crushed almonds.
I had a late-afternoon meeting about another potential TV project at Stamp Proper Foods. The breakfast burrito at Stamp is beloved by me, but I'm not really living a "breakfast burrito at 4 p.m." lifestyle these days. Also, I always feel like food eaten during work meetings is just wasted calories — no matter what, after an hour of talking, I'm ravenously hungry. So I just got a cold brew, which was also dangerous for me this late in the day — my caffeine cutoff is usually 3 p.m.
As predicted, after the two-hour meeting, I was famished. I drove home to meet up with my husband, Rian, and we walked to La Poubelle to meet a writer friend for a drink. Before I could even think about alcohol I ordered sides of ratatouille and fries for the table. The fries were really good — crispy but not too thin, and covered with some kind of herby salt. Once I had some food in me, I had a glass of red wine. We ordered a second round, but by then the place had gotten really busy and it took forever to come, so I left an almost-full glass of wine on the table when we had to leave for dinner.
We took an Uber to Studio City, the neighborhood where I grew up, to meet my sister and her husband for dinner at Le Petit Chateau, a French bistro in the form of a fake chalet that has been untouched since the '60s. The valley still has a high concentration of bars and restaurants that feel like a John Cassavetes movie. Actually, this is the restaurant where Adam Sandler and Emily Watson have their first date in Punch-Drunk Love.
When I was a kid, Le Petit Chateau was the fanciest restaurant I could imagine, and we only went there for very special occasions. I rediscovered it a few months ago, and the big surprise is that it's not just kitschy — the food is actually good! I had a grilled shrimp appetizer, and then horseradish tilapia with rice and vegetables. Everything arrived looking like a magazine spread from the 1950s, which I know is out of fashion, but is kind of secretly the only way I want to eat. We all cleaned our plates. With dinner, I had one and a half vodka martinis. When we were paying the check at 9:30, we were shutting the place down — my perfect Friday night!
Saturday, February 9
We woke up really late and had brunch at the bar at Freedman's. I grew up going to all of L.A.'s ancient Jewish delis, particularly the Valley ones like Art's — I grew up around the corner so I was there twice a week — Brent's, and Solley's, which sadly closed a few years ago. (Also, Canter's because it was open late and you could smoke inside.) So I was skeptical of a hipster deli opening in Silver Lake, but Freedman's is good. Their menu is a little more baroque than what I typically go to a deli for, but their versions of basics are pretty great. I got a sesame bagel with lox, tomatoes, cucumbers, capers and sprouts (no cream cheese), and the matzo ball soup. Freedman's one great innovation on the soup is that they slice their carrots very, very thin, and they're much more flavorful and digestible than the classic thick carrot chunks. I had one bite of Rian's corned beef hash.
We made an expedition to Eataly in Century City to get supplies for Valentine's Day. For the second year in a row, our plan was to stay home and cook an elaborate pasta dish together, this time the Cavatelli alla Norcina from the Bestia cookbook. We bought pork sausage, 00 flour for making the pasta, a brick of parmigiano, and a single winter truffle, plus wine and some packaged pastas for the pantry. We also grabbed a late lunch at the bar at Il Pesce Cucina.
We ordered and shared scallops cooked in brown butter, broccoli rabe with aioli, braised kale with parmigiano, and a simple spaghetti tossed in butter with parmigiano and garlic. The pasta and the kale were the big stars for me. I recently developed lactose intolerance — the bane of my existence — but there's a new supplement that I've been meaning to try and we ordered all this food to put it to the test. Rian had a glass of Viognier and I have the Planeta Etna Rosso — one of my favorite wines, and not easy to find by the glass.
After we ate, we picked up some fish and vegetables to cook for dinner, but we ended up not being hungry after our late lunch. We drank lots of water and snacked on some popcorn with nutritional yeast while watching screeners of the Oscar–nominated short films. Luis would be so proud of us for skipping dinner … if pasta hadn't been the reason.
Sunday, February 10
I made coffee and oatmeal (no egg this time, because we had early lunch plans) and took a probiotic and an 8Greens tablet.
Lunch was at Momed in Atwater: kale salad with grilled salmon and a slice of avocado flatbread, lemon fennel tea, and a coffee with almond milk (the two beverages indicates it was a long lunch).
At home, we made two of the make-ahead elements for our Valentine's dinner. The cavatelli maker we bought online was kind of a failure, so I looked up a YouTube video and we ended up rolling and pinching them using our fingers. Meanwhile, I simmered mushroom stock, and when it was ready I sipped a cup.
Later I made miso black cod from an old Mark Bittman recipe. There was a lot of sugar and miso in it, and the fish collapsed under the sauce and liquified under the broiler. It looked gross, and tasted a little too decadent. I also improvised a stir-fry of Romano beans and shiitakes with soy sauce, garlic, and ginger. Then Rian found some frozen vegan chocolate chip cookie dough in the freezer and baked four of them. I ate three-quarters of a slightly burnt cookie for dessert. While I cooked, I poured a glass of Falanghina, which did not mix well in my stomach with the sweet, gloopy fish. It was a Sunday night of regrets — until we discovered the Westminster Kennel Club Agility competition on TV. What a delight!
Monday, February 11
Up early to catch a flight to New York. I grabbed a banana on the way out the door. I usually like to get coffee at the airport, but we hit crazy traffic and just barely made the flight. Onboard, I ate a handful of walnuts and a pre-ordered lactose-free meal: eggs with a big pile of spinach and mushrooms.
We were in town for a memorial service for Ricky Jay, the magician-writer-historian-performer who died late last year. We landed and realized we were supposed to go to a pre-memorial cocktail party. At the hotel, we decided that we should eat something quickly, not knowing what the food options would be at the party. I had a shrimp cocktail, which was served with a lovely fennel and radish salad.
At the cocktail party, which was in a gorgeous apartment on 102nd Street, they had catering from Katz's. I was still holding out hope that we'd go eat a real dinner, so I just tried a bite each of salmon and pastrami and drank a little red wine and a lot of sparkling water. But we ended up staying too late to go anywhere after. I felt like I really needed a vegetable in my life, so we went to the hotel bar, Jacques Bar, and ordered drinks and the one veggie-centric thing available, a chopped cucumber and herb salad. I ate that, a few French fries, and drank half a glass of Bordeaux. The waiter, who looked like a young Bela Lugosi, insisted that he must bring us the bread, which he claimed was very special.
It was … fine!
Tuesday, February 12
Jet-lagged, we slept super late and didn't eat until lunch at Boulud Sud, arranged by our friend Margie.
I got the lunch special, which was a super rich cauliflower soup and a kale salad with salmon. The salad was served on top of a pile of hummus, on top of a buttery pita cracker. I could have done without the cracker, but everything else was nice. I took one of those dairy supplements so I could have a bite of Rian's pide flatbread, which was basically fancy pepperoni pizza. We drank coffee and water.
After the memorial, there was a party at an apartment at the San Remo. I had a couple of bites of crudités. Again, I drank a little bit of wine and a lot of water — I try to do two glasses of water for every glass of wine.
The party winded down just before 9, and I opened my OpenTable app and saw that there were tables available at Café Luxembourg, which was very close, so we went there. As soon as we sat down, I realized I was famished. I had the vegan artichoke soup, and then the coq au vin with a side of steamed spinach. I had a few of the fries from Rian's moules-frites, and we both drank Manhattans.