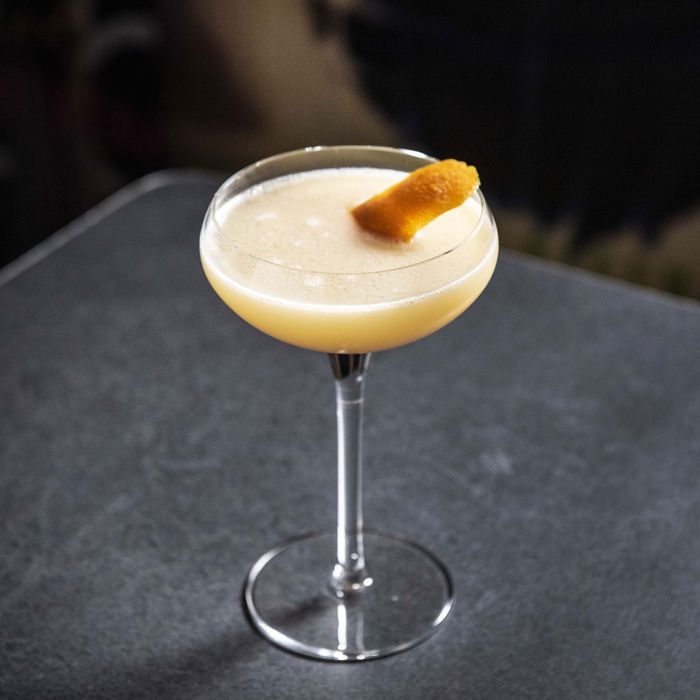 The Japonaise, a cocktail on the menu at Toby Cecchini's new bar the Rockwell Place.
Photo: Liz Clayman
By now it's no secret that the cocktail boom of the last decade and a half is dying down. Instead of star bartenders unleashing cavalcades of new techniques and ingredients, drinks-world developments now tend to be quieter, with an emphasis on simpler drinks over 14-ingredient Franken-cocktails, a slow trickle of new Japanese spirits, and ever-more uses for mezcal. What's also happened is that the trappings of high-end, serious-minded cocktail haunts have infiltrated bars that are more relaxed, and which don't push so hard to demonstrate arcane knowledge from the Secret Order of Mixologists. Think bars like Diamond Reef (where Prohibition-style cocktails get turned into frozen drinks), BlackTail (where the rum and Coke became a high-minded pursuit), or any of the approximately 500 new bars that feature purple cocktails.
Add The Rockwell Place to that list. Partners Toby Cecchini and Joel Tompkins opened the discreet, downtown-Brooklyn bar in December to deliberately little fanfare, and based on having spent a few nights there over the past month and a half, it's clear that they're happy to just run the narrow, dark bar without making a big deal out of their personal drink-industry bona fides.
Not that Cecchini and Tompkins fly under the radar, exactly: The duo also operates the nearby Long Island Bar, and Cecchini, of course, famously invented the Cosmopolitan, a drink that managed to survive the purge during the Serious Mixology boom of the early '00s, despite its inclusion of ingredients like Ocean Spray cranberry juice and — gasp — lemon-flavored vodka. In fact, during the great loosening of bar vibes that has occurred more recently, cocktail people have come to embrace the drink for its seeming lack of pretense and, more important, its unimpeachable deliciousness.
That same approach applies to all of the drinks on The Rockwell Place's tight, five-drink menu (all $13), where the standout is the Japonaise, a sunny orange cocktail that's a mix of cognac, rum, orgeat, lemon, lime, and the non-carbonated Japanese soft drink Calpico. "It's sort of mix between the Japanese cocktail, a Jerry Thomas drink, and the Mai Tai," Cecchini says.
The result is a drink that's sweet without being cloying, refreshingly Mai Tai-esque without being tiki, and relaxed enough that it's hard to imagine it getting invented in something like a basement "speakeasy" with etiquette rules posted on the wall. When I ordered it for the first time while at the bar with a couple of friends, both were surprised by how much they liked it. (One promptly got his own for the next round.) It's a drink that hooks you at first sip, and hits that sweet spot where pleasing familiarity meets surprise and excitement.
The "secret" ingredient is obviously the Calpico, which tastes a bit like vanilla yogurt mixed with 7-Up, and gives the entire drink its easy-going patio energy. (It also makes the drink taste a bit like the world's most sophisticated Creamsicle, without going too hard on that usually intense flavor.) "For years and years, I used Calpico in my Mai Tai, softening out the orgeat," Cecchini explains. "People were like, 'Oh, your Mai Tai is crazy good, what are you putting into it? I was like, 'Nothing, you didn't see anything!'"
In many ways, the high-low approach to the drink sums up the energy at plenty of New York's new bars, where the foundation is solid while the execution remains lighthearted. It helps you relax, in other words, and isn't that why you go out for a drink in the first place?
The Rockwell Place, 31 Rockwell Pl., nr. Dekalb Ave.; 917-909-1093