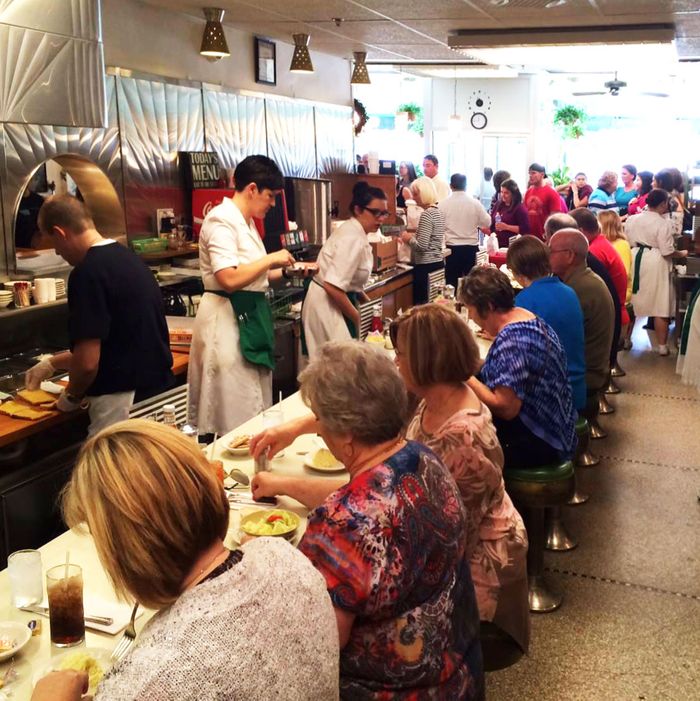 Jim's Steak & Spaghetti House in West Virginia.
Photo: Jim's Steak & Spaghetti via Facebook
Today, the James Beard Foundation announced the 2019 class of its America's Classics award. The honorees are long-standing, locally-owned restaurants that have helped create the culinary fabrics of their cities and regions. Past inductees have included Brooklyn's Sahadi's, Los Angeles's Guelaguetza, and St. Louis's Gioia's Deli.
This year's crop includes Brooklyn's AA Bake & Double and Roti Shop, a Bed-Stuy destination for the Trinidadian snack doubles. (Anyone who has been there knows how difficult it is to stop their version of the fried flatbread stuffed with curried chickpeas.) Other honorees include Huntington, West Virginia's excellently named Jim's Steak and Spaghetti House, famous for its strawberry pie; Garden Grove, California's Pho 79, one of Orange Country's first Vietnamese restaurants; McCook, Nebraska's Sehnert's Bakery and Bieroc Café, which specializes in the savory pastry called bieroc; and Washington D.C.'s Annie's Paramount Steakhouse, an essential restaurant for the city's LGBTQ community. They'll all be celebrated at this year's James Beard Awards on May 6 in Chicago.