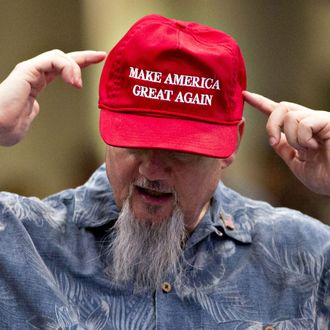 It's just bad manners to wear a hat indoors.
Photo: Daniel Acker/Bloomberg via Getty Images
Restaurants and Trump supporters haven't exactly jibed over the last two years, so it comes as no surprise that a restaurateur finally banned patrons from wearing the "Make America Great Again," or MAGA, hats popularized by the president.
The San Francisco Chronicle reports that chef J. Kenji López-Alt, best known for his 2015 kitchen bible The Food Lab, declared this week that he will not serve anyone wearing a MAGA hat in his Bay Area restaurant, Wursthall.
In a tweet, López-Alt wrote that "it hasn't happened yet, but if you come to my restaurant wearing a MAGA cap, you aren't getting served, same as if you come in wearing a swastika, white hood, or any other symbol of intolerance and hate." He added, "MAGA hats are like white hoods except stupider because you can see exactly who is wearing them." Both tweets have since been deleted.
Earlier today, López-Alt took to Medium to both apologize to his "staff and partners" at the restaurant, and to explain why he sent the tweets. "Making a public statement without taking my team's thoughts into consideration was disrespectful and reckless," he writes. "My goal at Wursthall was for it to be a restaurant where all employees and staff are treated with respect and trust, and by making that public statement without your consent, I failed at that goal. I will work hard to earn back that trust."
He goes on to explain that "after having seen the red hat displayed so prominently in so many moments of anger, hate, and violence, to me — and many others — the hat began to symbolize exactly that: anger, hate, and violence. This was the context my tweet was meant to communicate." That being said, though, he's backtracking on the short-lived policy and "will continue … to serve all customer regardless of race, color, religion, sex, national origin, sexual preference, gender orientation, disability, or political opinion."
This post has been updated with new information.