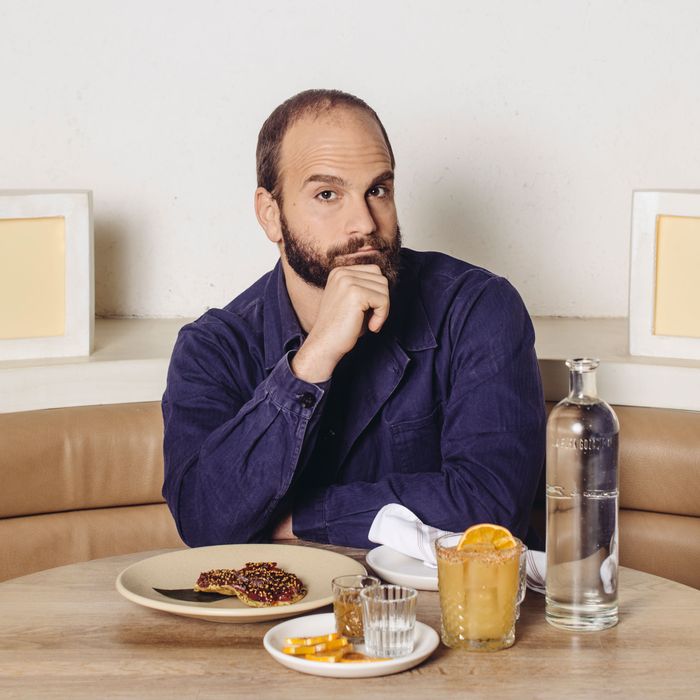 Ben Sinclair at Oxomoco.
Photo: M. Cooper
Ben Sinclair plays America's most famous weed delivery man on High Maintenance, the web series turned HBO show he co-created, which is currently in its third season. Narrated from the perspective of Sinclair's character, the show has been called "visionary" by The New Yorker and was deemed by our friends at Vulture to be the best web series of the early 2010s. "I'm going to do an episode about a food diary," says Sinclair, who just wrapped up editing the current season on Monday. Also on his agenda over the past week: a friend's bo ssam party, consuming Japanese fried chicken like a "greedy food goblin," and asking himself a lot of questions about what he's eating and drinking. Read it all in this week's Grub Street Diet.
Thursday, January 24
These days, my mornings start with a glass of water mixed with two tablespoons of Ultimate Elixir by Live Ultimate. It's a whole food powder, an alkalizing blend of nature's most complete nutrient-rich superfoods and super-greens. It retails at $85 for 300 grams on Amazon, but it was given to me at a gift fair where business owners get HBO actors to take pictures with their products.
I'm not a supplements guy — I'm just trying to get the guy who makes Ultimate Elixir to send me more for free. #NeverMissADay.
I made myself two crispy fried eggs, which burnt me with splattered hot oil and made a mess, but it's all I do now because I cling to tips from chefs. Finished with a gray avocado half from yesterday (preserved in a plastic avocado keeper), cilantro, kimchi, and piri piri hot sauce from a recent Portugal trip. And with that I took my antidepressant. (Does that count as eating?)
Chased it all down with vital proteins, matcha collagen powder, and Bulletproof MCT oil mixed into almond milk I made two nights ago. Can you tell I'm thinking about my mortality?
10 a.m. I got to work and had an oat latte from the cafe at Berg'n. I asked Jane, the barista, if she feels like she's mastering the two-minute conversation. She said she learned how to stop being shy during her nonprofit-sidewalk-fundraiser days. Then I asked the other barista, Daniel, if he had a good relationship with steam. He's never been burned, so yes.
1 p.m. And then some moringa tea. An African man told me about moringa a few years ago while I was filming man-on-the-street segments for the Tribeca Film Fest. He made me guess his age (60s, but looked younger). He told me he had three wives and that he had sex with them "back-to-back-to-back." And here I am now, drinking moringa from a Bluetooth-connected heated mug.
1:30 p.m. Lunch was grilled fish tacos I Caviar'd from Cafe Collette at my desk. I tried not to eat the tortillas, but I knew I probably would. Added Tapatio. Another cup of lemon moringa tea (back-to-back!). While I ate, I obsessively checked Twitter and the rest of the internet for mentions of my show's Sunday premiere. I then found two funny YouTube videos of Moscow Tongue Singing and a strange German environmental musical PSA and posted about them on my Instagram story.
Plot twist: I did not eat the tortillas.
3:20 p.m. And then another oat latte. Cory, our office assistant, dropped it off to me in a paper cup, but I transferred the latte to the heat-controlled mug. The German PSA had no affect on me, but as I wrote this I felt shame for generating the trash.
6 p.m. Some cashews.
9:52 p.m. Chickpea-crumb chicken Milanese with radicchio and mint and lots of lemon and parm, prepared by Jess, a food stylist I've been seeing. She's an amazing chef. She's amazing all around, actually. For some reason, I have a tendency to passionately advance and suddenly retreat in my romantic relationships since my divorce — but Jess has managed that turbulence with me and is on the #NeverMissADay train! Her dog loves me, too, but he's got emotional problems.
10:05 p.m. Two oranges. Jess insisted I eat them while she showed me Instant Hotel. During which I ate about five sea salt and rosemary almonds.
11:00 p.m. Two squares of Hu Chocolate. Jess always has Hu chocolate. I was now stoned (but also, I was stoned the whole day) and I didn't feel bad about the Hu chocolate because it's sort of paleo-friendly.
Correction. I went back. Four squares.
Friday, January 25
8 a.m. #NeverMissADay … but I was running low. Do you hear me Live Ultimate? I'm now convinced that if I miss a day, I'll get too acidic and my life will fall apart.
I added Bulletproof MCT oil to the elixir this time. I wondered if the highly refined coconut oil would fuck up the solubility and prevent me from getting as much alkaline as I ought to be.
8:15 a.m. I got an oat latte from Stone Fruit Espresso in Bed-Stuy, my neighborhood café, to which I have a weird allegiance despite the problematic gentrification it represents and my contribution to making the neighborhood unaffordable for its longtime tenants. The barista, Casey, who's played a barista at this café in our show, didn't even ask my order and went right to it. I almost got a muffin but thought I could hold out for something more protein-heavy.
9:15 a.m. Arrived at Sound Lounge to supervise the loop group and ADR. They set out bagels, cereal, and coffee every morning. Very rarely do they have a protein option. I said I'd never eat the bagels, but I caved and had half of an everything bialy with jalapeño cream cheese and a cup of coffee with almond milk. I justified it to myself because (a) I'm working out today and the carbs will get burned soon enough and (b) I need food to take with my antidepressant.
Then I started wondering if all this coffee was acidulating my alkalinity.
2 p.m. I had a post-workout smoothie from Juice Press called Blue Magic (banana, vanilla, cinnamon, pea protein, Klamath blue-green algae, almond butter, and almond milk). I got it supersized because it advertised 30 grams of protein and I felt truly dysmorphic while I wrote this. #NeverMissADay.
While I drank this smoothie, I considered that this food diary would be better for Grub Street if I ate at restaurants more. It also might be more interesting if I came off as truly disciplined during the weekdays but reacted to triggering events during the weekend and lost all control. I considered it because I wanted to tell a dynamic story of a protagonist teetering on the edge.
4:24 p.m. Three tortilla chips dipped in salsa, a Cashew cookie Larabar, and a Diet Coke. Thought long and hard about all three choices. Felt bad about it and did not give myself a break after.
5:26 p.m. Another tortilla chip dipped in salsa.
8:30 p.m. Wanted to go to Hart's, but there was a two-hour wait. (I'm a big bar guy. I'm always hoping just to go last minute and get a seat at the bar.) Ended up at Samurai Papa, perfectly located around the corner from me. Started with buckwheat tea, goma vegetables, and karaage chicken that I shoved in my mouth like a greedy food goblin and burned the roof of my mouth. Followed by a spicy tantan ramen and half an Asahi. Was full midway through but ate everything until discomfort. Feel confident in saying ramen is top three soups for me, next to matzo ball and kharcho, this Georgian beef soup.
Saturday, January 26
9:44 a.m. Sipped on an oat latte.
11:30 a.m. Made two crispy eggs with shiitake mushrooms, spinach, and avocado. Posted it on Instagram as part of an Instagram plea to get our Sunday-night ratings up. Offered a tutorial on how to cook a crispy egg and now I'm just refreshing my DM inbox over and over again.
11:50 a.m. #NeverMissADay, except I finished the bottle. I ordered another one off Amazon, but it won't arrive for a few days. I wondered if by missing a day, my life would fall apart.
2 p.m. My sound mixer Dimitri came by and we smoked some pot. I drank prepackaged Bulletproof coffee and offered him raspberries and blueberries and a tiny orange.
7 p.m. Was running late for a surprise b-day dinner party. Ate an apple and a PB&J Larabar out of stress.
8 p.m. At the b-day party at a Bushwick kitchen studio. My two friends who are food stylists spent all day gathering ingredients. Started with a white grapefruit Paloma before a short rib or mushroom and asparagus bo ssaam dinner served with Asahi beer. Finished it off with two gingerbread green tea ice-cream sandwiches and two tiny slices of buttercream-frosted vanilla cake. I took psychedelic mushrooms before dinner and it more or less worked out — felt like it was an effective but restrained escalation in my portrait of a man coming undone.
Sunday, January 27
11 a.m. Got an oat latte on the way to breakfast with my manager and our significant others at Oxomoco in Greenpoint. I had a soya tuna tostada and a concha especial (green chorizo, crema, chicharrones, and a fried egg on bread, which I didn't eat). Washed down with hibiscus iced tea.
3 p.m. A much-needed oat latte after I dropped an uncomfortable amount of money on throw pillows.
7 p.m. Worked at my office. Downstairs at Berg'n, there's a Shanghai–inspired street food pop-up called Jianbing Company. Had a bed of salad with an egg and bacon with green beans, pickles, and a little Asian cracker.
I wanted to take the antidepressant that I missed all weekend because I ran out, but I'd just have to pick it up in the morning #NeverMissADay.
Monday, January 28
9 a.m. Missed another day of alkalization. Wondered: Am I going to die?
9:30 a.m. Made my now Instagram–famous crispy egg with garlicky shiitake mushrooms on a bed of greens. Because no one watched me this time, I overcooked the yolk and plated haphazardly. Scarfed down with a matcha, collagen, and homemade almond milk blend.
10 a.m. An oat latte on the way to refill my antidepressant prescription. I missed two days on those which may point to why I dropped so much money on throw pillows on Sunday.
2 p.m. Office ordered in via Caviar. I got a salmon bento box with onigiri and hijiki from Rice & Miso. Ate at my desk while I edited this season's last episode between bouts of obsessively Googling for reactions to episode two, which premiered Sunday night.
7 p.m. Dinner at Bunna with Bobby Buka. Was very excited to write that sentence. Bobby and his partner Jessie are pregnant and naming their child Benjamin Buka.
Had everything (all vegan) with a hot shai tea. It may be one of my favorite restaurants in Brooklyn, but I have to have a couple of more moments there.
Midnight. Worked late at the office. Had some Annie's Cheddar Bunnies and a few chocolate morsels. I stayed at the office editing until 3 a.m. and was able to avoid a stoned bodega crawl on my way home.
I'll do this thing where I just go to a bodega and buy one thing and eat it immediately. Then I try to talk myself out of buying another thing until I crack. I remember when I didn't get into the Blue Man Group, I was really sad and I got, one after another, a knish, a bag of Combos, and a piece of pizza.
But you know what? It's good I'm not in the Blue Man Group.
Tuesday, January 29
9 a.m. Got only six hours of sleep. Woke up sort of late and grabbed a Bulletproof Collagen Brownie Bar, an antidepressant, and my oat milk latte from Stone Fruit.
I hadn't had a chance to work out since Friday, and I felt crazy from lack of sleep, too much desk-sitting, and too much screen time. But it probably doesn't matter because I'm convinced I'm not going to make it to Friday unless I get that fucking Ultimate Elixir back in my life #NeverMissADay.