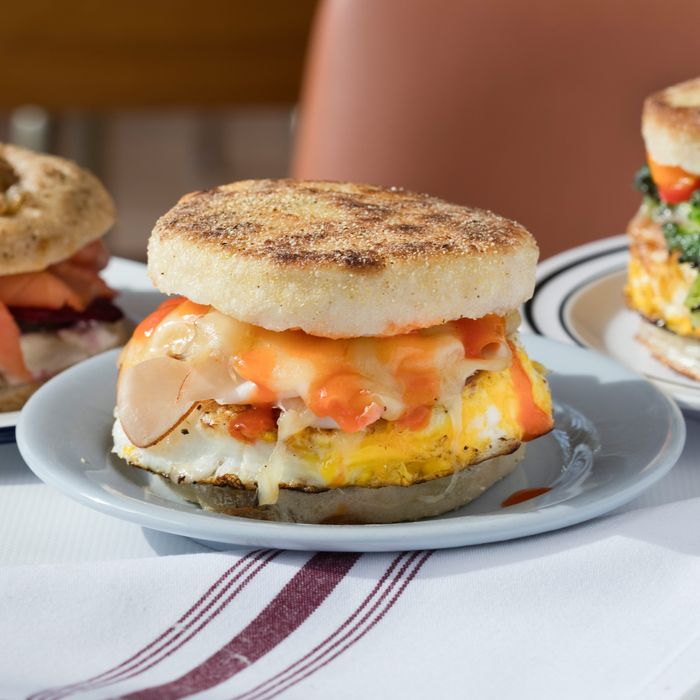 A turkey, egg, and cheese on an English muffin.
Photo: Melissa Hom
Some good news for all the Brooklynites picketing for more bialys: This morning, Williamsburg got a new restaurant, Gertie Lunchonette and Liquor Bar, championing the onion-topped roll. The bialy does not have the clout of the bagel, but it's a shibboleth in carb form for a certain breed of New Yorkers. At Gertie, it's available for egg and cheese sandwiches, the signature Best Bialy, and — in the afternoon — as a chicken salad sandwich. (As far as bialys go, things are going all right, right now: the New York Times just spotlighted the recently opened Shelksy's Brooklyn Bagel's very treif pork roll, egg, and cheese bialy.)
Okay, but bialys are only part of the equation at Gertie. (Let's be clear, there are also English muffins.) The luncheonette-by-day, bar-by-night was the idea of Nate Adler, who grew up on the Upper West Side and opened the downtown Basque restaurant Huertas. Here in Brooklyn, he's partnered with two fellow New Yorkers: chef Will Edwards (who has worked at most of Andrew Tarlow's restaurant) and general manager Flip Biddelman, who, like Adler, once worked for Danny Meyer. Bread is a big feature here, and they've brought on Savannah Turley of Brooklyn caterer Harvest & Revel to bake it.
The menu may be infused with a nostalgic New York sensibility — more on that in a moment — but the space itself isn't in the retro-nostalgic vein. It looks more MeMe's Diner than Barney Greengrass, with art and some walls in pastel colors, tall windows, and lots of unfinished wood. Starting out, Gertie's will only be open from 8 a.m. to 4 p.m.
There's those Instagrammable breakfast sandwiches to photograph against the Instagrammable space, including the Anything Egg and Cheese with options like pickled peppers, beef salami, and mushrooms. These dishes — and sides like a squash toast the color of SunnyD and a cinnamon English muffin — will be served until 4 p.m., and starting at 11 a.m., they'll offer lunch. The sandwiches are all riffs on classic New York sandwiches: a special of rotisserie meats on challah, which reads like an Italian-meets-Jewish deli; a whitefish salad melt; a gyro with rotisserie winter vegetables and white sauce; and a "Miss Patty Reuben."
To drink, there's plenty of coffee to wake you up, and an egg cream, if you want to go down memory lane — that is, until the restaurant expands its hours beyond 4 p.m. Once the bar gets going, they'll offer dinner options including pot pie and popcorn shrimp, drinks including a vodka cranberry, and desserts like whoopie pies and a rainbow Italian ice. The likely standout, though, is Poppy's Duck, a whole rotisserie duck with scallion pancakes, "everything" fried rice, lettuce cups, and sweet and sour sauce.
Gertie, 357 Grand St., nr. Marcy; 718-636-0902