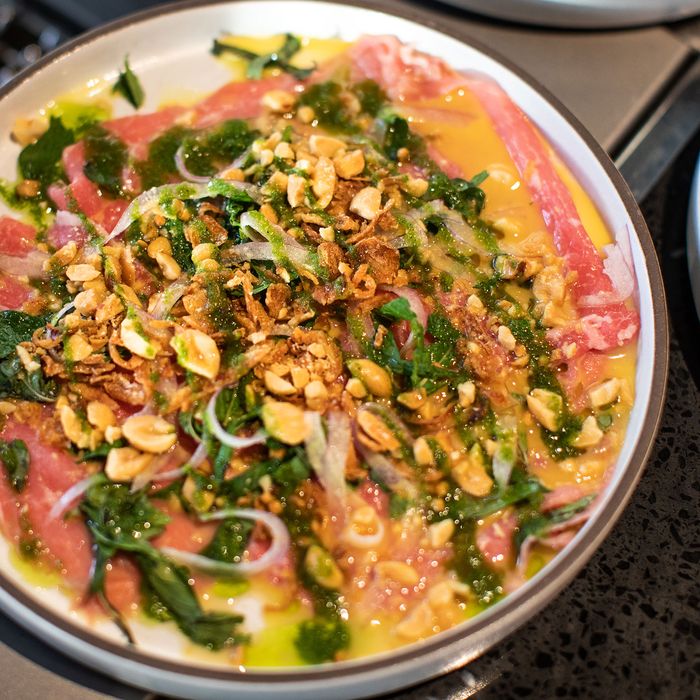 Beef carpaccio with citrus, red onion, crispy shallots, and rau ram oil.
Photo: Erinn Springer
There are some subtle innovations on display at Madame Vo Barbecue, Jimmy Ly and Yen Vo's crowd-pleasing, meat-centric spin-off of the original Madame Vo in the East Village. One such innovation is the Japanese–made, Korean–style grills that are installed at every table, each one fit with special electric coils designed to impart the faint taste of charcoal, since, in central Vietnam, barbecue is an outdoor affair.
The best use of these grills is the "Beef Seven Ways" communal feast, a multicourse affair that features the kind of elevated prime cuts of beef that you're more likely to find in high-tone restaurants around town than you are to see on the streets of Saigon or Hanoi. "Bo 7 Mon" is the Vietnamese name for this all-inclusive dinner, which here costs $59 per head and begins, auspiciously, with the arrival of a variety of traditional trimmings (lettuce, cold vermicelli noodles, slivers of green apples) set in a woven basket, along with another innovation: a clear, plastic, wheel-shaped contraption that holds a small pool of water on one side and a stack of stiff rice-paper pancakes on the other. Vietnamese rice crepes are traditionally softened in a water bowl, and I quickly learned that this modern innovation allowed me — once I got the hang of the necessary twirling motion — to create a whole variety of build-my-own beef-themed rice rolls more quickly than usual, and to devour them at lightning speed.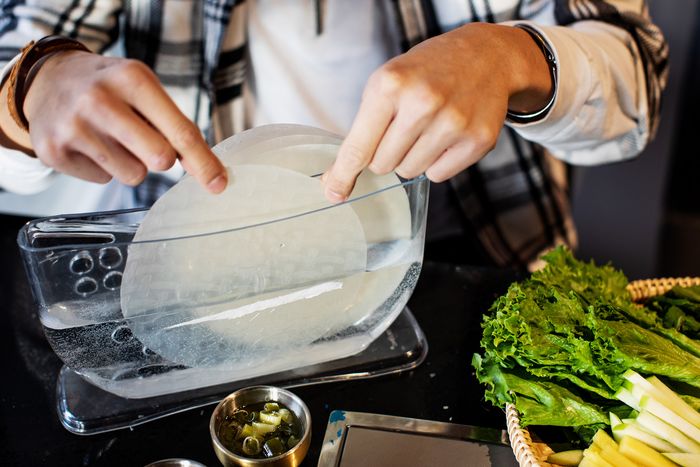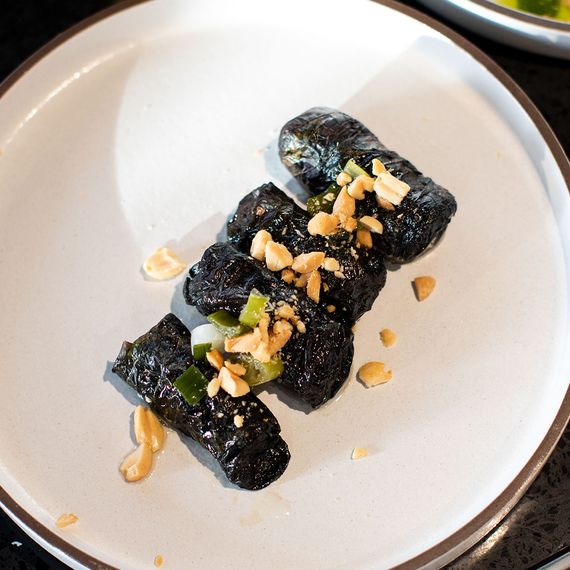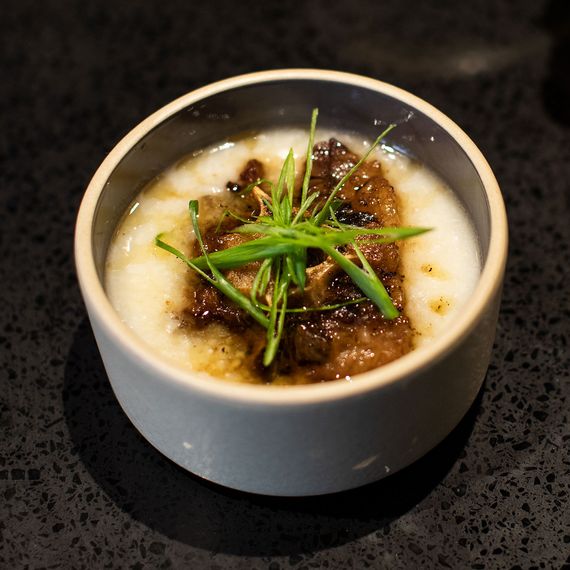 We were first treated to shavings of pink, tender beef carpaccio sprinkled with citrus, drifts of red onion, and frizzled shallots; as well as a bowl of soft, sweet, Berkshire pork "nem nuong" meatballs touched with scallion oil and a dusting of crushed peanuts that were so good I didn't bother to build a roll around them, and instead popped them into my mouth one at a time. The same thing happened to several ground-beef "bo la lot," which were tightly wound, in the traditional style, in packets of betel leaf. Skewers of lemongrass-marinated short rib ("bo lui"), and chunks of aged New York strip "Vietnamese Steak" (rolled in five-spice powder and finished with a fancy marrow butter) also made the perfect filling for my haphazardly constructed summer rolls.
This new Madame Vo outlet occupies a corner space on Second Avenue and East 6th Street, and as our feast gained momentum, a scene from Law & Order: SVU was being filmed outside. Detective Benson herself kept alighting from a squad car and striding out into the street, which was diverting for a little while, but was no match, in the long run, for the fun of spinning more crepes in our water-wheel gadget, or the caravan of à la carte dishes that kept arriving at the table. These included platters of somewhat unevenly roasted squab; large freshwater prawns, which were split in half and baked, lobster-style, on the grill; and butter-doused uni that was grilled in its shell, which we then scooped and poured over steamy mounds of garlic rice.
Were there any quibbles among the jolly carnivores at our table as we made our way through this filling, decently priced, and generally delicious experiment in Vietnamese "barbecue" dining? With its blaring soundtrack, profusion of chilly, hard surfaces, and weirdly uneven, violet-hued disco-style lighting, the room could be warmer and more inviting. There is no liquor available yet (yes, we craved frosty beer), and although all of the dishes in the beef feast are also available à la carte, there's a spareness to the menu that I'm guessing will be filled out over time. At the moment, there are no desserts, although after our final course — a small, warming bowl of congee porridge garnished with a large, delicately braised oxtail — I can't say that I needed one.