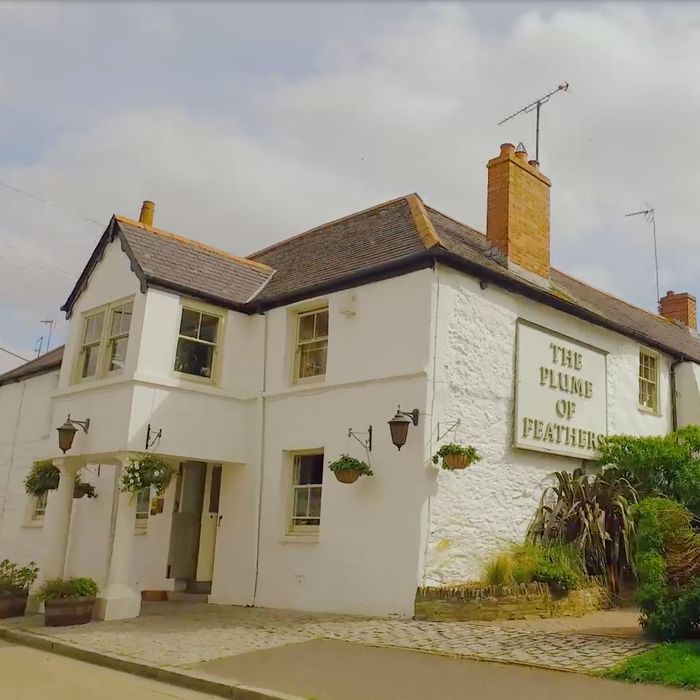 The Plume of Feathers pub.
Photo: The Plume of Feathers
TripAdvisor might be popular, but as with, well, the entire internet, buyer beware: It's also a place where a bogus Italian restaurant can get bogus reviews. It can, however, a reliable source for drama such as, say, when the co-owner of an English pub gets into a digital kerfuffle with reviewers who deem his business "terrible." Over 560 people have reviewed the Plume of Feathers in Portscatho, Cornwall, and of those, only 25 have pilloried the business. The pub's co-owner Roger Cazaly is getting attention not for the fish-and-chips, but his riotous responses to those reviews.
Speaking to Cornwall Live, Calazy explains he is a righteous defender of truth who must fight lies, and that with TripAdvisor, "you have no defense … I can't take it when they are lying — I have to respond."
As the Sun points out, Calazy's responses make clear he's not interested in mincing words. In one case, he responds to a would-be customer who claimed she was told that the pub was too busy and to go elsewhere:
"Now now Kitty, it's not nice to call people names. But seeing as you've decided to go on the world wide web and call me names like a little child who didn't get what she wanted when she demanded it, lets talk about your visit …




I actually thought I was being helpful, giving you options, but obviously you didn't see it this way. Someone dared to say no to Kitty minx!




Now, Kittyminx, when you leave 'reviews' like this, it actually says more about you than the venue. Because, generally, we then go into your profile and read your other reviews and have a little chuckle.




You use the words Rude and Arrogant with gay abandon don't you? Or we read about when you complain that the waitress had asked you to stop your children playing on the stairs 4 times, the poor girl … or when another venue got slagged off because you weren't allowed to move the furniture … Kitty, you had probably put in front of a fire escape or something.




Trust me Kittyminx, when it comes to rude and arrogant you might want to look a little closer to home."
In other case, he questioned whether a self-proclaimed local actually was, in fact, a local:
"I would say that over 80% of our customers are 'real locals and regulars' so I'm not sure what the nasty little jibe about tourists means.




We apologise that we were still busy in November and we had all our tables booked out … bloomin locals coming in booking tables!, we apologise that the waiter was complimentary towards you, he has been dealt with severely, he won't be doing that again in a hurry, Oh No!




I'm sorry we didn't make more of a fuss of you for your birthday, but perhaps you were in the wrong place as you call us a restaurant, we are in fact just a little country pub. Perhaps you thought you were in TGI Fridays or Chiquitos where I think the staff are made to sing to you when they find out it's your birthday, you'll like that."
As with the other customer, he combed through this user's reviews:
"Please tell me, what did that curry house in Peterborough do so wrong that you had to visit it 7 times and slag it off every time. Did they not put candles on your naan bread? You should have told them you're a local!! Hold on, Peterborough? I thought you were a local down here………………?
As for a hard-partying group celebrating a wedding, he had a lot to say about their desire to start drinking shortly after breakfast time:
"You arrived en masse at 10.30am and seemed surprised that we didn't serve alcohol before 11am. But then at 11am the drinking commenced. We didn't refuse to serve spirits at all, because if you remember, when the young ladies found out that we didn't sell Blue WKD's in our little Cornish village pub they started drinking Gin and bitter lemon. They said this was 'lush'. So don't tell lies."
He also mocked their inability to hold their liquor:
"Now, seeing as you had only been drinking Carlsberg (3.8%) up to this point and your behaviour was already deteriorating at a vast rate of knots, we feel we made the right decision on not serving shots at 1.30 in the afternoon."
As for their writing a review after apparently being shown the door?
"If you are asked to leave a premises due to your behaviour, just take it on the chin. Don't put sad little 'reviews' on websites. It embarrasses yourself and this one has embarrassed the father of the bride … again. I believe he did ask you to remove this post, but I guess you don't have that much respect."
What about when someone gives a bad review because they don't understand the reservation?
"Now, when it comes to doing a review, giving someone a 1 when disappointed is being a petulant child. It says everything is bad, bad, bad. Was the service bad, was the beer you drank bad? etc, Do you see what I mean, treacle? You were just disappointed, so that's not a review is it?"
As for the whole premise of online review sites like TripAdvisor?
"And here, ladies and gentlemen, lies the problem with Tripadvisor.




A lot of people don't quite understand the hospitality trade, and if something disappoints them, they give it a review."