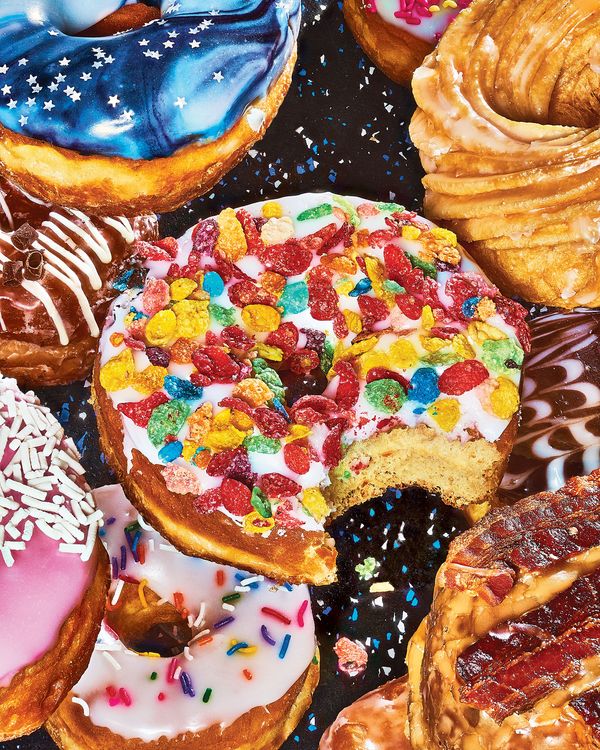 Everybody loves doughnuts. That, at least, is how Buzzy Geduld sees it. On a freezing Saturday morning in early February, the Brooklyn-born septuagenarian is giving a tour of the new, still-under-construction branch of the Donut Pub, opening soon off Astor Place in Noho. Here, the row of swiveling stools facing the doughnut display case; there, the kitchen almost the size of the entire original West 14th Street shop. Although Geduld's been in the business since the early 1960s, this is the first store he's opened in 50 years, and it's safe to say the doughnut landscape — along with every other kind of landscape — has changed since then. Not that he's spent the intervening decades anxiously monitoring the artisanal advent of competitors like Du's and Dough and Supermoon Bakehouse. He's been occupied by his other gig — as a Wall Street super-trader running Herzog Heine Geduld, the NASDAQ market-maker he sold to Merrill Lynch in 2000 for $968 million, then establishing Cougar Capital, a midtown family office hedge fund.
Still, while hedging assorted funds may be his day job, doughnuts are Geduld's calling card and not a small part of the success he's enjoyed on and off Wall Street. If he were to give an acceptance speech for a lifetime-achievement award, the words "And last but not least I'd like to thank doughnuts, without whose support and encouragement I wouldn't be up here on this stage today" would surely ring out in the banquet hall.
In place of his customary pinstripes and powder-blue tie, today he wears a bright-orange puffy jacket, horn-rimmed spectacles, and jeans while holding forth on a number of doughnut-related topics, including Cronuts ("That guy is a genius"), favorite doughnut (Boston Kreme), least favorite ("The one with the pebbles … the Fruity Pebbles"), and cops ("Yes, it's absolutely true what they say about cops and doughnuts").
With his Sheepshead Bay accent and owlish demeanor, Geduld comes across as a sort of avuncular Larry David — a New York character of a certain age, minus the misanthropy. Continuing the tour: "That's for a new item we're going to do: miniature doughnuts, not to be confused with doughnut holes," he says, pointing to a Belshaw Adamatic Donut Robot. "And this is where the gelato station will go. I love doughnuts, and I love gelato. So you can pick a doughnut and a gelato; we'll put the doughnut in a cup and put the gelato on top. That was my brainstorm. Let's see if people like it."
Geduld has had doughnuts on the brain since he was a teenager. Barely out of high school, he began working on Wall Street as a quote boy with his brother Irwin. When he got the ax about a minute into the job, he and Irwin started buying and running doughnut shops that were more Edward Hopper Nighthawks than Homer Price. A few years later, when Wall Street beckoned again, the Geduld boys closed or sold all the shops but one. Buzzy kept the West 14th Street location, which he renamed Donut Pub, for himself because "(a) it was fun, and (b) since I'm working for somebody else, the Donut Pub would be my — excuse the expression — F.U. store. If I didn't make it, or someone gave me a hard time, my rent could be paid."
As business strategies go, it was a good one, and even though Geduld was soon able to pay his rent and then some, he held on to the shop ("it was my good luck charm"), and, for the first few years, he worked nights at the Donut Pub after he clocked out for the day on Wall Street. "I did everything: I fried the doughnuts, I filled the donuts, I mopped the floors. My philosophy was the only way to run a business was to learn it from the ground up." In sum, "I learned how to run a brokerage firm by running a doughnut shop."
Another thing he learned is that no one on Wall Street can resist the hypnotic allure of a box of free doughnuts: "I'd send clients doughnuts every week. People started to look forward to them. When the market opened, you'd get the biggest institutions in New York — Alliance Capital, J.P. Morgan — calling up: 'Jesus Christ, the chocolate glazed were great.' It was a very effective way to advertise."
Always a favorite among the cruller cognoscenti, the Donut Pub has recently gained a new fan base. "Last year was the best year we've ever had, saleswise," says Geduld, who credits the changing neighborhood and the influence of social media. That success is part of the reason for the expansion into a space that was once half of a Modell's sporting goods store. It also gives Geduld the chance to work with his 23-year-old daughter Nancy who has expressed a desire to get into the sinker business (versus the stock market) and will serve as the shop's general manager. "She is very good on social media," Geduld says.
But social media isn't everything. "At the end of the day, the people who visit because of social media won't come back if the product isn't great," he says. And whether you're buying equities or old-fashioneds, you want to feel like someone is taking care of you. "It's all about your clients — making them happy. At a doughnut shop, you need someone behind the counter to say with a smile, 'Good morning, how can I help you? Would you like to try a new doughnut?' "
The Donut Pub, 740 Broadway, nr. Astor Pl.; no phone yet
*A version of this article appears in the February 18, 2019, issue of New York Magazine. Subscribe Now!