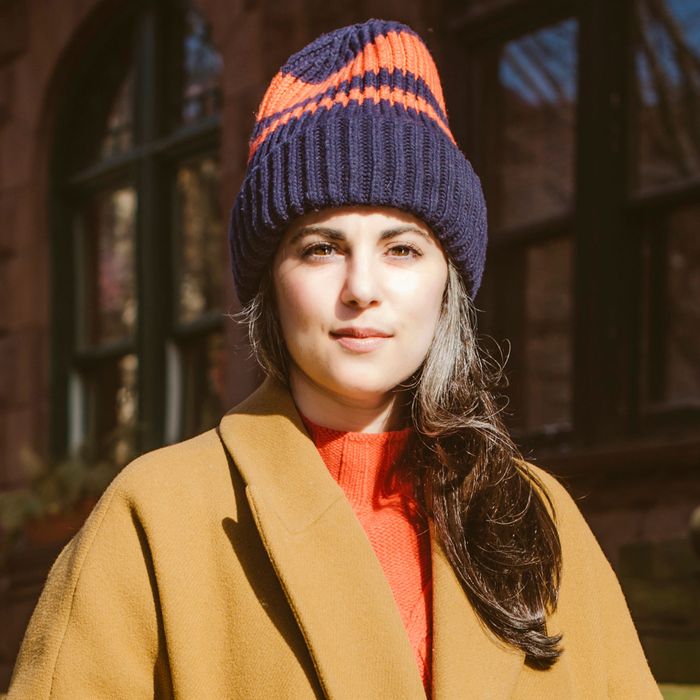 Claire Saffitz in her neighborhood.
Photo: M. Cooper
There's a good chance you've seen Claire Saffitz during some of her most trying professional moments. As the host of Bon Appétit's Gourmet Makes, Saffitz gets deep in the weeds trying to make perfect replicas of Pringles, Skittles, and more. That she always pulls it off in the end is just part of the YouTube show's charm — and why she's built a massive fan base in the process. Now, she balances the show with recipe testing for her baking book. This week, Saffitz tweaked her molasses cookie and challah recipes, went on a Jackson Heights food crawl, and stopped by her favorite local take-out spot. Read all about it in the latest edition of the Grub Street Diet.
Thursday, January 31
My mom came into the city on a train from Westchester, where she was visiting my sister. I made the transition to freelance several months ago and one of the things I appreciate about my new schedule is the freedom to spend a weekday morning with my mom. We met for breakfast at Grand Central and went to the Great Northern Food Hall, both to avoid going outside in the polar vortex and because the weather had me in the mood for savory porridge at the Grain Bar. Unfortunately, the porridge offerings were mostly sweet and I am not a lover of sweet breakfast, so I ordered the avocado tartine with sliced egg, crispy onions, and arugula. The bread, from Meyers Bageri, was crusty and chewy and delicious. Bread is my favorite food. I also drank a drip coffee with half-and-half.
I was still with my mom in the early afternoon so we headed downtown to meet my sister. We stopped at Eataly for lunch and my mom ate a piece of Sicilian pizza with mushrooms and fontina. My stomach felt a bit unsettled, so I drank a seltzer. The pizza looked pretty good and even though I wasn't hungry, I had food envy. I experience "hunger" and "appetite" as two totally distinct feelings. Basically, I'm always in the mood to eat.
Hunger hit me later in the afternoon while I was shopping at Whole Foods. I am developing recipes for a baking book I am writing, which means lots of food shopping. I bought a variety of citrus, including some sumo mandarins. It seemed absurd to spend $6 on two pieces of fruit but they're incredible — so floral and sweet-sour and almost meaty in texture. I consider citrus a part of my mental health-care routine at this time of year, doubly so during a polar vortex. I ate one along with a few slices of dried mango.
When I got home I was still hungry and ate a microwaved piece of leftover lasagna my boyfriend had made. We moved in together last summer and I relocated from Carroll Gardens to the Upper West Side. As a former chef, he has a much different concept of "home cooking" than I do. Fortunately, he cooks for us a lot. He assembled the lasagna from an odds-and-ends Bolognese and whipped ricotta, plus regular De Cecco dried lasagna sheets that weren't parboiled at all. That they came out fully cooked but not mushy, and the lasagna was not dry — it blew my mind.
I tested recipes at home for the rest of the afternoon and baked off a loaf of challah and some molasses cookies. I was trying to keep the cookies chewy and a little bit spicy. I underbaked the first batch and when they came out they were amazing. I was like, "Oh, that's an easy fix, just bake them as little as possible." With a chocolate chip cookie or molasses cookie, I just want it to be chewy.
Our refrigerator is filled with remnants from recipe testing so I pulled out a bunch of ingredients and started to assemble a salad. We had one endive, a slightly shriveled piece of fennel bulb, some errant celery stalks, a hunk of parm, pomegranate arils from an ill-fated recipe, and red onion. I shaved the fennel, celery, onion, and parm and tossed everything with lemon and olive oil.
My boyfriend came home with a few small pieces of fish from the Lobster Place in Chelsea Market: baby squid, mackerel, and a very beautiful piece of tuna. He grilled the squid (indoor, grill pan, hood on high, smoke everywhere regardless) and dressed it with lemon, good olive oil, and scallions. Then he sliced the mackerel thinly and covered it with hot butter and soy sauce so the fish cooked very slightly, and then squeezed lime juice over the top. Finally, we had tuna ceviche with toasted peanuts, lime juice, pineapple, aji amarillo, celery, and scallions.
I'd say we occasionally eat like this, which is to say, very, very well. Just as often, though, I eat scrambled eggs on the couch for dinner. For dessert — and I always eat dessert — I had a molasses cookie and some sad, out-of-season raspberries and strawberries leftover from recipe testing.
Friday, February 1
I brewed coffee in my Zojirushi coffee maker. Finding myself too lazy to measure the coffee grinds most days, I usually overshoot the mark and make jet fuel. I added a lot of Ronnybrook whole milk to offset the strength.
My boyfriend has a restaurant in the Chelsea Market called Creamline, which partners with Ronnybrook Farm Dairy, so he brings home Ronnybrook milk and butter. I am a dairy lover, and it's a tremendous luxury to have excellent milk and butter at home for coffee and baking. I ate some cottage cheese with more leftover pomegranate arils. I'm quite partial to the Good Culture brand of cottage cheese, which is so creamy and tangy and satisfying. Also tasted the challah I baked the night before.
I worked from home in the morning and went to the Bon Appétit offices to shoot video in the afternoon. I left the house a bit hungry and without a lunch plan, figuring the odds were good there'd be something to snack on in the kitchen. Fortunately, I found an assortment of beautiful breads from Max Blachman-Gentile, the super-talented baker at the Standard. I ate a slice of sourdough with butter.
I left my job at Bon Appétit back in August, but now I have a freelance contract just to shoot video. The test kitchen editors and I were shooting a series called Making Perfect, a new show launching in April, which is about pizza. Over the course of the afternoon I ate a few slices of pizza made by senior food editors Chris Morocco and Andy Baraghani. I tried a version with speck and a soft egg, one with mortadella, one with maitake mushrooms and scallions, an anchovy pie, and maybe one or two more. The dough they were using was a recipe Anthony Falco helped me develop for the show, and it includes sourdough starter and freshly milled flour. Even though it was a lot of food, the pizza was surprisingly light and I left feeling pretty good.
For dinner my boyfriend made a Caesar salad and topped it with the remainder of the squid, which he quickly floured and fried until it was crispy. He also made ricotta gnudi with Bolognese. Both the ricotta and the Bolognese were leftover from lasagna-making. Because I eat a wide assortment of foods related to work, on nights when I have dinner at home I try to incorporate greens in an attempt at balance. Tonight was not one of those nights. Molasses cookie for dessert.
Saturday, February 2
I was meeting friends for an afternoon of eating in Jackson Heights. I let myself sleep as late as possible and skipped a morning coffee. I took a GT Enlightened kombucha with me when I left the house and drank it on the train. For me, much of Queens is a woefully under-explored food landscape and I was both excited and hungry for what we'd planned.
We started at Phayul for Tibetan food, where we ordered the tsak sha momo, or beef dumplings. I was very hungry so it was hard to be objective, but they were truly incredible and so full of beef flavor. We also had the Lhasa fried noodles and beef thenthuk, or hand-drawn noodle soup. Both were delicious, but the chewy texture of the noodles in the soup was especially addictive. I tried a butter tea. It was a strange sensation to drink such a salty liquid, but I could see the appeal.
Then we went to Samudra to share a couple of dosas — one masala, one paneer — and a round of masala teas. We finished the afternoon at Raja Sweets & Fast Food for vegetable samosas, pakoras, and sweet and savory paratha. The sweet paratha had these blistered pockets of burnt sugar that tasted like singed campfire marshmallows in the best possible way. We all left feeling full and happy.
I went home to do some more recipe testing and decided to make dinner in an effort to further the fridge clean-out project. We had a whole chicken, which I unzipped down the back. I then pulled out the bones and added them to a freezer stash for making stock, and stuffed the chicken with a mix of leftover ingredients: fresh ricotta, parm, roasted butternut squash, and thawed frozen spinach I sautéed in olive oil with garlic. I rolled and tied the chicken and put it in a cast-iron skillet alongside some tiny red potatoes, covered everything in olive oil, salt, and pepper, and roasted it in a 425-degree oven. I wasn't terribly hungry and mostly ate the schmaltzy potatoes, so the chicken got put away for another night. Dessert was pineapple leftover from ceviche.
Sunday, February 3
Coffee at home and cottage cheese with pomegranate. We ran out of milk so I added a splash of heavy cream to the coffee because you only live once!
Around lunchtime I was running errands in my neighborhood and stopped for a banh mi at Saiguette, my number one take-out place. It's excellent Vietnamese food with a superlative banh mi. I took home a boneless chicken thigh banh mi and split it with my boyfriend. Saiguette makes their own bread, which has a super light, cottony crumb and thin, crispy crust. The chicken was fish-saucy and sweet, and something magical happens when it mingles inside the bread with mayo, pickled vegetables, and jalapeños. It's the perfect neighborhood spot and I was glad to learn about it because I love Vietnamese food. I tend to gravitate towards cuisines with lots of sweet-sour flavors. I drank some seltzer with lemon and ate a sumo mandarin.
In the evening we went to my friend and colleague Julia Kramer's house to "watch" the "Big Game." Julia lives nearby and had a few friends over. We said hi to her sweet 18-month-old son before his bedtime, drank palomas, and snacked on pigs in a blanket (the Pillsbury crescent-roll kind) and Buffalo wings with celery and blue cheese dressing. Julia's husband, Zach, made nachos, and we talked while occasionally glancing at the television in the background. Dessert was a citrus galette I made as a recipe test and decided didn't quite pass muster, plus milkshakes my boyfriend brought from Creamline.
Monday, February 4
I was shooting video all day and brought a Siggi's yogurt with me to the office for breakfast. I also stopped in the Oculus on my way into 1 World Trade Center and got a coffee from Joe with half-and-half.
I ate several Cheez-It crackers on camera for the shoot. We ordered lunch from Mulberry & Vine and I got a tofu bowl with brown rice, romaine, roasted broccoli, carrot chili dressing, and sesame seeds. Some tofu was raw and some was roasted, which was weird, as was the combination of rice and romaine. As far as bowls go it was a little sad, but a few thinly sliced scallions did their part and I appreciated that it was a lunch of mostly plants. A couple of hours later I had an afternoon decaf cappuccino from Joe and snacked on a few homemade cheesy crackers.
For dinner I went to Ops with my friends Amiel and Christina, both editors at BA. It was my first time there and even though my week was uncharacteristically pizza-heavy, we had a great meal. We ordered a big salad, a calzone with broccoli de cicco, and the Rojo and Juno pies. I had a glass of orange wine and then we all split a bottle of Costadilà Rosso wine. Everything was delightful.
Tuesday, February 5
Another day of video, so I had coffee with half-and-half from Joe and a Siggi's. During shooting I tasted a piece of buffalo milk mozzarella and a few shreds of homemade fior di latte mozzarella. Lunch was a bowl from Dig Inn with a faro base, kale Caesar, roasted cauliflower, brussels sprouts, and chicken. I ate it quickly because I was so hungry for lunch, then very shortly after regretted it because I ate many, many bites of pizza on camera. I also ate an Oreo dunked in milk (sort of for a photo, mostly because I like Oreos dunked in milk).
I went home and tested a roasted root vegetable tart with thyme and garlic. I ate a sumo while I waited for it to bake. I tried a piece of tart right out of the oven and way too hot at 10:30 p.m., because that's what happens when you test a baking recipe when you get home from work.
For dessert, a piece of citrus poppyseed shortbread that I was also recipe testing.