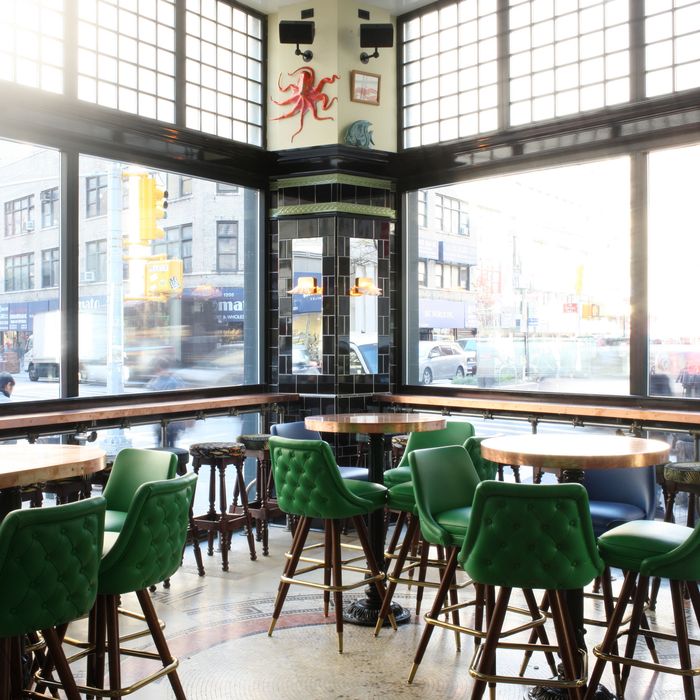 The John Dory Oyster Bar.
Photo: Melissa Hom
On February 23, chef-restaurateur April Bloomfield will close the John Dory Oyster Bar, the second restaurant she opened with her former business partner Ken Friedman. The closure was announced in a statement from a representative,which did not include an explanation. When the restaurant closes, it will be the second Bloomfield business to shutter in as many months. Just ten days ago, the chef abruptly shuttered her Los Angeles restaurant Hearth & Hound, announcing the closure on Instagram during the restaurant's final service on a Saturday. No reason was provided for that closure, either.
The John Dory is one of the two New York restaurants that Bloomfield kept after splitting from Ken Friedman, the disgraced restaurateur. When that happened last year, it was said that Bloomfield was "re-concepting" the John Dory. This is not happening. Asked about the closing, the rep responded that there was an opportunity "for a reinvention of the space that we couldn't refuse" and that Bloomfield will not be involved. As it turns out, that reinvention is to be a flagship location of Christina Tosi's Milk Bar, which the New York Times reports will open by the end of the year.
Along with Bloomfield's other remaining New York restaurant, the Breslin, the John Dory is located in the Ace Hotel. In October, it was reported that the Ace sued Friedman for $5 million for misrepresenting earnings at the two restaurants. That same month, Bloomfield spoke publicly about Friedman for the first time, saying "I failed a lot of people." The Spotted Pig remains open.
This post has been updated with additional information.