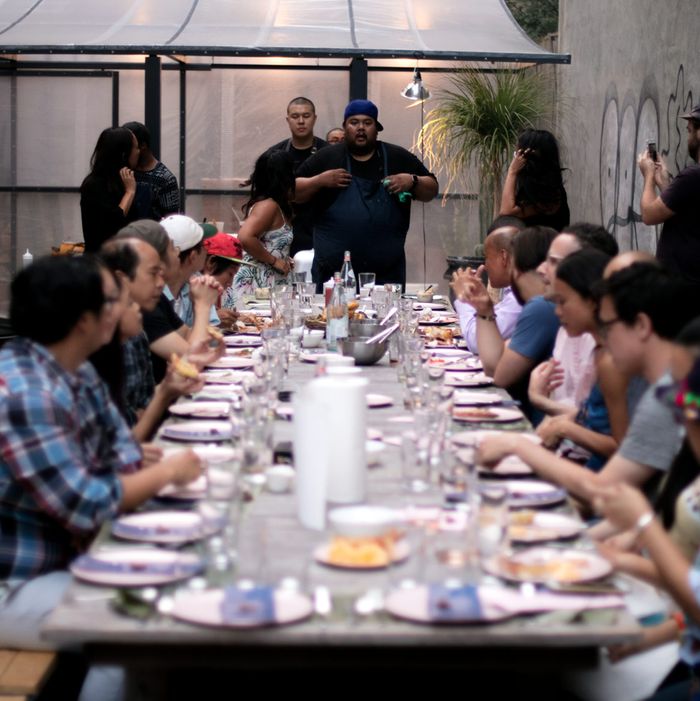 Alvin Cailan at an Amboy pop-up.
Photo: Wyatt Conlon
Alvin Cailan rose to food-world fame through his Los Angeles operation Eggslut, where he serves perfectly constructed, oozing breakfast sandwiches. Since relocating to New York, he's served those sandwiches at Chefs Club Counter, teased a breakfast spot called Paper Planes, and operated a burger pop-up turned American restaurant, the Usual, in the Nolitan hotel. But at home, the native Angeleno says, he's always cooking Filipino food. It's an interest Cailan has pursued professionally before, with the now-closed Amboy, which he ran out of his defunct L.A. kitchen incubator Unit 120. Back in 2017, Cailan teased New Yorkers hungry for more adobo with delivery-only Amboy and a few pop-ups. After taking 2018 to focus on opening the Usual, Cailan is turning his sights back to adobo. This summer, he'll open Amboy at 207 Mulberry Street in Nolita.
The New York version of Amboy won't be a replica of the L.A. original. While that was a takeout window with a focus on lunch, and very casual — food was served on butcher paper, for example — Amboy 2.0 will be a full-service, sit-down operation. Don't expect it to be too fancy, though. "I'm not much of a white-tablecloth dude," the chef says, explaining the design will borrow from Filipino restaurants (think rambutan baskets and art). What Amboy is, Cailan explains, is a culmination of what he's been cooking, doing, and thinking about in food for the last 20 years. "This is my end-all, be-all restaurant. This is the restaurant that I feel represents my cuisine the most," Cailan says.
Given that the opening of the restaurant is still several months out, the menu is still very much a work in progress. But Cailan is already excitedly talking about a few of the dishes he's planning to serve. "I've been working on this lobster pancit, which is like, to me, almost a weird thing because pancit is a very noble dish, jam-packed full of vegetables and some chicken. This is going to be more of a treat-yourself pancit," he says. He describes his ideas as "a bunch of playful things," and points to a riff on the classic dish crispy pata, which will be made with Hudson Valley duck in lieu of the usual pork knuckle.
There are also plans for what Cailan calls "super deep, historic takes on things" like kare-kare, an oxtail-peanut butter stew that the chef describes as a gift from Thailand that was originally made with a slew of spices. He'll do it both ways, adding Japanese curry spices to the mix. "Just to kind of throw it back to what could've possibly been the original flavor of the dish," he says. Expect lots of Filipino-style grilling, too, in a nod to Cailan's dad and childhood. His father grew up in the Manilla suburb Malate, a place that Cailan describes as "really, really poor," and where grilling is the predominant method of cooking. In Los Angeles, his dad, a construction worker, would buy a new grill every year. Those grills are where Cailan first learned a lot of Filipino cooking techniques, after he was taught to cook rice — "our first jobs," he says of Filipino kids — for dinner.
Along with his general manager, Kim Trac, and his sommelier and brother, Anthony, the chef says he's trying to rope in one of his Jersey City aunts to make desserts. But he'll also bring in the cooks he's been mentoring. "I've had a lot of Filipino kids come in and out of my kitchen and we're all getting together for this particular project," he says. After all, Cailan clearly sees Amboy as something bigger and more personally meaningful than breakfast sandwiches.
"We had the opportunity to prove ourselves here in New York," Cailan says. "So we figured let's do that one restaurant we've been wanting to do for a really long time. Also, why not represent Filipino food in the greatest city in the world, you know?"