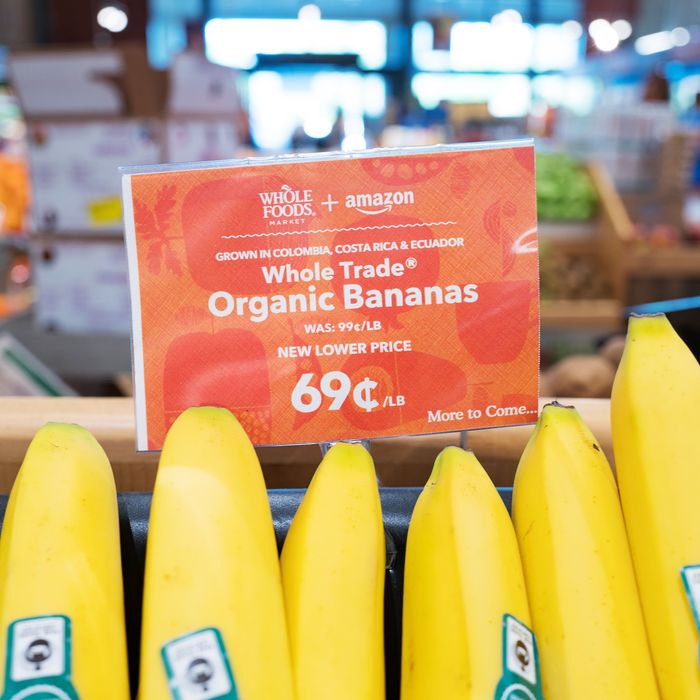 Bananas!
Photo: Smith Collection/Gado/Getty Images
Amazon doesn't want you to lose sight of why Whole Foods got the nickname "Whole Paycheck" after all. The grocer has raised its prices on hundreds of products due to increased costs in packaging, ingredients, and transportation. This checkout drama was first reported by The Wall Street Journal, which learned of it from leaked company emails. It's a sharp U-turn from when Amazon bought Whole Foods in 2017 and started slashing prices left and right.
According to a December email obtained by the Journal, prices were increased on 550 items. This month, Whole Foods did the same for dozens more, including Häagen-Dazs ice-cream. This isn't the only thing changing in your local Whole Foods aisles. The company has also let the contracts expire on 700 products, possibly adding insult to injury when you next try to find your favorite boutique condiment. A Whole Foods spokesperson tells the Journal that the price increases are because of suppliers, and says that, anyhow, Whole Foods is putting more stuff on sale. Since Amazon acquired the grocer in 2017, records show it has emphasized deals for Prime members over those offered to all customers.