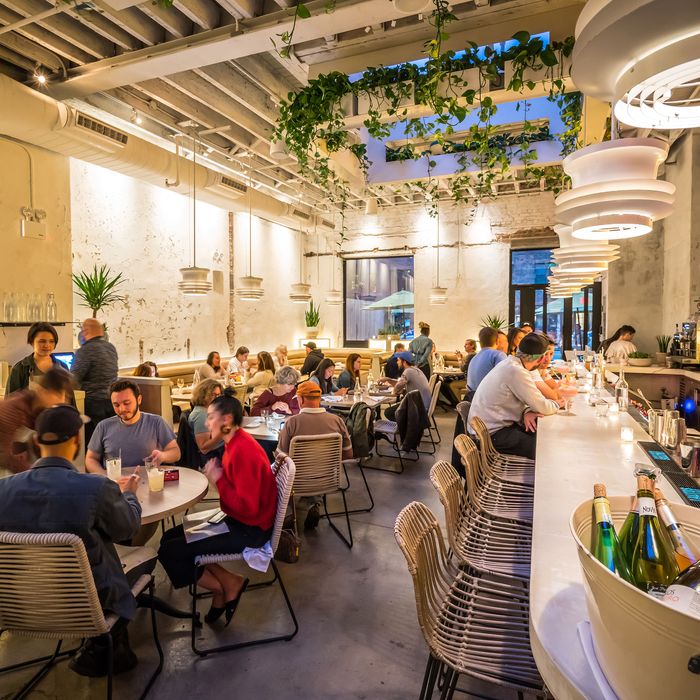 It's a good night to finally eat at Greenpoint's Oxomoco.
Photo: Noah Fecks
Whether you're a Saints fan who can't bear to watch another minute of football, or someone who just ignores the sport altogether, Sunday night promises to be perhaps the best night of the year to hit a restaurant. Since everyone else will be watching the Super Bowl, you'll have your pick of spots (and the staff, we promise, will be extra happy to see you). Grub Street scanned the city for the usually hard-to-get-into spots that still have plenty of room on Sunday night. Enjoy.
Llama Inn
50 Withers St., at Lorimer St.; 718-387-3434
While we wait with bated breath for his new Japanese-Peruvian concept restaurant to open, feel free to drop by Erik Ramirez's original Peruvian hotspot on Sunday night for a preview in the form of dishes like Japanese sea bream tiradito with persimmon and ginger, beets with sunflower miso, and a beef tenderloin stir-fry with pickled chilis, rocoto crema, and a chive crepe.
Estela
47 E. Houston St., nr. Mulberry St.; 212-219-7693
On any other Sunday night, you'd be hard-pressed to get a seat at this tiny restaurant in Nolita, but there just so happen to be seats available at this Ignacio Mattos–run hotspot. Grab one of the coveted bar seats, order the steak tartare and ricotta dumplings, and you're in business. Find reservations here.
Marea
240 Central Park S., nr. Broadway; 212-582-5100
With the exception of Le Bernardin, it doesn't get fancier and more seafood-centric than this Michael White spot. Think crudo so fresh you'd think they caught the fish that morning, ravioli filled with squid ink and lobster, and, more generally, some of the best Italian cooking on offer in this city. Get your table here.
Oxomoco
128 Greenpoint Ave., nr. Manhattan Ave.; 646-688-4180
If you still haven't enjoyed a meal at this absolute best restaurant of 2018, now's the time. An ideal meal, according to our own Adam Platt, includes any of the tequila- and mezcal-centric cocktails, the arrachera flank steak and al pastor tacos sandwiched between pillowy masa tortillas, and if you have the room, you really can't go wrong with the black sesame curd or the Oaxacan chocolate cake for dessert. Grab a table here.
Chez Ma Tante
90 Calyer St., at Franklin St.; 718-389-3606
Those hanging around Greenpoint and looking for something more low-key and intimate will want to finally check out with this French Canadian spot. We say go for the kedgeree, a dish of curried cod and rice under a bed of celery salad, and the exceedingly satisfying fennel sausage with shallots and tangy fino sherry. Get a reservation here.
Atoboy
43 E. 28th St., nr. Park Ave. S.; 646-476-7217
If you still haven't paid tribute at this Nomad temple of Korean fine prix-fixe dining, this weekend is the time. Think seriously elevated banchan — the little dishes that populate the table at Korean BBQ spots — like yellowtail with kombucha and radish, and leeks with black truffles and buckwheat. And for the main attraction there's octopus with fermented tofu, spicy gochujang lamb, and world-class fried chicken. Reservations are available here.
Jeffrey's Grocery
172 Waverly Pl., nr. Christopher St.; 646-398-7630
Another recommendation for a quiet night out is this spot known not only for its excellent oyster happy hour, but for its overall attention to good seafood in the form of lobster bisque, seared squid with white beans and chorizo, mussels in Madras curry, and seafood towers you'll want to write home about. Grab a reservation here.
Upland
345 Park Avenue S., at 26th St.; 212-686-1006
If you act fast — like make a reservation right now — you can grab one of the few remaining tables at this fantastic Californian-Italian spot from chef Justin Smillie. After dinner — whether you tuck into a classic margherita pizza or order two pastas and an entree — it'll be just warm enough out to merit a post-dinner stroll.
Olmsted
659 Vanderbilt Ave., nr. Park Pl.,; 718-552-2610
If you've never had the pleasure, this Sunday evening is your chance to take a seat at the bar at this ever-popular Prospect Heights spot. Bar seats give you a primo view of the tiny kitchen area, so you can enjoy one of the better live cooking shows in New York City. For regulars looking for something new to try: check out the bouillabaisse hot pot that recently joined the menu.
Cosme
35 E. 21st St., nr. Broadway; 212-913-9659
Short of hopping on a flight to Oaxaca, Cosme is still the absolute best you can do as far as Mexican restaurants in New York City go. It's Pujol in America. And if you can get a reservation for this Sunday night, you'll be enjoying fluke tostadas, nixtamalized Honeynut squash, lamb belly with green mango, and duck carnitas in no time.
Quality Meats
57 W. 58th St., nr. Sixth Ave.; 212-371-7777
For those skipping the Super Bowl but still looking to give into their carnivorous side, Quality Meats is a smart bet. This Central Park–adjacent steakhouse just happens to have seats for Sunday night, so stop by for a porterhouse and a martini and then call it a night. Find reservations here.
Jean-Georges
1 Central Park W., nr. 61st St.; 212-299-3900
There just so happen to be a few tables left for Sunday night at this upscale French spot. If you consider yourself a real restaurant aficionado, here's your chance to check this 22-year-old mainstay off your list. Grab a table here.
Café Altro Paradiso
234 Spring St., at Sixth Ave.; 646-952-0828
It may seem like the whole point of going to this Ignacio Mattos spot is for the pasta and, believe us, it's some damn good pasta. Some of the best in the city! But Sunday night is also a good time to drop by and taste the restaurant's fish sauce- and radicchio-topped burger, which made it onto the Underground Gourmet's list of the best eats of 2018. All it takes is a reservation and good appetite.
The Aviary
80 Columbus Circle at 60th St., nr. Broadway; 212-805-8800
This incredibly upscale cocktail bar is still pretty unrivaled as far as over-the-top concoctions go, which is why it's hard to get last-minute reservations. But lo and behold, there are some spots left not only for à la carte offerings and drinks, but also for the restaurant and bar's three-course and five-course cocktails and canapés prix-fixe meals, so jump on them before they're gone.
Madame Vo BBQ
104 Second Ave., nr. 6th St.; 917-675-7570
Without a doubt, this BBQ offshoot of the Vietnamese restaurant of the same name is one of the hottest restaurants in the city right now. Grabbing a reservation at this East Village spot will get you front row seats to everything from roast pork meatballs with scallion oil and lemongrass-marinated short ribs to grilled jumbo prawns in orange butter and oxtail congee with honey-fish sauce brown butter. All of which sounds much better than sitting in front of a TV for five hours.
La Mercerie
52 Howard St., at Mercer St.; 212-852-9097
When Le Coucou and Frenchette are out of seats, as they almost always are, your best downtown plan B is Marie-Aude Rose's charming all-day café spot, which has some tables awaiting anyone looking for a quiet and incredibly French night out this Sunday. Grab a table here.
King
18 King St., at Sixth Ave.; 917-825-1618
If you want to eat at the restaurants that food writers and chefs love, King is still at or near the top of that list. The restaurant is charming, the service impeccable, and the menu ever-changing. If you still haven't seen what all the fuss is about, grab a table and check it out.
Fausto
348 Flatbush Ave., nr. Sterling Pl.; 917-909-1427
As always, this Italian spot provides a rare moment of quiet on the otherwise bustling Flatbush Avenue, which is probably why it's still a go-to spot for locals. And luckily for you, there are a few seats left for this Sunday night if you're looking for a little calm and a lot of cavatelli.
Shuka
33 Great Jones St., nr. Lafayette St.; 212-253-5700 
If you're after a Mediterranean feast amounting to more than some sad carrots and a sweaty jar of hummus, there's no going wrong with Shuka. We say make it easy on yourself and just go for the $54-per-person Shuka Feast. Grab a table here.
Augustine
5 Beekman St. nr. Theatre Alley; 212-375-0010
This Keith McNally spot at the Beekman Hotel remains as luxurious and refined as ever — you'll basically forget that football even exists. Plus, with Markus Glocker now leading the kitchen, the menu's more exciting than ever. Find a reservation here.