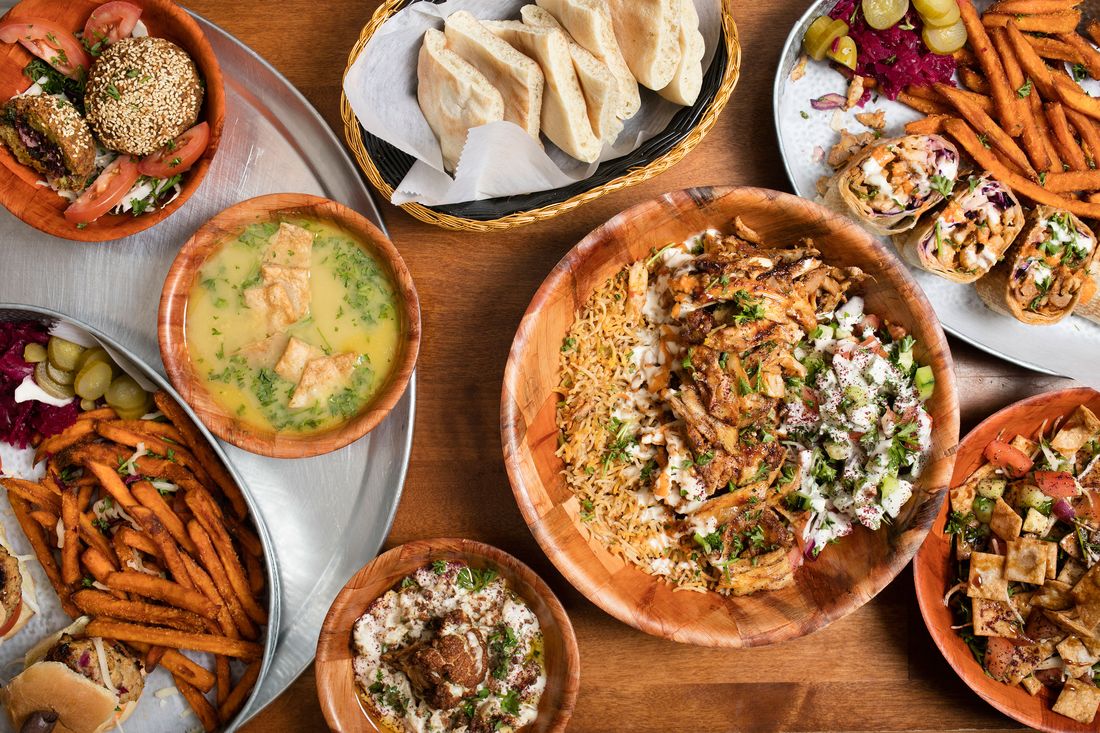 A bountiful spread at Zyara.
Photo: Melissa Hom
Finding a Manhattan restaurant space that's bigger than a Mini Cooper with a rent that will not completely demoralize and bankrupt you is tough but not impossible. Take, for instance, the case of Zyara, a counter-service cubbyhole on the Lower East Side. The Middle Eastern mostly takeout shop is the passion project of Khaleel Salman, a Jordanian expat who emigrated to New York eight years ago with the goal of opening a place like the one his family runs in Amman. To that end, he saved up by working two jobs: driving an Uber and slinging sliders at the Todd English section of the Plaza Food Hall. But finding an affordable space was proving more difficult than he'd thought it would. Then one night, while Salman was dropping off a passenger on Clinton Street, fate intervened. He spotted a sign that read, RENT BY OWNER NO FEE. Said owner, says Salman, turned out to be "a very nice Iranian Jewish guy" who missed the food of his homeland and liked Salman's plans for the space (essentially raiding his mother's recipe collection) and liked his cooking even better.
It's not hard to see why. Salman's repertoire — black-lime-spiked lentil soup; lively fattoush salad; textbook crisp-and-fluffy falafel; chicken shawarma rolled up in lavash like a burrito or served in a bowl with basmati rice — covers all the pita parlor bases with uncommon finesse. There's killer kibbeh, too, and Mama Ghannouj — a mingling of tahini and deep-fried cauliflower named in deference to the recipe's source — that will ruin you for the baba variety. But if we had to restrict ourselves to one item from Zyara's menu, it would be the Vegan Arabic Sandwich, a kitchen-sink sensation of deep-fried veggies (cauliflower, eggplant, and paper-thin zucchini) plus falafel, tomato, cabbage, and assorted pickled things that all gets stuffed into a housemade pita like circus clowns into a Volkswagen. It's dressed with tahini and hot sauce and would do a meat-free Dagwood Bumstead proud.
With just one table and a few counter stools, the storefront gets packed during the dinner rush. Three folks in line for takeout is a crowd; six is a mob. But Salman has instilled a homey vibe with some Moroccan-style lights, a few paintings and Christmas wreaths, and a tray of ceramic Ikea mugs waiting to be filled with self-serve Arabic tea. As host, cook, and busser, he bounds merrily about the place like a Jordanian Fred Astaire. "It's my dream come true," says the chef. And he's happy to spread his good fortune around, extending a discount to his former Uber colleagues or anyone who drives a car for a living. Generous to a fault, he's even shared his coveted Mama Ghannouj recipe with his old boss, Todd English, so now you can get it uptown, too, as part of a Plaza Food Hall meze platter. (We can only assume the sliders and sweet-potato fries at Zyara are proof that this culinary exchange program goes both ways.)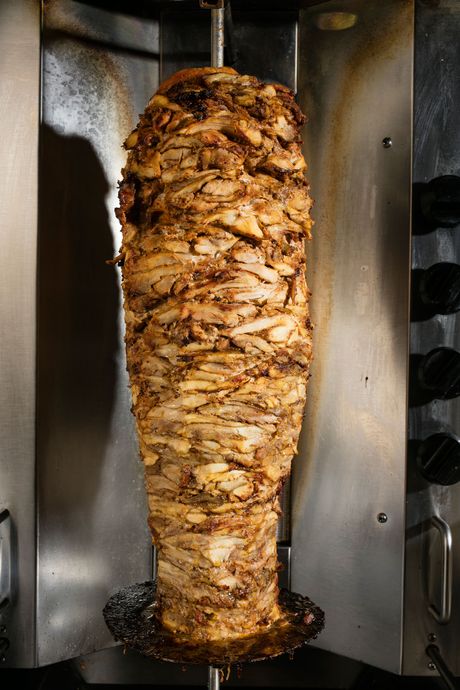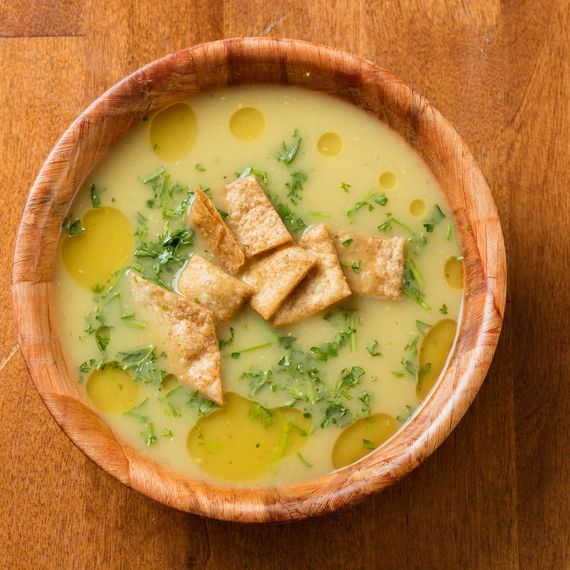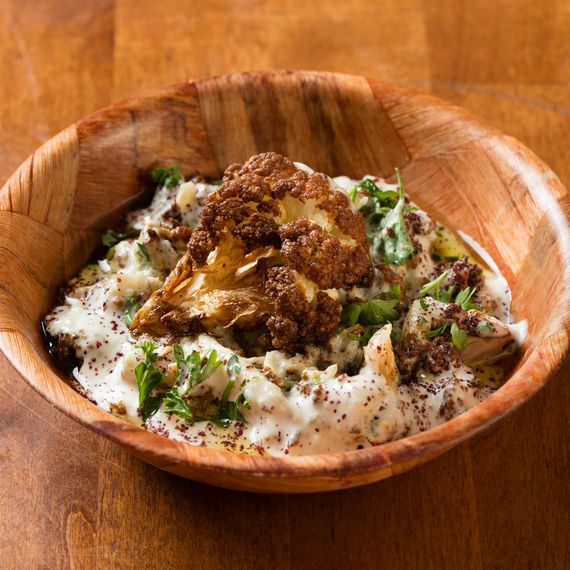 Of course, there's more to life than cauliflowered baba ghannouj. There's also hummus, zhoug, and shakshuka, all of which are on display at Vish, a seven-month-old Israeli hummus specialist in Greenwich Village. The first time the Underground Gourmet stopped by, a friendly young cook in a tie-dyed T-shirt plied us with samples, asked to take our picture with a pink Polaroid camera for the customer-photo wall gallery, and gave us his card so that, in the event of an off-hours hummus hankering, we could call ahead and check if the day's supply was finished. Then he strode out onto 8th Street to blow his shofar, the ceremonial ram's-horn trumpet, ostensibly to drum up some business.
The tactic seems to have worked. During daytime hours, the 16-seat space bustles with blissful expats (they're the ones scooping their spread with raw onion petals), vegetarians seeking a protein fix, yarmulke-lidded kosher-keepers, and impecunious NYU students alike, and the hummus has indeed been known to disappear by cocktail hour. It's fine stuff: sufficiently creamy, tahini-rich, ground fresh to order, and served as warm and fluffy as the accompanying pita. Should you grow tired of eating mashed chickpeas straight up, you can get your hummus topped with garnishes like fava beans, eggplant, and egg, or in the vishuka, an inspired hummus-shakshuka hybrid. As for condiments and accompaniments, the vibrant green-chile zhoug is more herby garnish than hot sauce (which is not a bad thing), and the Israeli salad is speckled with nuts and seeds (but could use a livelier dressing or dash of salt). About the seitan "vegan shawarma," the less said the better.
But hummus, not vegan shawarma, is the thing at Vish. Swirled with oil and artfully plated (or in this case, biodegradable-bowled), it's the kind of seductively smooth, nearly aerated chickpea dip that took New York by storm two decades ago — and that taught the uninitiated not only what authentic hummus was but how to eat it and pronounce it (hoo-moose). Shops begat chains that begat more chains. But recent events in the hummusphere made us wonder whether the hummus bubble had burst: the closure of aughts-era pioneer Hoomoos Asli; the consolidation of erstwhile juggernaut Hummus Place to a single, Upper West Side branch; and, most astonishingly, the all-too-brief tenure of the Chelsea Market outpost of Philadelphia's Dizengoff, perhaps the country's most celebrated hummusiya.
Vish handily steps into this post-Dizengoff breach, and while its reputation may not have preceded it, the Israeli brand does have a pedigree. It's an outgrowth of "the Original Eliyahu," launched in Yokneam a decade ago by one Eliyahu Shmueli, an ex-alternative-medicine therapist. Eliyahu has spread throughout Israel via aggressive franchising, and Vish is doing likewise here, with branches recently sprouting in a Williamsburg food hall and at the Columbia University Jewish center. But with its hippie kibbutznik vibe and DIY décor, the place doesn't feel like a chain (yet), and the hummus speaks for itself — with a little help from the shofar.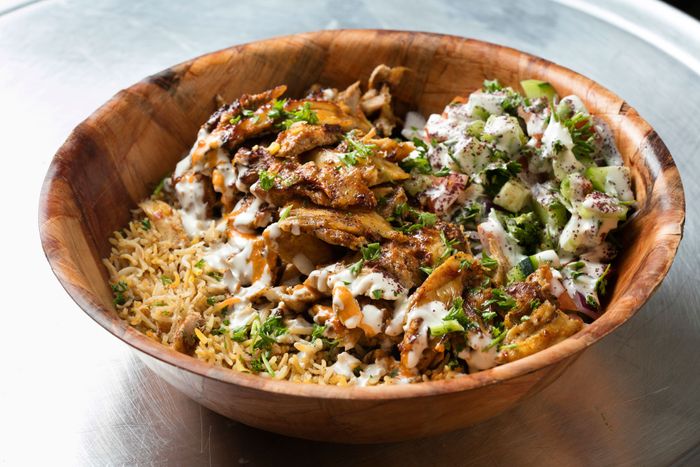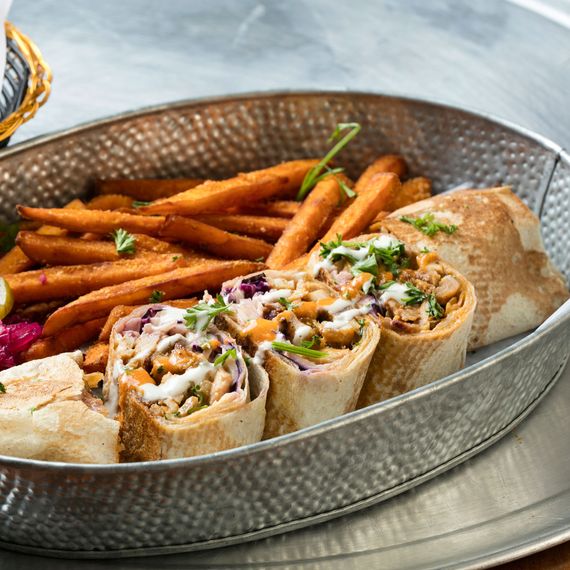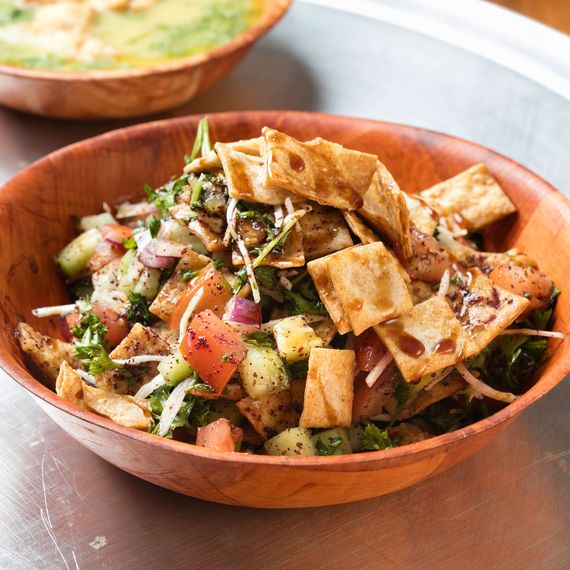 Zyara | 80 (out of 100)
57 Clinton St., nr. Rivington St.; 646-586-3317; newyorkmediterraneanfood.com
Open: Daily.
Prices: $4 to $14.
Ideal Meal: Chicken-shawarma plate or Vegan Arabic Sandwich.
Note: Lentil soup is free with any main-dish order but worth paying for.
Scratchpad: Zyara earns a "good" rating for its Vegan Arabic Sandwich alone.
Vish | 77 (out of 100)
59 E. 8th St., nr. Broadway; 212-420-5999; vish.rest
Open: Sunday through Friday.
Prices: $8.95 to $10.95.
Ideal Meal: The Complete Vish, lemonade.
Note: A Turk would probably be deeply offended by it, but the so-called Turkish coffee is free.
Scratchpad: Some of the best, most authentic Israeli hummus in town brings home a very solid "solid" for Vish.
*A version of this article appears in the January 21, 2019, issue of New York Magazine. Subscribe Now!