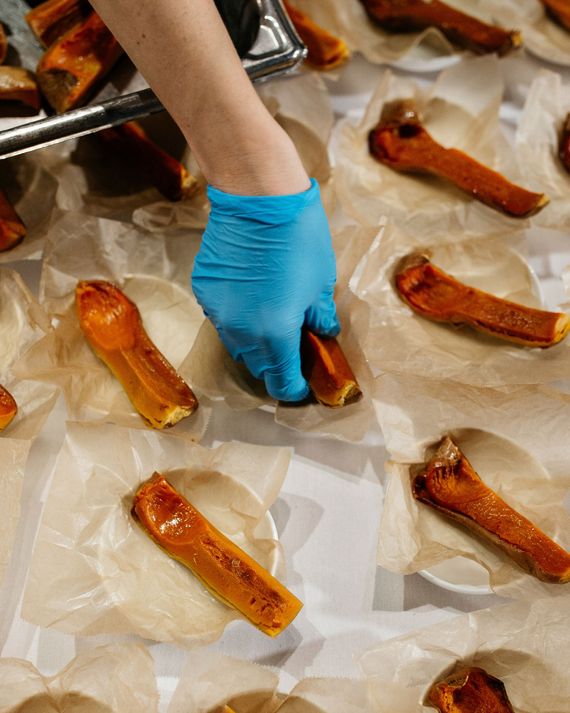 Roasted 898 squash.
Photo: Scott Heins
Yesterday afternoon in Red Hook, Christian Puglisi, who runs Relae in Copenhagen, was vigorously stirring elderflower vinegar and beet juice into oversized bowls of gently cooked egg yolks. He was in a makeshift kitchen that had been set up within Pioneer Works, and he was just one member of a full brigade of renowned culinary talent. Daniela Soto-Innes, of Cosme and Atla, chatted with Alex Stupak and Austria's Heinz Reitbauer while finishing a dish of nixtamalized barley. Boston's Ana Sortun and Jean-Georges Vongerichten examined the final prep for their dishes (red-lentil kofte and beets in the style of steak tartare, respectively) at neighboring stations. Meanwhile, Dan Kluger carefully arranged a plate of roasted carrots coated with oats. The chefs' various sous-chefs and cooks filled out this platoon of hardcore cooking pros, who would spend the night cooking for several hundred guests.
The occasion was a dinner, hosted by Dan Barber, to celebrate Row 7, the seed company that he and several partners launched last year, which aims to connect farmers, chefs, and breeders to create a collection of vegetables that appeal specifically to chefs: miniature squashes with super-packed flavor, vibrant purple snow peas, habanero peppers with all of the flavor and none of the heat.
To browse Row 7's sales site is to see fruits and vegetables elevated to the level of lust-worthy tech products: The Centercut squash is "a new chapter for the heirloom tromboncino," created when Row 7's Michael Mazourek "set off to upgrade its flavor." The 7082 cucumber is an "experimental green slicer" that "explores the bold and complex flavors long forgotten in cucumbers." The entire company is "grounded in the notion that deliciousness might just change the world."
"We use the iPhone analogy pretty often," says Charlotte Douglas, Row 7's chief operating officer. "What if you could create excitement around the evolution of vegetables the same way you can around the iPhone?"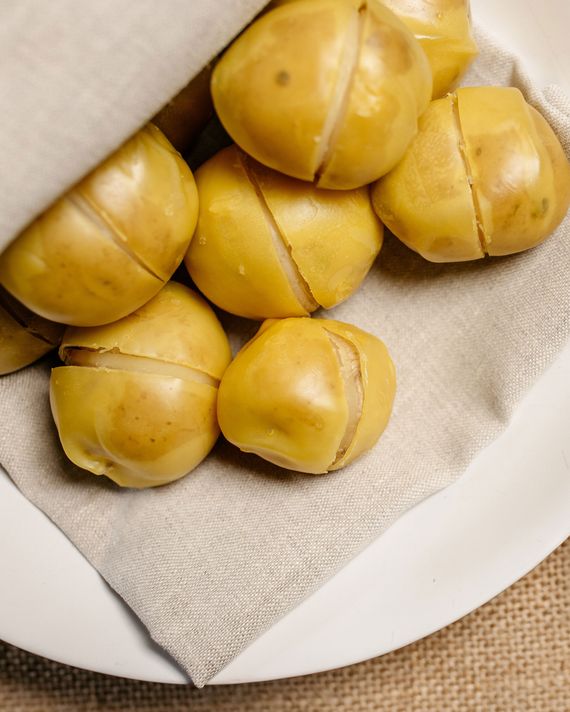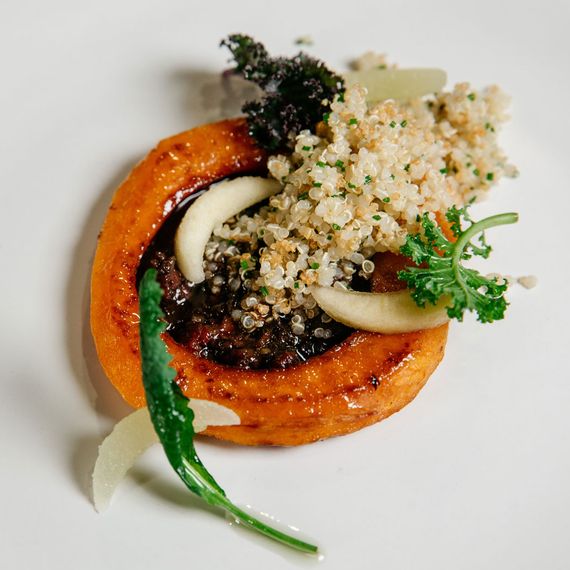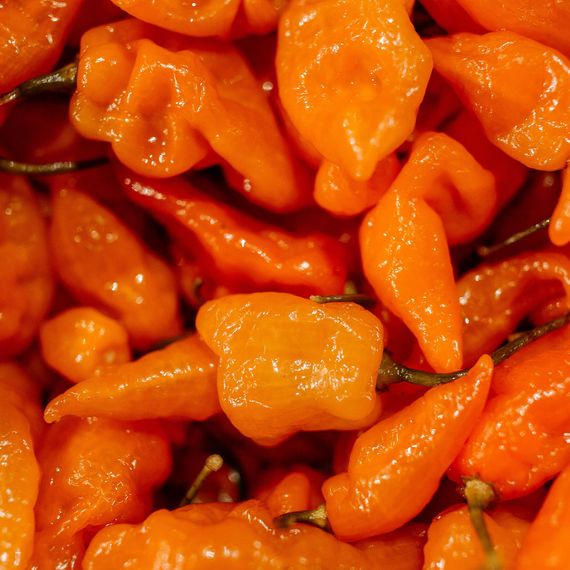 If there is a single product that has come to symbolize Row 7's business, it is the Honeynut squash, a miniature butternut that Barber and Mazourek designed to taste better and — let's be honest — look cuter. In the last few years, it has made waves and, for the kinds of people who get excited about squash, it is, admittedly, a very cool squash. It's also a very delicate squash, and the people who grow it have discovered that it doesn't store as well as traditional varieties. "If you can't store," Barber says, "forget it."
So Row 7 designed an upgrade: the 898, "a longer-storing, even-more-mini butternut packed with flavor and nutrition." It's the squash equivalent of an iPhone made with extra-durable glass: It's the same product, but sturdier. And it will keep evolving: "We continue to update," Barber explains. "We aren't carrying it like an heirloom variety to the next generation — we're trying to iterate."
For chefs, the idea of essentially customizing plants can be revelatory. For one thing, it offers the promise of something like a perfect ingredient. "If it's done for the sake of flavor and nutrition, we're doing everyone a favor," says Sortun, who runs a collection of restaurants around Boston. She says she first saw the promise of bespoke breeding when Mazourek was able to create a version of her favorite pumpkin — the Long Island cheese pumpkin — that was easier to work with. "It's the most delicious pumpkin," she says, but it's also huge, and, "you can't carry a big pumpkin from the farmers' market." What she proposed was a new pumpkin that would taste the same, on a smaller scale. So Mazourek grew them. "Literally nine months later," Sortun says, "he sends me miniature Long Island cheese pumpkins in the mail."
On-demand vegetable varieties also give chefs a chance to approach ingredients they might have used tens of thousands of times before, and reimagine the attributes they can highlight in a given dish. Take, for example, the so-called Badger Flame beets, which, according to Row 7, "contain all the vegetal sweetness of the beet, without the polarizing earthiness." Suddenly, a chef can amplify a beet's rawness, the very quality they usually want to mask. Chef Puglisi's solution at the Row 7 dinner was spiralized raw-beet noodles (like zoodles, but beets) finished with that elderflower-spiked egg-yolk sauce. The effect of the elderflower vinegar was undeniable, drawing out bright floral notes in the beet that would have been severely diminished by cooking.
Of course, getting chefs excited to cook with cutting-edge ingredients is just a first step toward the real goal of this seed start-up, which is to make farmers excited to grow these cutting-edge ingredients. "We want to show these growers there's going to be an end-user and demand," Douglas says. "Otherwise there will be no incentive to change their practices."
Farmers, as you might guess, agree. "I wouldn't just believe someone to say, 'This is really popular in New York, so we should grow it,'" says Malaika Spencer, the owner of Roots to River Farm in the Delaware Valley. "Because everything is perishable, I need to know there's a place for it in what we do." She says the most likely scenario for adding a new crop to her farm is that a chef would get in touch to see about growing a specific ingredient, and she would plant a small trial to see (a) if the chefs — and other customers — actually bought it, and (b) if her farm could grow it well. "Things like the Honeynut are great, but you don't know how it's going to grow," she says. "Sometimes things sound really good, but it might not taste good if it's grown on your farm." Any new product also, of course, has to move. "I'm not going to go through the process of adding an entirely new crop," Spencer notes, "if a chef is only going to buy five bunches a week." As an organic farmer, Spencer says the killer features she looks for aren't just vivid color or super-concentrated flavor, but also qualities like yield and disease resistance.
Which is what Barber wants to offer, too. When Row 7 develops new varieties, they first look for those qualities in their field trials, then test and select among that population for flavor. All told, it can take eight years to successfully develop, say, a new squash variety, but Barber notes that technology allows breeders to move much more quickly than they would have even a generation ago. "It's still a long conversation," Barber says, "but comparatively, it's a nanosecond."
And so, the back-and-forth between Row 7's target markets simply goes on. "Ultimately," Barber says, "we're hoping that the chefs will drive this conversation with the breeders themselves, based on where they are, and their interest in a particular color or flavor. […] Then you get not just the whim of the chef, but also the cultural imprint from a particular region that a chef represents and can add into her cooking."
"Last year," Barber adds, "we were just trying to explain what the hell this company is." Now, the goal has shifted a bit: "We're trying to deepen the context for the seeds, and this conversation between breeders and the chefs."