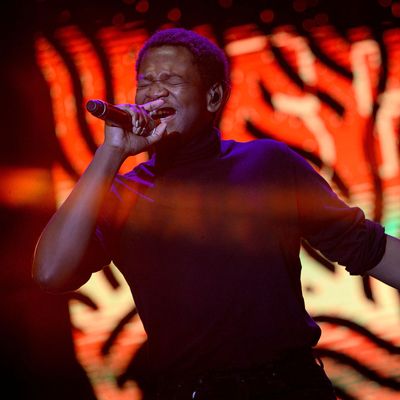 See Shamir this Saturday in Brooklyn.
Photo: Scott Dudelson/Getty Images
Events to check out this weekend, January 31 to February 3.
1. Enjoy a ballet and art collaboration.
The New York City Ballet's season kicked off last week with a lineup of classics and new works, like tonight's premiere of Justin Peck's Principia with music by Sufjan Stevens. It joins Kyle Abraham's The Runaway, which includes music by Jay-Z and Kanye, and William Forsythe's Herman Schmerman on the triple bill New Combinations. This year, the company is collaborating with London-born, New York–based artist Shantell Martin, who has joined forces with Kendrick Lamar and will create a large-scale installation for the NYCB's space at Lincoln Center, with three special Art Series performances. The first is this Saturday, with tickets priced at $35.
2. See silent films, out loud.
Who needs talkies when you have a live score? Through tomorrow, Arts Brookfield brings back its free Silent Films/Live Music series, curated by John Schafer. Feeling sinister? Tonight's 1922 version of Nosferatu should scratch that itch. And tomorrow it's Josef von Sternberg's crime drama Underworld, which won the Oscar for Best Screenplay in the very first Academy Awards in 1927. Show up early — these seats go fast.
3. Flex your brain.
Oh, how our brains crave exercise. A Night of Philosophy and Ideas — pretty much what it sounds like — began four years ago, organized by Cultural Services of the French Embassy. It has since expanded to four other cities, with this Saturday's free 12-hour marathon taking place at the Brooklyn Public Library, from 7 p.m. to 7 a.m., with the aid of complimentary Nespresso. Explore your fears with the podcast team from 10 Things That Scare Me, hear former NYPL president Paul LeClerc talk about Voltaire, discuss climate change, Buddha, identity, justice, truth, utopia, social infrastructure, and so much more, including screenings, readings, and a puppet version of Noam Chomsky. Start drinking coffee now.
4. Warm up with booze …
The temperature dips, and a festival swoops in. This Saturday, bundle up for the Winter Warmer festival at the Brooklyn Expo Center, by the same folks behind the Bacon and Beer Classic and featuring spiked drinks and comfort food like truffle mac 'n' cheese and empanadas. And through Sunday at the sake-focused Sakagura restaurant is Nanbu Bijin Week, featuring select fragrant styles of the award-winning sake brewery and with the fifth-generation president, Kosuke Kuji, on hand to talk about his product on Friday. And beginning this week, learn about leading female winemakers while sampling their stuff (plus snacks and charcuterie) at the coffee shop Paper in the MADE Hotel, with a rotating list highlighting different regions, curated by the team at Ferris. That happens after-hours, Monday through Friday from 6 p.m. to 11 p.m.
5. … And maybe learn something while you sip.
Some folks have the Super Bowl. Oenophiles have the showdown at La Compagnie des Vins Surnaturels, which, beginning at 5 p.m. on Sunday, pits no-sulfurs against pro-sulfurs in an everybody-wins showdown. For $30 taste six wines, three examples made with the controversial SO2 and three of their grape counterparts without. Decide which ones you prefer, with the aid of snacks like cacio e popcorn and buffalo rillettes.
6. Get ready for the Lunar New Year.
The Chinese New Year happens next Tuesday, but you can welcome the Year of the Pig early this Friday at the Museum of Chinese in America at the annual Lunar New Year night market, an evening of food, drinks, and performances, with contributions from Nom Wah Nolita, Ming River, Bessou, Taiwan Bear House, and more. $99 tickets include all food options, two drinks, and admission to the museum for a year. On Saturday, swing by the Shops at Columbus Circle from 1 to 4 p.m. for lion dance performances, lantern-making workshops, and sugar painting demonstrations in conjunction with the New York Chinese Cultural Center, and on Sunday both the Queens Museum and Brooklyn Children's Museum has pig-related festivities.
7. Rock out.
His former band Vampire Weekend may have recently grabbed headlines with news of their upcoming album, but Rostam Batmanglij has the best of both worlds, contributing production to the their LP and continuing with his dreamy and successful solo career. Catch him tonight at the Appel Room as part of their American Songbook series. Then on Saturday, head to the Brooklyn Bazaar for a performance by Shamir, whose danceable debut Ratchet was hailed as the future of glam pop, much, as it turns out, to his dismay. After some personal turmoil and a dramatic switch in sound to indie rock, he's back for our pleasure, with Sammus and Peaer.
8. Do it over and over.
You ever notice that Groundhog Day just … keeps happening? This Saturday, pay a visit to NYC's own Staten Island Chuck, who makes his prediction at 7 a.m. at the Staten Island Zoo (sans Mayor de Blasio). And if you're not one for being a (super) early riser, or just would rather watch a movie, on Saturday and Sunday catch brunch screenings of the Bill Murray classic, um, Groundhog Day, at the Williamsburg and Prospect Park locations of Nitehawk.
9. Choose your own theatrical adventure.
If you haven't checked out Nassim, the new play by Nassim Soleimanpour where each performance a different actor has no idea of the plot ahead of time, this weekend is a good time to jump in. On Friday, the featured performer is Clea Lewis, Saturday you'll find Sanjit De Silva at the matinee and Alysia Reiner in the evening, and Sunday is the one and only Michael Urie, which should be a true delight. And find companionship (if you want it) at Never Sleep Alone, this Saturday night at Joe's Pub, where sexual evangelist Dr. Alex Schiller — alter ego of performer Roslyn Hart — gives advice, plays matchmaker, and hosts a wild and sexy night of theater. Buy a ticket as a player or voyeur, but be aware, if you just want to watch, it'll cost you extra.
10. See the dark side of Ellen DeGeneres.
Ellen DeGeneres recently dropped her special Relatable, which, among other things, questions her broad appeal to audiences now that she's rich and famous. Whatever your thoughts, Sunday comedy fans will want to find themselves at Union Hall, for Ellen DeGenerous: I Simply Cannot Relate, where Rachel Kaly hosts the show as a violent and manipulative version of the talk-show behemoth, with a roster of Jo Firestone, Julio Torres, Willie Zabar, and Daniel Maseda.