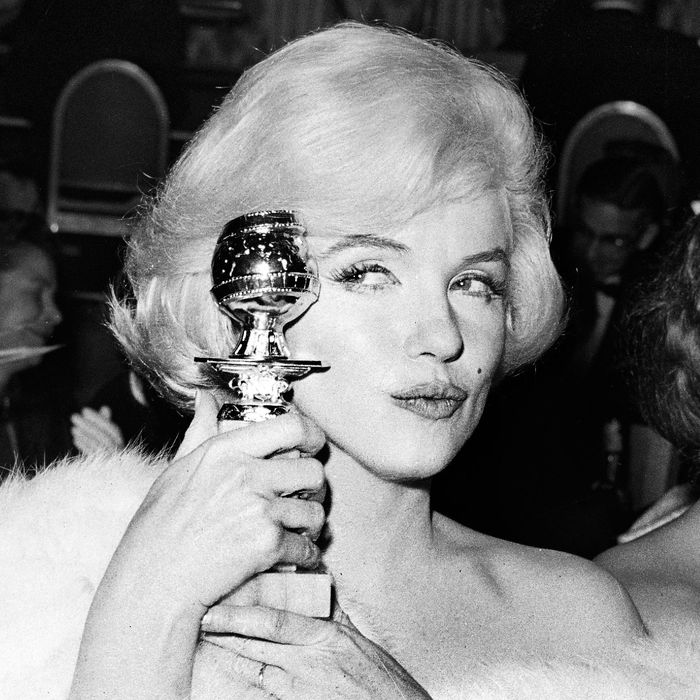 Marilyn and her Globe.
Photo: Bettmann Archive
Events to check out this weekend, January 3 to 6.
1. See the "Bob Dylan of Egypt" and an up-and-coming rapper.
In 2011, Ramy Essam was a student, strumming his guitar in the middle of Tahrir Square in Cairo, becoming a voice of the Egyptian revolution with songs that spread amongst the demonstrators and earned him nickname of the "Bob Dylan of Egypt." Tonight, sponsored by the Artistic Freedom Initiative, he'll perform at Le Poisson Rouge, alongside the world pop sounds of Iranian sister duo ABJEEZ. This Saturday and Sunday, head to Brooklyn Steel, where one-to-watch Chicago rapper Noname will be bringing her soft poetic flow. Elton Aura opens.
2. Hit one more holiday party.
Hey, the holidays aren't over until you say they are. Have one last fling tonight and tomorrow at Littlefield at the On the Moon Arts holiday party, showcasing a diverse roster of talent including comedians Alex English, Joyelle Johnson, and Ophira Eisenberg, dance and spandex enthusiasts Adira Amram and The Experience, and political satirist Lizz Winstead. Tickets are $15 per night or $20 for both nights.
3. Count yer jokes.
The New Year means new ideas, and there'll be a whole bunch of them at 50 First Jokes this Friday at the Bell House, a long-running show in which 50 comics each perform the first joke they've written in 2019. Go behind the scenes of the creative process with the brightest in Brooklyn, and hope some of their talent rubs off on you.
4. Swing through a festival. 
Feel like some arts? You're in luck. Beginning this week, find cutting-edge dance, theater, comedy, and more at the Under the Radar festival, with shows including Penny Arcade's influential Bitch! Dyke! Faghag! Whore! and Frankenstein, which combines the classic story with author Mary Shelley's biography. Those are both at Joe's Pub. Saturday kicks off prestigious Winter Jazzfest, with performers including Meshell Ndegeocello and drummer Kassa Overall. And on Sunday, worlds combine at globalFEST, now on three stages at the Copacabana, a culturally significant hub in its own right.
5. Explore American dance with a couple of phenoms.
A thin layer of sand on the stage lends texture to the dance choreography of the Bessie Award-winning Caleb Teicher, who collaborates with fellow wunderkind, pianist and Lincoln Center Emerging Artist Conrad Tao, in More Forever,  combining everything from jazz to Lindy hop to tap with a score of piano and electronic instruments. Catch the magic twice on Sunday at part of the Works & Process series at the Guggenheim, and again on Monday.
6. Flex your brain.
Writers of note come together on Friday  at the amazingly-named Bureau of General Services — Queer Division, a bookstore, cultural center and gathering place located in the The Lesbian, Gay, Bisexual & Transgender Community Center. See a lineup of writer, critic and artist, Travis Jeppesen (Victims), essayist Svetlana Kitto and legend Bruce Benderson, who won a prestigious French literary prize for his memoir of sexual obsession, Autobiographie érotique. 2019 goals. Suggested donation of $10, but no one will be turned away for lack of funds.
7. Toast to Saturday Night Live, then toast to yourself. 
Until SNL comes back, toast to the long-running source of entertainment with a new cocktail menu at Bar Sardine, inspired by the show's iconic bits. Through February, have drinks like a Cawffee Tawk espresso martini with vodka, Caffe Amaro, and cold brew, or a Hottest Club in New York Is … , made with tequila, lime, serrano, and bitters. For the full effect, drink it in a van down by the river. And on Saturday, chef Paul Liebrandt will pop up at Shuko for a 12-course dinner that will put an emphasis on seafood, including a sushi progression. It's $235, with an extra fee for wine pairings, but it's a new year. You're worth it.
8. Venture into the unknown.
Grey Rock is about a Palestinian man who attempts to build a rocket to the moon, by himself. And while that premise seems fantastical, even more difficult was getting the production made in New York with a cast whose members all identify as Palestinian. See what came of the effort at La Mama through Monday. And at the New York City Center, Iranian playwright Nassim Soleimanpour of the exquisite White Rabbit, Red Rabbit, gives us his new show, Nassim, each night with a special guest and a sealed envelope of unknown material. Jump on in.
9. Cheer on some cowboys.
Are you ready for the bulls? This Friday through Sunday is the anomaly that is the Professional Bull Riding competition, possibly the most dangerous sport in the world, in the same arena that hosts a regular stint by Billy Joel. Be ready for pyrotechnics and big belt buckles. (And if you decide to dress the part, try not to embarrass yourself. These guys ride bulls.) Tickets are available via the MSG website.
10. Do the Golden Globes right at Littlefield or Caveat
The Oscars are dying a slow death, but at least we have the drunken fun of the Golden Globes, this year co-hosted by two people you'd actually want to be friends with, Sandra Oh and Andy Samberg. Catch all the action at the free screening party at Littlefield, with themed drinks and a free glass of bubbly with your RSVP. Caveat will have live performances, celeb impressions, and a ballot competition at their party, with tickets at $15.