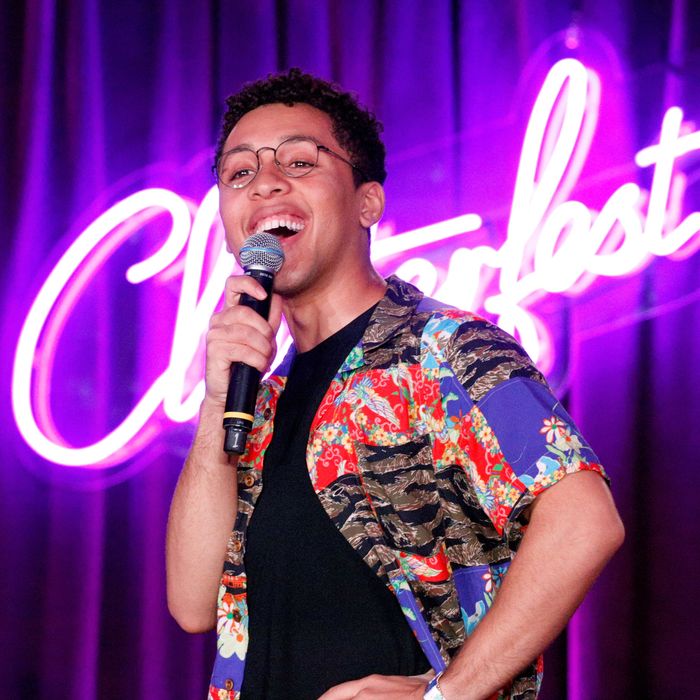 Jokes with Jaboukie.
Photo: FilmMagic
Events to check out this weekend, January 10 to 13.
1. Bounce into 2019.
Trouble kick-starting the new year? Let Big Freedia take the reins. You'll find the New Orleans–bred Queen of Bounce twerking through the weekend at her very own own Freedia Fest at Brooklyn Bowl. That's Friday and Saturday, but you'll probably finding yourself wobbling on Sunday as well. If you'd rather ease your way into the weekend, tropical-style, stop by the Paradise Lounge tonight for drink specials with Don Papa by guest bartender Ben Rojo, formerly of Angels Share and George Washington Bar.
2. Catch a rising star.
Big Mouth writer and newest Daily Show correspondent Jaboukie Young-White disarms with charm before slaying with jokes. He's self-assured and draws on his experience as a queer millennial person of color, who also happens to have penchant for picking up Uber drivers. See him and his stand-up tonight through Saturday at Carolines. Will he be wearing this very revealing Borat swimsuit? Who knows?
3. Have some festival fun.
The festivals, they continue. This weekend wraps up the Under the Radar festival of innovative theater, like Chambre Noire at the Public Theater, where puppets, video projection, and music come together to illustrate the last hallucinatory moments of Valerie Solanas, she of the SCUM manifesto and an Andy Warhol assassination attempt. The Winter Jazzfest marathon continues this Friday and Saturday with performers like Meshell Ndegeocello and six-time Grammy Award winner Christian McBride, the opera-focused Prototype Festival runs through Sunday, including the American premiere of 4.48 Psychosis, straight from the Royal Opera House and based on Sarah Kane's final play.
4. See your fave podcast hosts IRL.
Take your podcast friendships to the next level at the Brooklyn Podcast Festival, now through Sunday with live shows of your favorites like NPR's Ask Me Another or #ADULTING with Michelle Buteau and Jordan Carlos. If you're quick and register right now, you might get into tonight's free Touré Show, Live! from BRIC Radio at BRIC House, with special guest Terry Crews.
5. *Newsies voice* Seize the day.
It's the stuff of Broadway fans' dreams: BroadwayCon is a whole three days of immersing yourself in the culture of the Great White Way, with panels on everything from whether to get a BFA to make it in the biz to a panel on quick-change wardrobes, photograph and autograph sessions, and much more. Available passes start at $80 a day, or $195 for all three days.
6. Take yourself to a Sunday Supper.
You know what makes a lazy Sunday even better? When you don't have to cook. Take yourself (or someone else) on a date to Ward III, where Sundays in January, chef Peter Lipson (formerly of Northern Spy Food Co. and Empellón) takes over the kitchen with three-course menus inspired by New York, including the Albany Beef, a tartare combining beef and smoked sturgeon, (colloquially called Albany beef for the abundance of the fish in the Hudson River Valley). The ticketed menu — which comes with a paired original cocktail and a glass of wine — changes each week, with two seatings.
7. Have tea with a monster.
Celebrating the 200th anniversary of Mary Shelley's iconic Frankenstein, the Morgan Library & Museum's exhibition "It's Alive! Frankenstein at 200" traces the origins of the brutal yet sympathetic creature. See portions of the original manuscript, historic scientific instruments, artwork, and artifacts (including comic books, film posters, publicity stills, and movie memorabilia). And when you're done, the Morgan Café offers an accompanying afternoon tea, paying homage to both the cinematic and gothic nature of the monster with items like marzipan fingers, chokeberry scones, and of course, green tea.
8. Get high on film …
Do you like films about weed, man? This Sunday's NYC Cannabis Film Festival happens at the House of Yes, narrowed down to hunger-inducing shorts, feature films, and one web series, covering genres from comedy to romance to documentary to, yup, hybrids. See films like Out of Options, a documentary following families in Texas exploring cannabis as medicine for their epileptic children or Occupied Heart, a Spanish-language stoner comedy which recently won accolades at the Madrid International Film Festival. Tickets include free popcorn and refreshments.
9. … Then come down with reality.
Through Sunday, Is This a Room at the Kitchen stages the verbatim transcript of the FBI interrogation of 25-year-old, amazingly named Air Force linguist Reality Winner at her home on June 3, 2017, a story that is still unfolding. The words weren't meant to be performed, but the staging gives it immediacy — what would you do if the FBI just showed up at your door? And while it's pretty impossible to get tickets (but doesn't hurt to try!) to the St. Ann's Warehouse staging of The Jungle, the true story about the asylum-seeking migrants in a camp in Calais, you can stop by the venue in Dumbo for the accompanying exhibition of photographs, "When Does a Place Become Home?", taken at the front lines of the crisis, which is free and open to the public in the lobby of St. Ann's.
10. Celebrate David Bowie.
January 8 was David Bowie's birthday. Take a trip through the life of Ziggy Stardust with the David Bowie Walking Tour, stopping by places significant to his life in New York. And if you didn't get a chance to visit the immense and historic "David Bowie Is…" exhibition last year at the Brooklyn Museum, you can now experience it in the form of an app, which was released this week. All the artifacts, none of the crowds. And last but not least, stop by the newly opened Hunky Dory, a restaurant and bar from Claire Sprouse of Sunday in Brooklyn and ABV in San Francisco, whose name is inspired by David Bowie's fourth album.