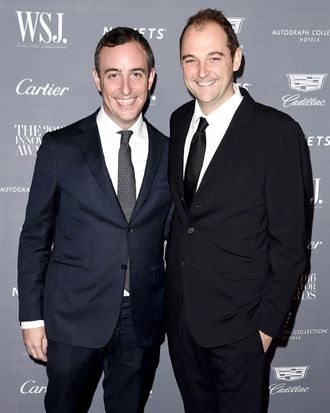 Will Guidara (left) and Daniel Humm.
Photo: Nicholas Hunt/Getty Images
The rumors are true: Daniel Humm and Will Guidara, the duo behind Eleven Madison Park and the Nomad, are hopping across the pond. This summer, the Make It Nice guys will open Davies and Brook in the Claridge's hotel in London. It will will be their first restaurant outside of the United States.
The space that Humm and Guidara are taking over was until December 31 home to Fera. As for what to expect after their takeover, Humm tells Bloomberg that they "are not opening Eleven Madison Park in London." They will, he says, carry over that restaurant's philosophy, though Davies and Brook won't be a tasting-menu restaurant but instead serve a two-course lunch and three-course dinner. Humm did not go into specifics about dishes, but did say to expect the essence of Eleven Madison Park and food that fits Claridge's classic atmosphere. In an Instagram post, Guidara writes of Claridge's that he "fell in love the moment they opened the front doors for us" and that he saw in the hotel "a brand of hospitality … so aligned with our own."
Davies and Brook is the latest step in what has been a gradual expansion for Make It Nice. Since turning Eleven Madison Park into what's widely considered one of New York's very best restaurants (and topping the controversial World's 50 Best Restaurants list), Humm and Guidara have expanded the Nomad from New York to Las Vegas and Los Angeles. They also operate a fast-casual counter-service spot called Made Nice, where they serve roast chicken, salads, and other more casual food. Plans for a restaurant at Three World Trade Center in the Financial District were eventually cancelled, but they remain attached to a development at 425 Park Avenue.