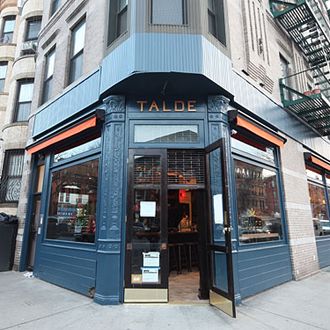 The original Talde.
Photo: Melissa Hom
There goes the neighborhood's last Dale Talde restaurant. The former Top Chef contestant has closed his first restaurant, Talde, and he and his partners David Massoni and John Bush have also called it quits on their Three Kings Restaurant Group. Eater NY reports that Massoni, Talde, and Bush remain involved with Jersey City's Talde and Miss Wong's, while Talde and his wife Agnes are starting Food Crush Hospitality.
Opened seven years ago, Talde was the last of the three restaurants that Three Kings ran in Park Slope, where they had initially staked out territory. The chef categorized his food there as Asian-American — "we're pretty proud to call it that," he told New York in 2012 — and served dishes like pretzel dumplings, crispy oyster and bacon pad Thai, and walnut shrimp with savory caramel. This broadly defined style of cooking has since flourished during this decade, and Talde published a cookbook called Asian-American.
Talde's food earned Best of New York accolades and a one-star review from the New York Times, leading to new locations of the restaurant in Miami (now closed) and Jersey City. However, the last seven years were something of a roller-coaster ride for Three Kings. The trio expanded rapidly, starting one month after Talde's opening with the announcement of what would become Pork Slope. But Three Kings closed that restaurant and Thistle Hill Tavern (which preexisted Talde) in 2016, expanding elsewhere in the city with Atlantic Social and hotel spots Massoni and The Heights in the Arlo Nomad and Rice and Gold and The Crown at the 50 Bowery Hotel. Those restaurants all remain open under different management.
This post has been updated throughout with news that Three Kings Restaurant Group has closed up shop.