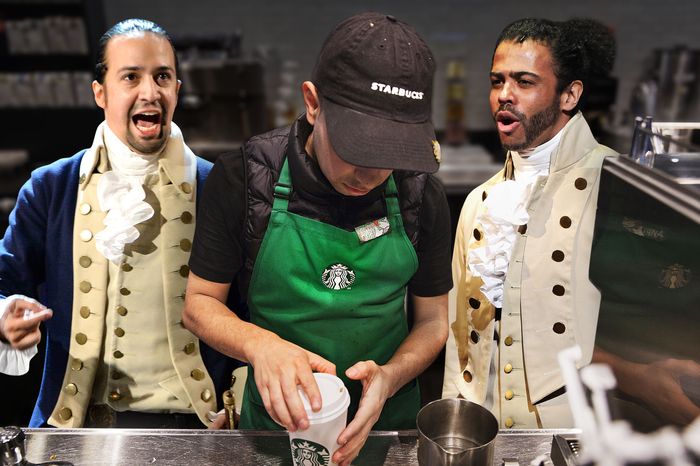 Hamilton is fantastic;
it's probably less fantastic the 40th time in a row.
Photo-Illustration: Grub Street; Photos: Bloomberg; Getty Images
You have to look pretty hard to find someone who doesn't like Hamilton, the Broadway smash that revolutionized musical theater and made Lin-Manuel Miranda an international superstar. That is probably why, for the week of January 11, Starbucks celebrated Alexander Hamilton's birthday with a new playlist called "Hamilton Takeover," which, as the name suggests, filled the chain's 8,000 cafés with the sounds of not only the original Broadway cast recording, but also the Mixtape and one-off Hamilton-related "Hamildrops." Customers may not even have noticed, but for the workers forced to endure the same founding-father related raps and remixes on endless repeat, Hamilton soon became a problem.
This version of the playlist clocks in at two hours and 16 minutes, and it contains multiple versions of the same songs — two versions of "It's Quiet Uptown," a double dose of "History Has Its Eyes on You," and a whopping four different recordings of "Dear Theodosia," including one from Chance the Rapper — which only compounds the problem: repetition that is causing Starbucks' baristas to go not-so-quietly insane.
On January 17, a Starbucks barista named Emily complained on Reddit, "If I have to hear Hamilton one more time I'm getting a ladder and ripping out all of our speakers from the ceiling." She added, "I was a fan of Hamilton's music (and one of my most played songs is 'Satisfied' with Sia and Queen Latifah) but if I hear 'a toast to the groom … ' I'm gonna go batshit crazy."
Another Starbucks worker writes in that Reddit thread, "I looove Hamilton, but I don't want to listen to ten different remixes of 'Satisfied' on repeat for eight hours." One disgruntled worker asks only: "Why is this happening to me who did I piss off at corporate"?
Thanks to a deal with Spotify, Starbucks' stores are outfitted with iPods and iPads loaded with more than a dozen pre-approved playlists and, according to a worker at a Minneapolis–area Starbucks, "most stores seem to be pretty chill about either letting baristas have access to the iPod or changing the music upon barista request." The problem, according to everyone who spoke to Grub Street, are featured playlists, like the Hamilton tribute, which pop up every month or two and are impossible to ignore. "We'll change the playlist, and that will last for one, maybe two songs before it switches right back to the featured music," the Minneapolis worker explains.
Starbucks is hardly alone in forcing its workers to listen to the same songs over, and over, and over — one Grub Street editor recalls a summer job that subjected him to an endless loop of the Forrest Gump soundtrack — and chances are good that anyone who's worked in a bar, restaurant, or retail environment has been forced to endure something similar. (Last week on Twitter, Adam Johnson, co-host of the Appeal and Citations Needed podcasts, and a former restaurant server, noted that constant song repetition "can register real mental harm.") Starbucks is nevertheless unique, since the coffee chain's immense size means its playlist choices can make tens of thousands of café employees simultaneously feel like they're trapped in a musical version of Groundhog Day.
Recent audible offenders have included an "Italian Opera" playlist to commemorate the chain's first location in Italy ("We were so embarrassed," says one barista from Pennsylvania); a "Nation of Us" playlist programmed with patriotic pop music (have you ever wondered what a Phosphorescent cover of "This Land Is Your Land" would sound like?); and a 2016 "Unity" playlist that arrived on the heels of the Black Lives Matter movement.
The worst Starbucks song right now, everyone seems to agree, is "Young Folks," by Peter Bjorn and John. (You've heard it.) NME may have declared it the second-best track of 2006, but the earworm — which has been playing a lot in Starbucks lately — is also, for all intents and purposes, just four minutes of whistling. To hear baristas tell it, the song is currently the bane of Starbucks workers around the world. "When it first started playing everyone was low-key jamming to it," says the Minneapolis employee, "but at this point, as soon as that whistle hits, everyone groans." (When asked which Starbucks song they'd eliminate immediately if they could, three separate people answered "Young Folks.")
For its part, a rep for Starbucks says that the company's stores each "cultivate a unique in-store environment" with playlists of more than 4,000 songs that are "continuously updated based on feedback from partners (employees) or to include newly released music," and that "our baristas always have the ability to choose from any of the multiple playlists available for their stores."
However, the workers that spoke to Grub Street say featured playlists tend to override any choice baristas would otherwise have — and even the biggest fan of Lin-Manuel Miranda's genre-defining musical has to agree that listening to "Satisfied" 40 times in the same week would be a bit … much. Still, Emily, the Redditor who started the anti-Hamilton thread wrote that there is one good thing to be said for that particular playlist: "I guess it's better than 'Young Folks' and that anxiety-inducing whistle … "