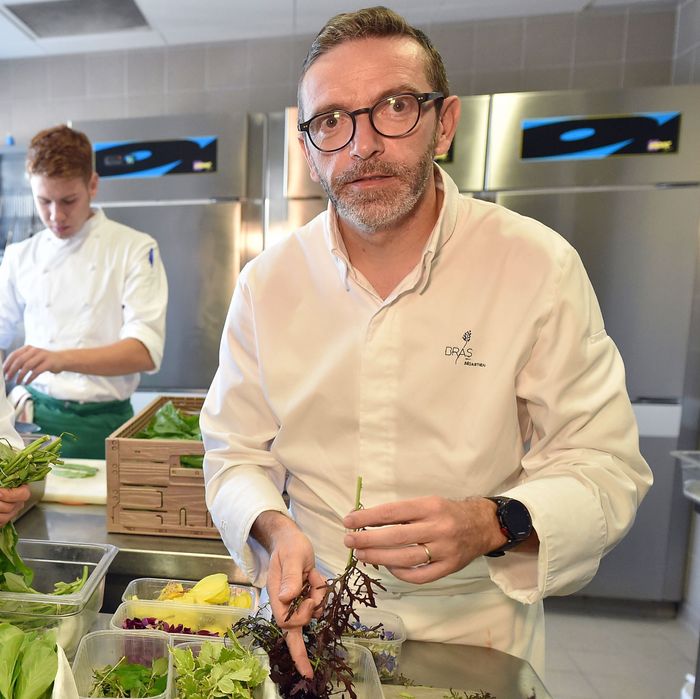 Quelle horreur!
Photo: REMY GABALDA/AFP/Getty Images
Resistance is futile. That's what acclaimed French chef Sébastien Bras has learned, after finding himself, to his surprise, back in the latest Michelin guide. Bras, you see, believed that he had gotten out of the influential restaurant guide's clutches: He famously sought to forsake his stars in 2017, and the Michelin man conceded in 2018, officially concluding that "it is difficult for us to have a restaurant in the guide which does not wish to be in it." And now, Bras himself is reportedly "surprised" to discover his restaurant in Laguiole, France, is back in the 2019 guide, which was released this week, with two stars.
Is the Michelin man simply playing mind games with Bras? Not exactly. Michelin appears to have decided that, never mind, Bras just has to deal with it. According to a statement sent to Grub, and attributed to its international director Gwendal Poullennec, the Michelin inspectors felt that the "chef had refined his concept." As a result, they felt that not including the restaurant was "against the rapport and trust we have built with them over many years." In a statement to the AFP, the chef says, "This contradictory decision has left us with doubts." The BBC reports, ominously, that, "In an interview following his re-entry, Mr Bras told Centre Press Aveyron that Michelin had made it clear a restaurant has no choice but to live under pressure."
Here is Michelin's full statement:
Last year when Sébastien Bras expressed his wish not to see his establishment in the guide, his restaurant Suquet was in a full transition period. The emotion and sincerity expressed by the chef really touched us and after much consideration and reflection, we decided to give the chef time to mature his concept and his culinary history, and agreed not to mention his address in the guide. Nevertheless, our inspectors have not stopped following this restaurant which offers very high quality cuisine. As a result, and after finding that within a year the chef had refined his concept, we made the decision to recommend again to our readers this exceptional address. Not mentioning this address to our readers was therefore against the rapport and trust we have built with them over many years."
This post has been updated with a statement from Michelin.