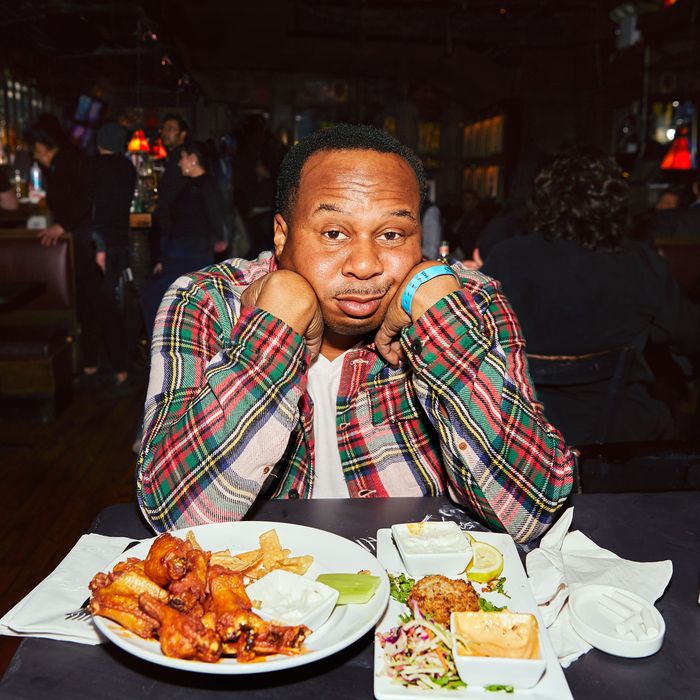 "I wish more foods did what chicken wings do: roll with the celery and carrots so you feel better about yourself," says comedian Roy Wood Jr.
Photo: Hanna Pavlova
It's been a busy week for the comedian Roy Wood Jr., who needed all the Dunkin' coffee (his local café of choice) he could get. The Daily Show contributor and stand-up comic's storytelling series This Is Not Happening returned on Tuesday, and tonight sees the release of his Comedy Central stand-up special, No One Loves You, as well as its accompanying album. That's meant a lot of running around and promoting, which means he hasn't had a lot of time to sit down and eat in a leisurely manner. Still, he did manage to eat one of his "top four" cereals and some of his favorite crab cakes, and to go to Jersey for an Italian feast he describes as nothing short of "fucking magical." Read all about it in this week's Grub Street Diet.
Thursday, January 17
Started my day with a medium Dunkin' coffee and two glazed doughnuts. I'm a Dunkin' guy for coffee, you know. I don't know what I like about the coffee. When I started stand-up, Dunkin' Donuts wasn't a Southern brand. Even now it really isn't. It's down there, but it's sparse. That was the one treat I got when I would come to New York. It's a thing, almost the same as an In-N-Out Burger in L.A., you know? I do like the coffee, and it's a four-block walk out of my way to get it every morning, but I just call it exercise.
The irony is that I think Krispy Kreme makes a better doughnut, but it's a handful to get to because it's in Penn Station. I don't have time for all of that jumping and running around. It's a treat when I have Krispy Kreme, but also their doughnuts are insanely sweet. I don't know what happened to my sugar palate, maybe it's hitting your 30s. I used to be able to eat a dozen Krispy Kreme doughnuts and now I can't finish two without a fucking cramp!
After that, I had a green smoothie from Hudson Market and an oat bar. Generally, I drink smoothies that are primarily green foliage-based, but occasionally I'll mix it up and go mango-banana-strawberry — something way sweeter. Really, that's sherbet if we're being honest.
At work, I had a bowl of Cinnamon Toast Crunch. I don't know that it wins the Cereal Super Bowl, but it's for sure in the Conference Championship. It's top-four. The problem with Cinnamon Toast Crunch is the sog-factor if you don't consume it fast enough. The same thing with Frosted Flakes.
I'd say the other two in my top four are probably Apple Jacks and Corn Pops. The problem with those is that they're almost waterproof and don't get any sog. That glaze on top of Corn Pops is — that's not even a honey glaze, it's some sort of sealant, watertight. So I like two cereals that are delicious that get soggy too fast, and I like two that are basically impenetrable.
I was on Jimmy Fallon's show performing stand-up that day, so I also had three fun-size candy bars in the green room. We have a bunch of those at The Daily Show and I actually appreciate them because they keep me from eating full candy bars. I'm in green rooms on a regular enough basis where I get a nibble of a Kit Kat and it keeps me from buying a full slab of them.
Then I went to a Comedy Central function where I had assorted hors d'oeuvres. I'll tell you exactly what they were: I ate mushroom risotto pastries, these miniature cheeseburgers, I think two pieces of sushi. Oh, and a chocolate mousse. A couple ounces of that, it came around in the cup. Then I went home.
Around 2 a.m., I had a late-night snack of two PB&J sandwiches. For the most part, as terribly as I eat outside the home, I'm actually fairly decent inside the house 'cause I also have a 2-year-old son.
But, yeah, the PB&J is a classic, man. It's a standard. It's the Thriller of food. Everybody loves it. It's been around forever. It's definitely one you can't go wrong on.
Friday, January 18
In the morning I had my usual medium Dunkin' coffee and two glazed doughnuts. Oh, yes, I have a big sweet tooth. I eat some pasta, I eat some bread, but I would say that my vice is sugar, for sure. It's not alcohol, I've never touched tobacco, never snorted cocaine and all of that stuff, but I grew up in the land of sweet tea.
I had a show at Union Hall at night. It's hard 'cause my day at The Daily Show ends at 6:30 or 7 o'clock and then it's time to be out at the comedy clubs by 8 p.m.. I have this hour where I can run home and see my son, be a father, then it's right back at it. After work, I went to the Olive Tree Cafe. I always get the crab cakes or chicken wings, but if I'm really hungry I'll get them both, which I did this time, with a Sprite.
The wings have this special sauce no one else uses, but the celery and the carrots are why I love wings. I wish more foods did what chicken wings do: roll with the celery and carrots so you feel better about yourself. Every New York slice should just come with a piece of kale and some blue cheese.
Saturday, January 19
Medium Dunkin' coffee and two glazed doughnuts.
Lunch was a Chipotle chicken wrap and kettle chips at a WGA writers' meeting. I eat at Chipotle often. I will say some of the food-poisoning stuff has me unnerved, but there are still other people in line. The thing about food scares is, if you see someone else in line, you feel more comfortable eating it, too, because you feel, "Well at least they're going to die with me. They got the same cilantro I got." I was more at peace.
That night I went to a costume party. I went as Eazy-E; it was an '80s party.
Food at parties is always set up for you to just not be hungry anymore, never to fill you up or satisfy you. You can't get full. There was just a variety of stuff. I probably had three or four bowls of crab étouffée over rice; one piece of fried chicken; a small olive salad; two of these little burger sliders; and a piece of the cake.
Generally speaking, I don't do cake. Junior's has the best chocolate mousse cheesecake that I'll touch every now and then. But 100 percent, I take pie all day. I like anything in pie form. I'm a huge fan of this quiche from Fresh Direct, it's a broccoli-cheese that's pretty much like any quiche, but I consider it like pie. I like meatloaf because it's like meat pie, but you can't call it that.
Sunday, January 20
I actually tried to have a proper, normal breakfast. No smoothie, no nothing. Just something to coat the stomach. I had three pieces of toast and three boiled eggs. For me, boiled eggs and bread are always a guaranteed way to go.
Later, my girlfriend and I had a full homemade Italian dinner at someone's home in Jersey. It was fucking magical.
The woman who hosted us lived in Italy for eight years, and her husband is full-blooded Italian from the old country. So he handmade everything, straight-up made pasta and gnocchi from scratch. I had three or four of those gnocchi. They had bruschetta with diced fresh tomatoes and onions. There was some sort of ravioli crepe, it was like a noodle that was cooked and then folded and filled with cheese and marinara sauce. There were these good old little pieces of crostini, toasted sourdough with salsiccia sausage and stracchino cheese mixed together. That was like a sausage pizza on toasted sourdough. There was also a fruit tiramisu. Everything melted in your mouth.
I would say it's probably the second time in my life I've had a fully proper Italian meal. From start to finish it probably took us three hours to get through all the courses and I was full to my chest.  It was a good night.
Monday, January 21
Back to my routine. A medium Dunkin' coffee and two glazed doughnuts on my way to work.
My life is so go-go-go right now, there isn't a lot of time to sit still. The Daily Show has full catering, full meals, but I was just in motion, going from the editing room to the voice booth, and I needed something I could slash around with, so I got a Subway six-inch flatbread ham-and-cheese. That's the easier play on some days. Ronny Chieng always teases me about Subway.
I got Hale & Hearty for my dinner, and also my son's dinner for the next day. I enjoy soup, I just suck at making it. We got the chicken sausage jambalaya, the chicken corn bisque, veggie chicken noodle soup, and oyster crackers. I ordered two or three tubs of that shit, chowed down, and sat down on the couch and watched The Bachelor with my girlfriend.
Tuesday, January 22
I had my medium Dunkin' coffee and green smoothie from the Hudson Market. Switched things up and had a Dunkin' coffee … again. Also, an oat breakfast bar.
Went to a Comedy Central party from 5 p.m. to 6 p.m., where I ate some hors d'oeuvres. Then I went out to dinner at Añejo, a Mexican restaurant in my neighborhood. It was really good. A little pricier than I expected. Still, real, crafted tacos. For Hell's Kitchen, it's probably on par.
Had the chorizo Brussels sprouts, two fish tacos, two short rib tacos, and this spicy margarita that was really good also. The fish tacos were very good. The batter-to-meat ratio — I don't know what that's called because I don't know how to be a chef — but would it convince me to go back? Absolutely.