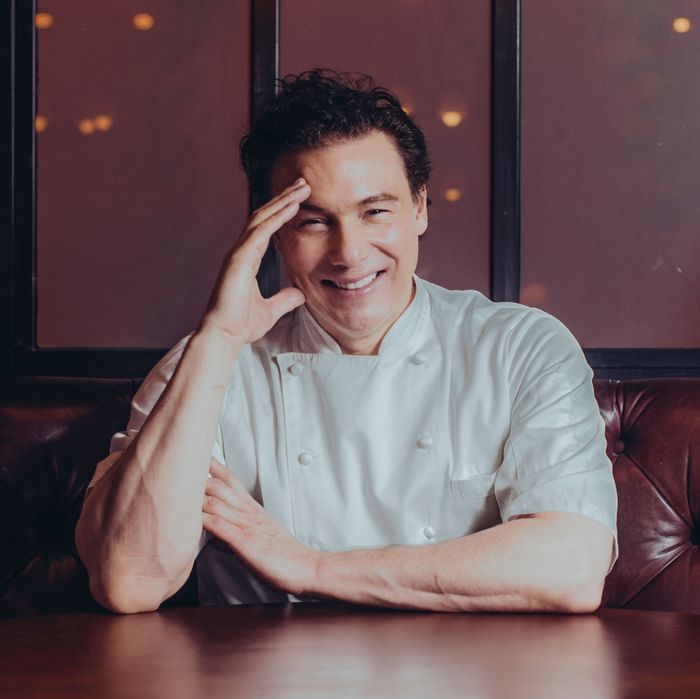 DiSpirito in the Standard Grill's revamped dining room.
Photo: M. Cooper
For more than a decade, the same question has followed the celebrity chef Rocco DiSpirito: What happened? Is he, as some have posited, "a supernaturally talented chef who squandered his gifts in the scattershot pursuit of fame?" Is he possibly still "the most talented American chef alive at this very moment?" Or is he simply "obsessed with becoming famous?"
The thing that DiSpirito's watchers can agree on is that when he cooked, especially at the long-gone but still-fabled Union Pacific on East 22nd Street, he created dishes that blew people away. But he left Union Pacific in 2004, three months before the restaurant closed, and he hasn't opened another restaurant since. Why did such a skilled chef disappear from the restaurant scene so completely?
"I'll be honest," DiSpirito says. "I didn't feel like I had a meaningful contribution to add to the restaurant scene, until I realized that my contribution would be this."
This is the reimagining of the Standard Grill in New York's Meatpacking District, now ten years old and in need of some attention, which it has received from the hotel chain's CEO, Amar Lalvani (the same executive who recruited chef Angela Dimayuga last year). New teal velvet curtains cloak the Grill's dining room. Ambient light fixtures, designed by Hervé Descottes of L'Observatoire, make it glow. Demar, a leather maker with nearly a century of New York history, has installed fresh tabletops. Michael Cecchi-Azzolina, who was recently at Le Coucou, runs the front of the house. And DiSpirito commands the blue-tiled kitchen.
Those who know DiSpirito best for his appearances on QVC or Dancing With the Stars may wonder if he can pull this off. But here he is, cooking in a professional kitchen for the first time in a decade and a half, and now there's a new question that follows him: Will he be able to reclaim his former glory, or will the detractors who wrote him off during his 15-year hiatus turn out to be correct?
Though he is among the most prominent examples of the celeb-chef boom of the '00s, DiSpirito still commands a significant amount of respect among his fellow chefs. "When I was in culinary school, Rocco was a legend," says JJ Johnson, the chef and restaurateur who won the first episode of Rocco's Dinner Party in 2011. The two stayed in touch and, Johnson explains, DiSpirito offered advice and helped him get funding for his forthcoming restaurant, Fieldtrip in Harlem. "He took my investment deck and sent it around to friends to see if they'd be investors," says Johnson.
David Coleman, the executive chef for PMac's Hospitality Group, which includes Vida Verde and Haswell Green's in midtown, worked for DiSpirito for seven years. "He would rework a dish over and over — it could go through 20 versions," Coleman says. "At the end, if it wasn't perfect, we wouldn't run with it. That's how he intense he was."
To hear the Los Angeles–based chef Eric Greenspan tell it, the daily mise en place at Union Pacific was often a case of dozens of impossible tasks all being performed before dinner service. One recipe for vinaigrette included lime leaf that was cut into a perfect, threadlike chiffonade, maneuvered 180 degrees on the cutting board and shaved into microscopic particles, and finally allowed to fall freely through a mesh sieve. By the time the salad was dressed, that lime leaf had become completely invisible. "Rocco would never compromise," Greenspan says. "It didn't matter if it was a five-person station with two guys on it. You had to get the work done."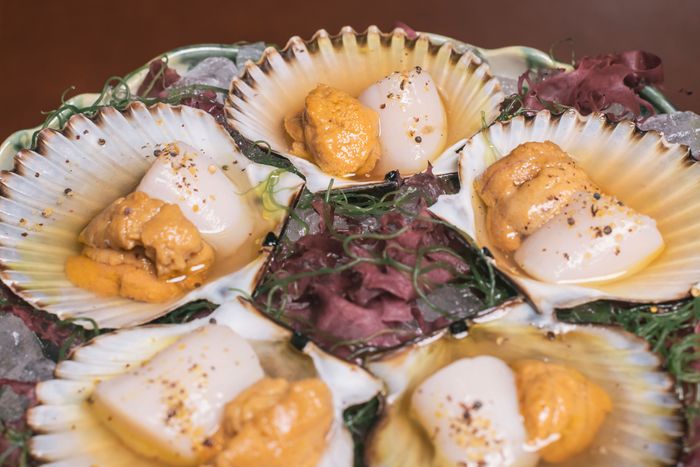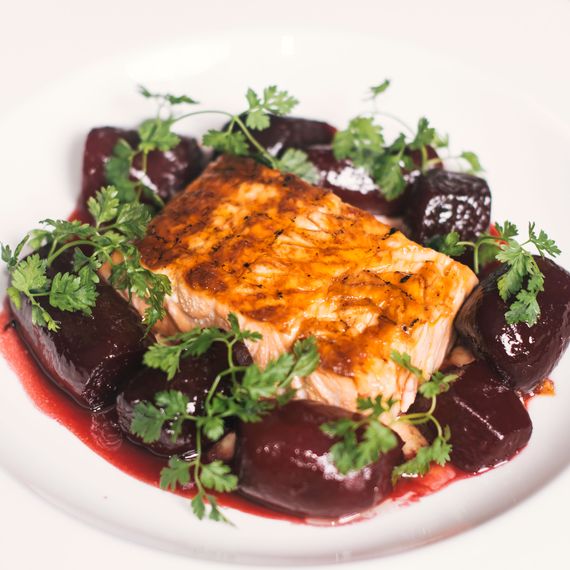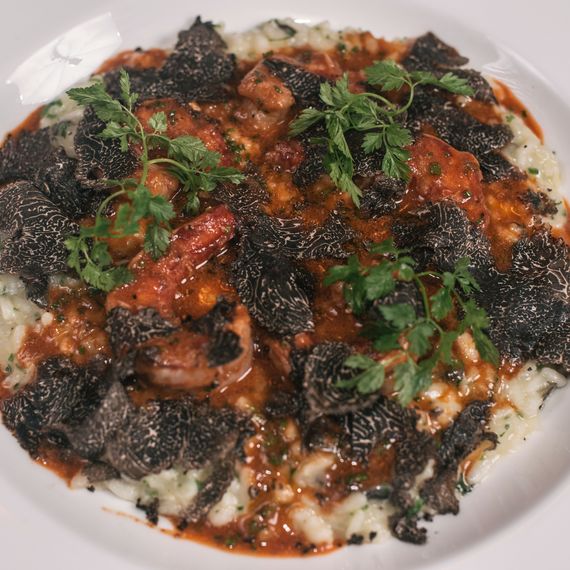 Josh DeChellis, a former DiSpirito lieutenant and the current owner of Juniper Hill in New Jersey, remembers that he was just about to take a job at Daniel — then run by the vaunted chef de cuisine Alex Lee — until a dinner at Union Pacific forever altered the course of his career. "There was beautiful stuff everywhere," DeChellis says. "Halibut cut in a perfect block, poached in goose fat, with bacon and chard, and young ginger cooked down in riesling until it candied." He says he knew then that he would have to respectfully decline the job at Daniel and instead work for DiSpirito. "They were like, 'No one says no to us.'"
Ruth Reichl, the former Times critic, ate at restaurants 14 times a week when she first encountered DiSpirito's talent at Annabelle in 1994. Accolades carried over to Dava in 1995, and to Union Pacific in 1997, finally reaching a fever pitch in 1998 when she wrote, "I have yet to taste anything on Mr. DiSpirito's menu that is not wonderful." Even now, she says, she remembers being floored by the way DiSpirito's menu bore traces of his mentor, Gray Kunz, but remained fully his own. "One of the things I appreciated about Rocco was that he was able to learn without copying," she says. "Texture more than anything — to me it's such an important element, but it's not much appreciated in America."
If there is a single dish that remains DiSpirito's signature, it is raw scallops, dressed in the shell with uni, tomato water, and mustard oil. "It's the first dish I created," DiSpirito says. "I'm convinced that in 1996 it was a new idea, in terms of representing how I felt about food, of having those four flavors: sour, sweet, salty, bitter."
At the Standard, he'll offer a version of the dish, updated with wild Peconic Bay scallops and a bit of coconut nectar to augment the natural sweetness of the shellfish. "I joke with the staff that I've been making this dish for 25 years," DiSpirito says. During preview dinners, there was at least one order on every table.
The dish is the centerpiece of a raw bar that anchors the new menu, and in many ways, DiSpirito has retained all the hallmarks of the Great American Grill, including plenty of red meat that's blasted by open flame. There's a New York strip that's aged for two months, a 44-ounce porterhouse for two, and the standard-bearing, high-grade Japanese Wagyu. Because the four-foot Josper grill — a favorite of gearhead chefs like Albert Adrià and Heston Blumenthal — burns white-oak binchotan at 980 degrees, there's also yakitori-style whole boneless quail and skewered Norwegian salmon.
"I cook every night on the line, and pick up two or three menu items," DiSpirito says. "A few things, like the risotto, I won't let anyone touch," he says, noting that "it feels great" to be on the line again. "I do hope to cook enough of the food I was known for, so that people who are looking for that find it," DiSpirito says of his approach to the menu. "But the way I cook has fundamentally changed. It's not me trying to recreate what I did at Union Pacific, except maybe in small doses."
The biggest shift may be the chef's focus on plant-based cooking, marked by a de-emphasis of industrialized and processed ingredients. The bread used for "Game Changing" toast, for example, calls for ground hazelnuts, chia seeds, oats, and psyllium husks — the fantastically unsexy, high-fiber health-food-store staple — to eliminate the need for wheat flour. Cashew cream and macadamia puree, meanwhile, replace mounted butter in sauces throughout the menu, and DiSpirito says the creamed Swiss chard is "literally the same" as it was at Union Pacific, except it's made with coconut milk instead of dairy. In fact, just two dishes (out of roughly 45) contain any kind of dairy, but other than in a small mark on the menu, diners might not even notice this.
"How do we acknowledge our approach without sounding professorial about it?" DiSpirito says. "I'm not here to preach. I'm here to deliver a good time, with great food."