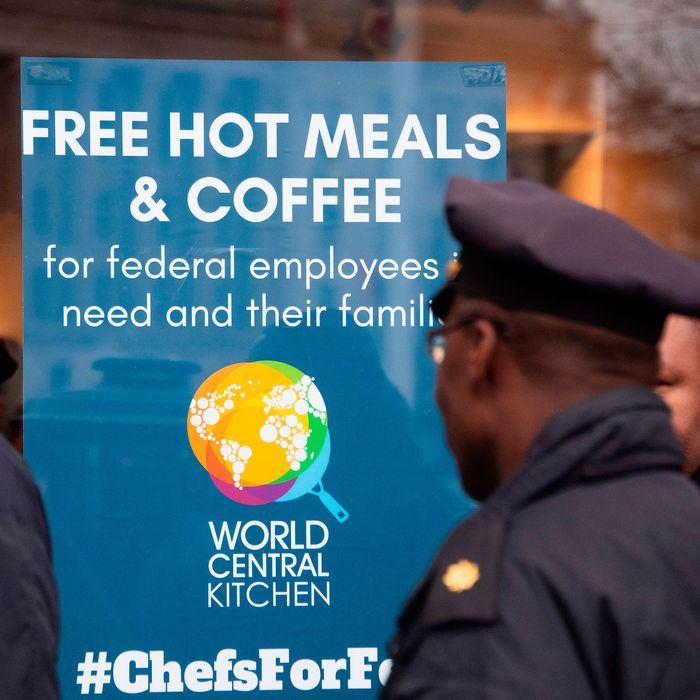 Chefs and restaurateurs are helping out federal workers affected by the shutdown.
Photo: Jim Watson/AFP/Getty Images
You've no doubt seen these stats before, but they bear repeating: President Trump's government shutdown has now lasted 26 days, famously the longest in United States history. During this time, some 800,000 government employees have not received a paycheck while they've still worked in essential jobs like airport security. Going a month without a paycheck is, to say the least, not easy (according to one report, 40 percent of Americans can't cover an unexpected $400 expense) and the shutdown has also been difficult on small-business owners.
However, restaurant owners around the country have responded by supporting federal employees affected by the shutdown with free or discounted food and drink. Here are the ways in which restaurateurs and chefs around the country are helping.
• Many of the federal employees affected by the shutdown live in D.C., where WUSA 9 reports that restaurants are losing as much as 60 percent of their business. Still, many are offering deals to help federal workers, including &pizza and Charlie Palmer, which is offering free fried-chicken sandwiches for lunch at the bar. José Andrés's disaster-relief organization World Central Kitchen has opened a kitchen to feed those working without income and their families.
• Airports around the country are buckling under the pressure of the shutdown. TSA employees are responding with sick-outs, including at Miami International Airport. On Monday, the airport's Haitian restaurant Chef Créole started serving free lunch and dinner to the federal employees at the airport. Its owners tells the Miami Herald that 90 percent of its business comes from airport workers.
• Restaurants in cities big and small are helping out. Since January 3, Colorado Springs' Poor Richard's Downtown has served free meals to federal employees and families. Indianapolis's Pizzology is giving pies, and Rochester, Minnesota's Pasquales Neighborhood Pizzeria has delivered pizza to workers at a federal medical center and Rochester International Airport.
• Down in Austin, federal workers can get a free coffee and pastry at Bakery Lorraine. Punch Bowl Social has a 25 percent discount on food, drinks, and games for federal employees. In Louisiana, federal workers and immediate family can get a free meal at New Orleans's Ruby Slipper Cafe.
• In the Bay Area, San Francisco's Al Pastor Papi will give federal employees two tacos and an agua fresca, while Hunanese restaurant Wonderful is offering a 50 percent discount to workers and their families. Speaking with Eater SF, Wonderful's owner You You Xue says of the shutdown, "This is employee abuse."
• In Atlanta, Twisted Soul Cookhouse & Pours will celebrate Martin Luther King Day with a free lunch of blackened tilapia, fried chicken, and more from 11 a.m. to 3 p.m. Other deals for federal employees will be available at places including Publico Atlanta, which is serving meals half-off to federal employees, and SweetWater Brewery, which will serve them two free beers.
• A number of restaurants in Houston are offering free lunch and/or dinner. Federal workers (with ID) can get free pizza daily at Pipeline Pizza, a free weekday lunch at Bistro Provence, and assistance from food pantry Cy-Fair Helping Hands. Starting this Friday, Killen's BBQ will feed families every Friday with meal packs that include brisket, sausage, potato salad, and beans.
• A number of northern Jersey restaurants are helping out, including Montclair bakery the Little Daisy Bake Shop, which is offering free baked goods every Sunday from 5 p.m. to 6 p.m.; Westwood's Downtown Dhaba is serving free lunch; and Garfield's Steve's Burgers will provide free cheeseburgers and fries all day.