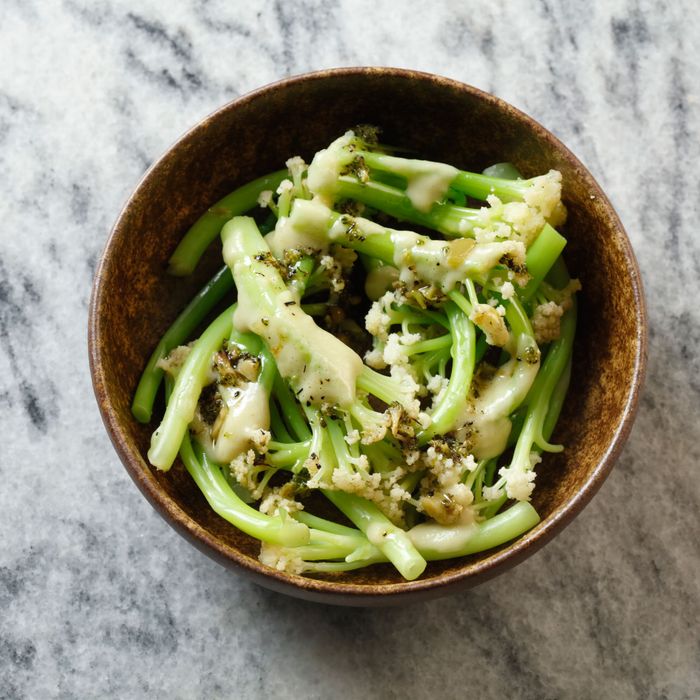 Warm caulini with fried capers and green peppercorn.
Photo: Melissa Hom
At Hemlock, Diego Moya carved out a space for himself on the Lower East Side cooking eclectic, vegetable-heavy food. He baked a sweet-potato loaf as his house bread; made cold soup with green tea, celtuce, and cucumber; and paired roasted and raw sunchokes with kumquat curd, which the Underground Gourmet called a "slam-dunk recipe." While he was doing something different, standing out in this city can sometimes seem like a way to lose your seat at the table rather than secure it. Hemlock closed a little over a year after Moya opened it, another compelling restaurant sunk in a sea of fast-casual grain bowls and $200 tasting menus (not including supplements).
"With Hemlock, there were a lot of things that I wasn't able to do early on that would've been beneficial for a small restaurant doing food that's a little bit out there," Moya says. The restaurant quietly opened without much in the way of press, and served higher-end ingredients on a tight budget. "How many really progressive, small restaurants are there in NYC? There aren't many, and there's a reason for that."
Following Hemlock, Moya says he planned to open another restaurant, but not for a few years. In meantime, he was looking for another gig. "All the opportunities I saw were really uninteresting," he says. "You know, big hotels, other cities, and things like that."
At the Tribeca wine bar Racines, he found what he was looking for: the opportunity to keep cooking a lot of vegetables, and the sort of food he served at Hemlock — with a slight French accent. "I really want to find a balance of French tradition and still trying to cook in a way that's progressive and modern and simple," he says. His cooking has also been bent to accommodate and highlight the emphasis on wines brought in by the renowned sommelier Pascaline Lepeltier.
Moya's opening menu debuted on Monday and has 12 starters, 8 of which are vegetarian and all of which look like they could've been lifted from Hemlock's menu. Take the grilled leeks with lovage and anchovy, a powerful one-two punch of flavor; the roasted sunchokes with coffee and jambon; or the warm caulini, sort of a sweeter cauliflower, with fried capers and green peppercorn.
"For the most part, it's cooking vegetables in interesting ways, varying textures, using fermentation in various ways that hint at new techniques but — not new dishes overall," Moya says. One of those techniques is something he picked up on in Patagonia, where he cooked with chefs who grilled hunks of cabbage and glazed them with lamb fat so the vegetable softened and crisped up. He's doing something similar here, using duck fat and a sort of thin gastrique of Banyuls vinegar to glaze the cabbage.
Hinting is something Moya is trying to do in different ways on this menu, including the proteins (which he's had to focus on more than at Hemlock). Especially at places with so much emphasis on and variety in the starters, entrées often comparatively uncreative. Moya, though, hasn't phoned it in, but is having fun by nodding to classic French dishes with his mains.
The duck breast is "a hint of a duck à l'orange," but in lieu of orange sauce there's a caramel with Earl Gray tea. Then there's the steelhead trout mi-cuite, a nod to the Troisgros brothers' salmon with sorrel sauce, a dish that the late Anthony Bourdain said on Parts Unknown "absolutely turned the world upside down." Instead of lightly cooked salmon, he brines, lightly cooks, and then chills trout that's then served with butter and sorrel. Those dishes are smart and clever, and get at something that Moya thinks that every chef in New York needs to do to succeed.
"I think you have to surprise, but you can't alienate," he says. "You have to keep in mind that people need to know what they're eating in New York, and feel comfortable enough to come back."