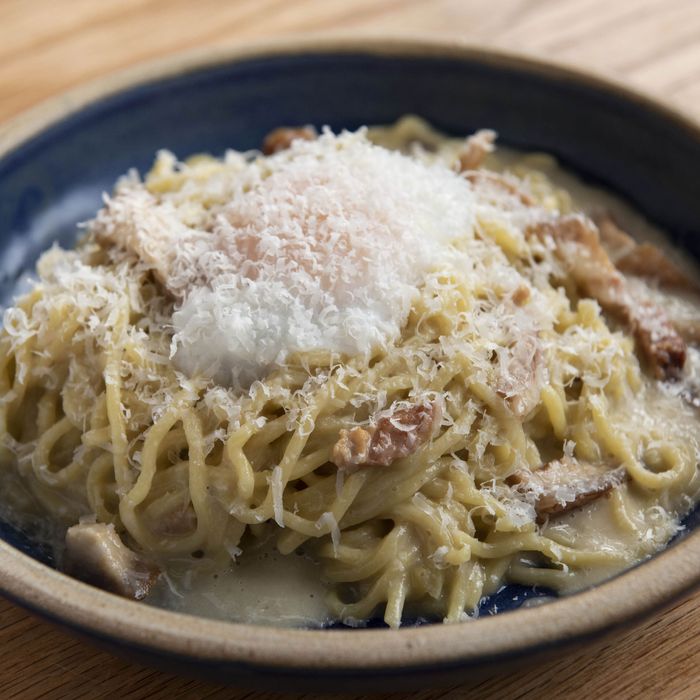 The uni carbonara with bacon, parm, and black truffle salt.
Photo: Liz Clayman
New York may now be submerged in a sea of ramen, but the brothless, saucy style known as mazemen is a relatively hard find here. It's on the menu at a few places around town, like Totto (during lunch), Hinomaru, and Ivan Ramen, where the triple-pork garlic mazemen is a favorite of noodle nerds. It's most notably the specialty of Yuji Ramen, which made a splash for serving what was a novelty style in unexpected renditions like salmon cheese. While mazemen is Yuji's calling card, not even that restaurant keeps it exclusive with saucy ramen these days. Now, though, New York has another mazemen specialist, called Niche, from one of the city's most talented noodle chefs.
That chef is Shigetoshi "Jack" Nakamura, the influential ramen chef (praised by the likes of Dave Chang) behind the Lower East Side's excellent Nakamura. He's served a jidori mazemen there for some time now, and at Niche he'll take that and run with an all-mazemen menu. Niche is adjacent to Nakamura and is a similarly tiny space; unlike its sibling restaurant, there's one long, high communal table that gives it a test-kitchen feel. There's something very New York about the space, too, with its cubby-hole size and views of the Williamsburg Bridge's convergence with Delancey Street.
While Nakamura has made a specialty in New York out of an ultra-old-school torigara shoyu, using a recipe that's more than a century old, he's always had an experimental streak. As he's leaned into that at his namesake restaurant, so he will at Niche, where they're billing the mazemen as "Japanese pasta." So while the dishes are made with Japanese techniques, they're also informed by Western flavors and dishes.
This is evident from the current menu, which is still being tweaked around some noodle dishes that will make up its core. Take the dashi vongole mashemen, a nest of noodles served in a light, shallow pool of dashi broth with a crown of Italian clams and cabbage. The Russ & Roe is a nod to the nearby Russ & Daughters, topped with house-made smoked salmon, salmon roe, diced cucumber, and a poached egg. For those with meatier tastes, the compelling steak mazemen comes with chunks of fire-blasted, smoky rib-eye, along with menma and spinach in pork sauce.
While the smoked salmon was a trademark ingredient of Yuji early on, the menu doesn't read like any other ramen shop's in town. The unconventionally translates into the appetizers, too. Pork buns are absent; instead there are umami kombu fries, savory, slightly sweet, and well-fried; specials like pureed mushroom with bacon, egg, and truffle salt; and scallop crudo with roasted scallion. The smoked salmon has made its way into this section as well, like an okra caprese with burrata. One other way Niche differs from Nakamura is that along with beer and sake it serves wine, of which it offers an ample variety of with glasses of a German sparkling wine, Italian pinot grigio, and more.
Niche, 172 Delancey St., nr. Clinton St.; 212-614-1810