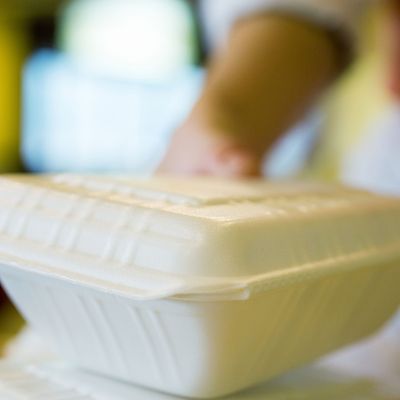 Businesses have until June 30 to get rid of remaining stock.
Photo: PhotoAlto/James Hardy/Getty Images
Everyone's well aware that as of January 1, minimum wage in New York City is now $15 an hour at businesses with more than ten employees. But another landmark piece of legislation also went into effect yesterday: a citywide ban on single-use plastic foam containers.
That means that New Yorkers will officially see fewer foam takeout containers, coffee cups, and packing peanuts — though not immediately. Exceptions have been made for butcher shops that need the containers for raw meat and for nonprofits and small business owners who can prove that getting rid of plastic foam containers will have a significantly negative effect on their bottom line.
The Foam Ban, as it's called, was approved back in 2013 by city lawmakers, but the restaurant industry fought hard to reverse the measure, citing the cheapness of the product and the possibility that it could be recycled. Last June, however, a judge stepped in and approved the ban.
Businesses have until June 30 to get rid of their remaining plastic foam, or expanded polystyrene, stock before they start receiving fines of up to $1,000 per offense.