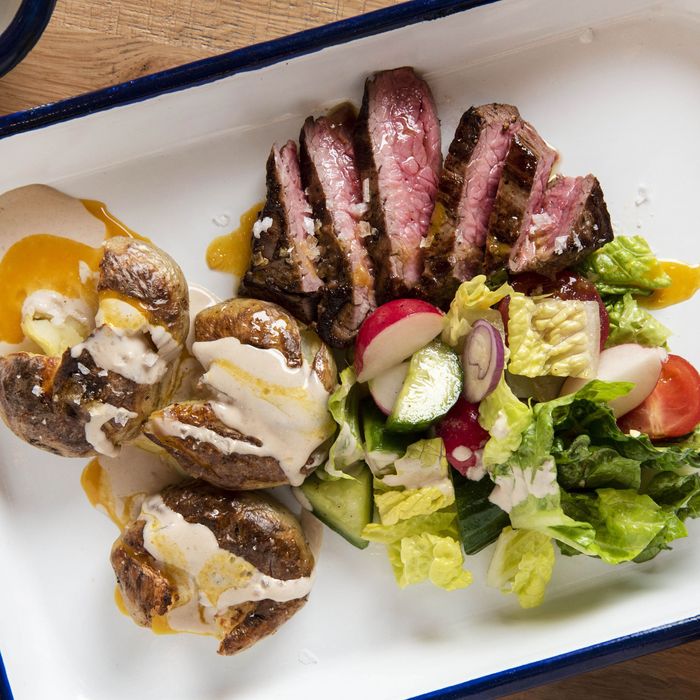 The steak with "bonfire" potatoes, tahini, amba, and a side of Kibbutz salad.
Photo: Liz Clayman
There aren't many more influential chefs in Israel than Erez Komarovsky, the uncompromising, baker and cookbook author. In a 2017 article, the Jewish food authority Joan Nathan called him "instrumental" in getting his country's cooks "to look with pride to their own ethnic culinary backgrounds." Taffy Brodesser-Akner concurred in an article for Saveur in which she wrote that "he helped usher in the age of Levantine cuisine," arguing he "sparked the country's first artisanal bread revolution." He did that through his Lechem Erez bakery, popularizing sourdough and making unconventional wood-fired breads with beet, fennel, and other ingredients.
The bakery grew to 30 locations, but in 2008 Komarovsky stepped down to a consulting role. Then in 2018, he fled Tel Aviv's food scene for a small town near the Lebanese border, where he eventually started offering cooking classes and, more recently, began catering back in Tel Aviv. Yet for his next act, Komarovsky will do something unsurprisingly unexpected. He'll open a fast-casual spot near Union Square called Mint Kitchen, which is expected to open on Tuesday.
At the 50-seat restaurant, which he's opening with entrepreneurs Zeev Sharon and Assaf A. Harlap, Komarovsky has taken on the role of culinary partner. The food here is modern Middle Eastern, with plenty of tahini, chickpeas, and so on. It shouldn't be left unsaid that the concept of Israeli food is contentious, with issues of appropriation, and tied to the country's conflict with Palestine. Komarovsky has not shied away from politics in the past; during the Second Intifada, he cooked a weeklong dinner series with Arab chef Duhoul Sfadi.
New York is new territory for Komarovsky, but it was in California that he was turned on to sourdough bread. He'll share his bread bonafides here with a "Galilee pita" that's made with spelt wheat, sweet sesame, and a za'atar topping. That's the only bread on the menu; Mint's raison d'etre is not carbs but healthier food. Accordingly, nothing is fried. Instead, the centerpiece of the kitchen in the taboon oven.
There are shrimp kebabs served with a spicy mango salad, taboon dishes like the golden cauliflower with Moroccan couscous, and baked falafel. Other menu items include the Jaffa hummus (named for the port city) that's warm and comes with roasted mushrooms, as well as Ima's herb and pine nut matzo ball soup. The only dessert is a vegan chocolate-tahini truffle, but you can pair that with it one of four gazoz, the Israeli soda made with fresh fruit and herbs, if you need an extra dose of something sweet.
Mint Kitchen, 83 University Pl., nr. E. 12th St.; 646-905-3720