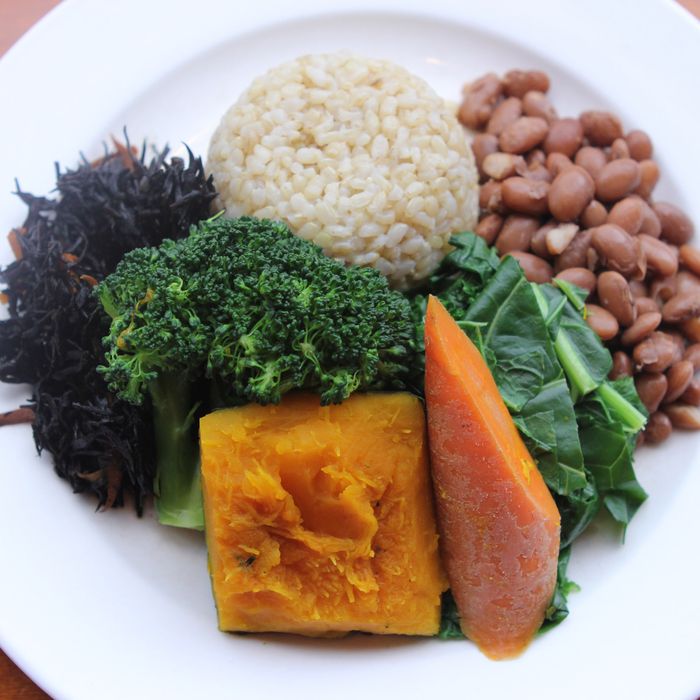 The home of the macro plate.
Photo: Konstantin Sergeyev
Though wellness and vegivore-ism may be the movements of the moment, Souen, one of the city's original health-food restaurants, dates all the way back to 1971. But now it's set to shutter before the end of the month, and macro-plate lovers around the city are in no mood to see this vegetable paradise disappear forever.
According to owner Beth Powell-Saito, the original Soho location at 210 Sixth Avenue will close on January 27, after the co-op above the restaurant reportedly bought the ground floor storefront and tapped restaurateur Cobi Levy (of Little Prince fame) to take over the space. In an email to a grassroots group of supporters, Powell-Saito writes:
The co-op board refused our tenancy application in 2017 without disclosing their asking rent. It finally was understood that the figure was around 30K. Souen currently pays 10K, far under neighborhood rents. A lease was never drawn up between [Souen founder and landlord] Yama and Souen, although a shareholder's agreement states that a 20 year lease is promised thru Jan 1, 2019. We indeed have been operating for 20 years without a lease having been drawn up.
In response, Souen's biggest fans, including The Wing founder Audrey Gelman, have drawn up petitions that will be posted in the restaurant's windows in the coming days, and launched an entire Change.org petition seeking 500 signatures. (Last we checked, the petition was more than halfway to its goal.)
The real action, as always, is on Twitter, where supporters and haters alike have jumped in to offer their own takes on the restaurant's (probable) closing: