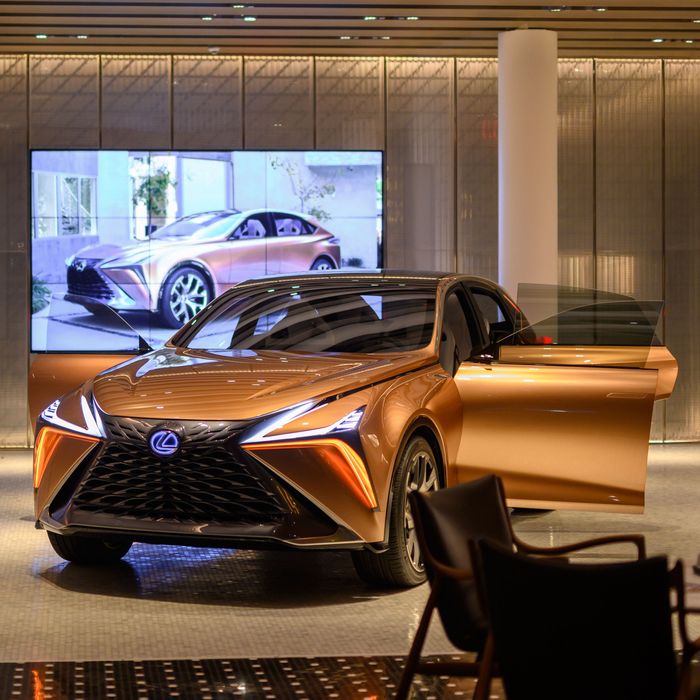 Subtle décor inside Intersect by Lexus.
Photo: Daniel Krieger/The New York Times/Redux
In the history of very bad restaurant names, INTERSECT BY LEXUS – NYC is right up there with the worst of them. (Possibly even worse than "Brasserio Caviar & Banana.") First, there is the fact that the people who operate this "cultural programming destination" gratingly prefer to format the name exclusively in capital letters, as if they are shouting the name at you every time you see it. Second, there is no actual way to say this name out loud without sounding like a robot (Him: "Where should we have dinner?" You: "How about Intersect by Lexus?"). Finally — and perhaps you've noticed this, too — it includes the name of a luxury automobile brand.
Normally, it would be easy to write off this "place for guests to be entertained, inspired and educated" (their words), which is located in a multistory retail space in Manhattan's Meatpacking District. There are also Intersects in Tokyo and Dubai. And yet this particular Intersect has employed New York's own Union Square Hospitality Group — a.k.a. Danny Meyer's restaurant company — to run its restaurant, which means, somewhat surprisingly, people have taken it very seriously. So seriously, in fact, that this week, restaurant critics from both the Times and Eater reviewed Intersect and — even more surprisingly — each critic seemed to kind of like it. Times critic Pete Wells writes, "I'd go well out of my way to eat upstairs at Intersect again." On Eater, Ryan Sutton opines that the staff "can afford to experiment a bit more" than an independent restaurant because Lexus — and, ultimately, its parent company Toyota — underwrites the whole thing.
Part of the acclaim, it's worth noting, is for the the food, which arrives in Manhattan care of Gregory Marchand, the talented chef behind the mini empire of Frenchie restaurants in Europe. The deal at Intersect is that a new chef's menu will roll out every few months, and the promise is this food will be capably cooked by Intersect's kitchen team; the early reviews indicate that is the case with Marchand's food, even if he was reportedly only in the restaurant during its first week.
This is not to knock Meyer, Marchand, or anyone else who works at Intersect — take Toyota's money and maybe a free car and run, I say! — but there is something undeniably irritating about a major corporation co-opting the tenets of fine dining to put some added shine on its hubcaps. Intersect seems to offer a serviceable, if somewhat tame, dining experience. There are obviously talented people working there, but it's a bummer to think about the original, boundary-pushing food that they might otherwise be cooking.
Great restaurants tell stories. Meyer's own best restaurants — Union Square Cafe, Gramercy Tavern — put a spotlight on comfort food and disarmingly kind service as a counterpoint to the perceived snobbery of fine dining. David Chang built Momofuku by completely stripping the restaurant experience down to its most streamlined, efficient form and emphasizing the contributions of often overlooked, overworked line cooks. More recently, chefs like JJ Johnson and DeVonn Francis have publicly and unabashedly woven deeper issues of cultural identity into their own restaurants and cooking. The only story that Intersect tells is, "buy a car."
Of course, Intersect is not the first business to use high-end food as a marketing gimmick. Chef's Club in Nolita began as a branded space for Food & Wine (although it's worth noting that their guest chefs tend to stick around for their entire residencies, and a restaurant seems like a sensible way to market a food magazine). In Greenpoint, there's Restaurant Norman at A/D/O, which is home to a Claus Meyer cafe that's financed by Mini (whose cars are, in turn, made by BMW). And Kellogg's has opened two cafes in New York while recruiting celebrities (like Christina Tosi, Duff Goldman, and, um, Lauren Conrad) to create special cereal combinations.
It has been said many times before, and it will be said many times more, that New York is a prohibitively expensive, maddeningly competitive place to do any kind of business. One imagines it will only become more difficult if restaurateurs who use their own money to finance projects must now also compete for real estate and talent with companies like Toyota and BMW.
Sure, maybe this is just a case of one New Yorker bemoaning some arbitrary business that makes it feel like corporate interests continue to chip away at the "real" New York City. But, as Sutton writes in his review, Intersect's ad-staurant "is as removed from the city as an upscale airline concessioner in Denver, Las Vegas, or Cincinnati." Clearly, this concept was built to scale, and if it's a hit here, it's just a matter of time before a car company targets locations, and talent, in those cities, too. Hopefully if that happens, they'll at least come up with a better name.