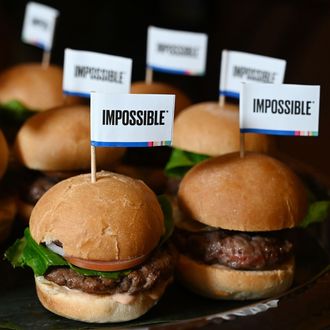 It's something like the real thing, baby.
Photo: Robyn Beck/AFP/Getty Images
It seems this is the year that America's obsession with veggie burgers and tech-product updates will converge once and for all. The folks at Impossible Foods are rolling out a new version of the Impossible Burger — and, of course, they unveiled it at the Consumer Electronics Show.
Engadget reports that the company is ready to roll out what it's calling the 2.0 version of its creation, meaning they've worked out all the bugs in previous version and made it more compatible with meat-eating humans.
"I had a chance to have a bite of the new burger at an event here in Las Vegas, and it genuinely did taste like, well, a real burger," writes reporter Nicole Lee. "It was moist and juicy, and the texture was just right."
In classic Silicon Valley fashion, Impossible Foods execs say this version, which uses soy protein instead of wheat protein, has a "meaty chew and versatile texture." Plus it can now be used as a ground-meat substitute. Alas, it seems the Impossible Burger 1.0 is now as obsolete as an iPhone 4.
Come March, meat-alternative aficionados (and curious meat eaters) will be able to try 2.0 for themselves at partner restaurants, including Mission Chinese Food, before it hits grocery-store shelves, pending FDA approval.