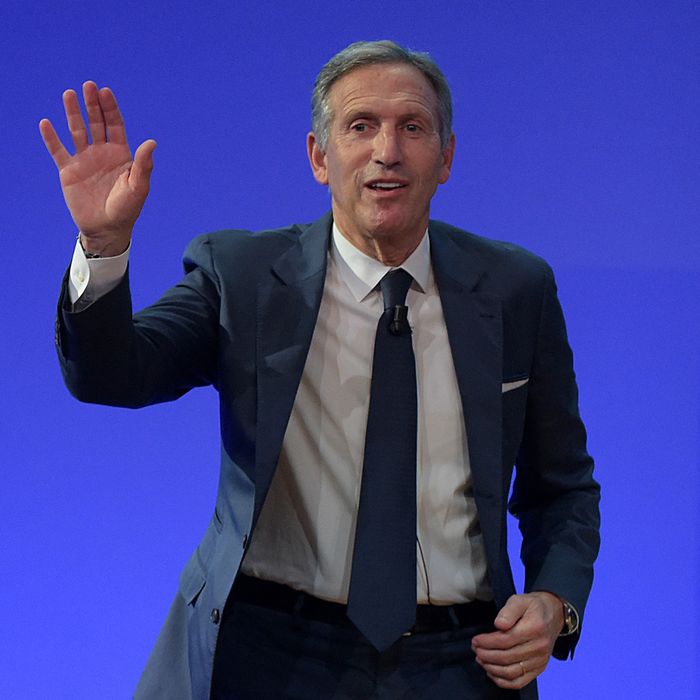 "'Sup guys?"
Photo: Pier Marco Tacca/Getty Images
Howard Schultz, who as the CEO of Starbucks dared to unleash the Pumpkin Spice Latte on the world, thinks he might just be the guy to save America. Last night, he finally came out and confirmed what everyone's suspected: he's thinking about being the next billionaire to run for president. This has been speculated upon since he left Starbucks seven months ago, at which time Schultz said he would consider options including public service. Some hoped this would mean ridding the world of the Pumpkin Spice Latte, but he has apparently decided that being in charge of the government is the move. The twist here? The lifelong Democrat says he wants to go full Ross Perot and run as an independent.
Schultz announced the news in a Sunday-night press blitz on CBS's 60 Minutes and in the New York Times. The run isn't a given yet, as Schultz says he's still in the stage of wondering if he should give it the old college try, and he says he'll first go on a three-month tour for his book From the Ground Up. President Trump, who Schultz has openly criticized, responded with a tweet in which he agreed with Schultz's self-assessment that Schultz is not, as he told CBS, the "smartest person in the room."
As the CEO of Starbucks, Schultz was praised for policies like full health care for all employees and giving stock options to part-time workers. However, the billionaire businessman tells the Times that he would run as an independent because Democrats have "shifted so far to the left." He criticizes people for advocating for "free government-paid college, free government-paid health care and a free government job for everyone" in the interview, saying those promises are as "big of a false narrative as the wall." Democrats and others have responded negatively out of the gate, in what has been a very robust roast. But Schultz tells Axios that he's feeling chill about the pushback, presumably because he's already drank seven Frappuccinos since the announcement.