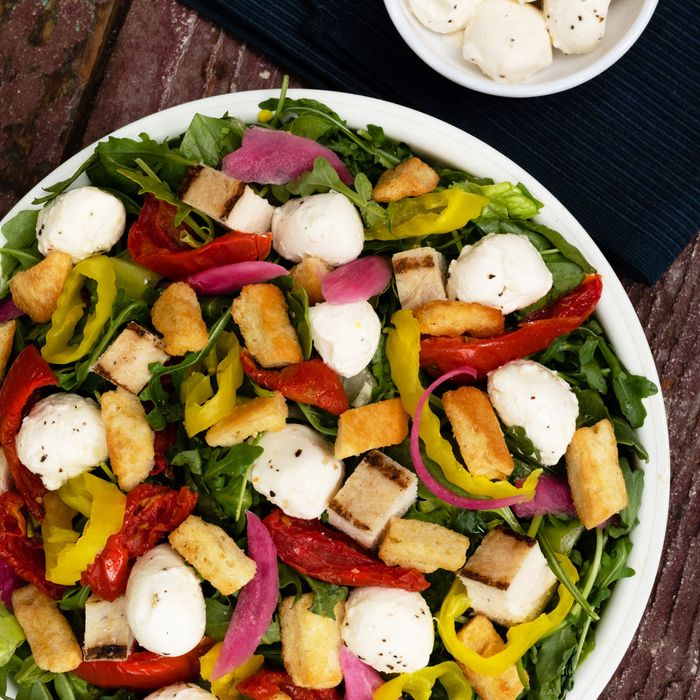 And Grub Street knows where you can get a very good one.
Photo: Cody Rasmussen
Congratulations. If you are reading this, it means you made it through another holiday season and New Year's celebration unscathed. (Probably.) Even if you aren't the type of person to make full-on resolutions or go all-in on a fad diet in January, you may nevertheless think it's a good time to eat some more vegetables. Maybe a salad! Really, couldn't we all stand to eat a little more salad?
Luckily, we live in something of a salad golden age — kale! Escarole! So many herbs! — and of course you can always rely on the all-time classics: the Cobb. The Waldorf. The almighty Caesar. And today, Grub Street would like to point some attention to a classic salad that we think gets overlooked when discussing the great salad canon: the pizzeria salad.
You know this salad. It's the house salad at every pizzeria in America. It's hearty greens, onions, maybe some olives, marinated artichokes if the pizza place is fancy, probably some tomatoes, cukes, and herby vinaigrette. Even if the specific ingredients change from place to place, the foundation is the same. And it's a very good salad — in theory. In execution, it's usually made in a fashion that could charitably be described as "half-hearted." (This might be the only time Grub Street will ever agree with Family Guy.) Bad pizzeria salads are easy to spot: too chunky; flavorless ingredients; warm from a delivery box's radiant heat; generally underwhelming.
Frankly, this has gone on for too long. The pizzeria salad can be a solid salad. It's time to treat it with some respect. That's why Grub Street has teamed up with Just Salad to try to do this salad some justice. We spent months analyzing every pizza-place salad we could find (really!), aiming to come up with a perfect mix of ingredients that would — once and for all — convince everyone that this is one of the world's great salads.
What we came up with is a combo of romaine and arugula that's mixed with roasted tomatoes, balls of fresh mozzarella, pickled red onions, sliced banana peppers, garlic croutons (nonnegotiable, in Grub's eyes), and grilled chicken, topped with Just Salad's kale pesto. Yes, we're biased, but we also wouldn't lie to you: It is great. Healthy without tasting too green. So sturdy that it will be satisfying on even the coldest January day. And filling enough to ensure that you won't be starving again at, like, 3 in the afternoon.
We're proud of this salad is what we're saying. But it's not like you have to take our word for it. In honor of our New York home, we're calling it the Little Italy Salad, and you can go try it at any Just Salad location. You could have one for lunch today, if you wanted! Eat one as soon as you get a chance and start the year by helping at least one underrated salad finally get the respect it deserves.