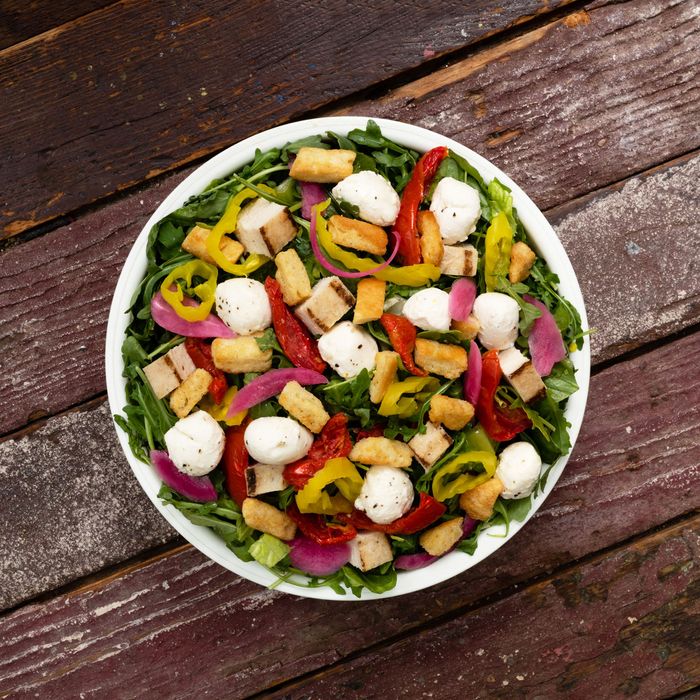 Go get one!
Photo: Cody Rasmussen
Perhaps you heard the news: Grub Street is now available in salad form. We teamed up with Just Salad to create our version of the perfect pizzeria salad. But wait, you may be saying. Aren't pizzeria salads generally sort of terrible? Well, yes and no.
In theory, the fabled "house salad" can be a glorious combination of hearty greens, pickled wonders, illustrious cheeses, and deeply pleasing crunch. In reality, yeah, they're always sort of a letdown. That is why we decided to honor this oft-overlooked American classic with a version that is just really, really good.
Our Little Italy Salad is a combo of romaine, arugula, roasted tomatoes, pickled onions, flaxen banana peppers, crunchy garlic croutons, grilled chicken, and kale pesto dressing. (You can even ask to add olives — Grub supports the idea — if you want to get the full pizzeria-salad experience.) We've said it before, but we think it bears repeating: This is a great salad.
Has this salad been called "game-changing"? By us, yes. Will you be happy if you eat one for lunch? We think so. That is why we want to offer this gentle reminder that the collaboration is for a limited time only, so if you want to try the salad that's already been named "salad of the year" (again, by us), you'll want to hit up your nearest Just Salad location before the end of the month.